Constructing an MLB roster remains and will always be one of the hardest jobs in all of sports.
As general manager of a baseball team, there are countless tasks to handle, which look at both the short-term and the long-term. There's putting together a 26-man roster via player development, the draft, free-agent signings, and trades. There's finding the balance between winning now and thinking about the long-term prognosis in every single move. There's trying to project how well a pitcher will perform, both statistically and on the health side. Perhaps most difficult is trying to put together a farm system and evaluating what a guy might in 3-4 years. Put simply, constructing a baseball roster has its major difficulties.
That leads me here today to continue my series evaluating every general manager in Angels franchise history. Evaluating any general manager needs context, given that putting together a roster in the 1960s-1970s (prior to free agency) is way different than it is in the year 2020. My goal is to evaluate every general manager based on all of the given information we have about them and how much success the team had while he was there.
With this in mind, let's get onto the tenth general manager in Angels franchise history.
Jerry Dipoto (Oct. 29, 2011 – July 1, 2015)
Dipoto is a baseball lifer through-and-through. Dipoto spent parts of eight seasons in the majors in the 90s as a so-so relief pitcher but good enough to give himself a commendable MLB career. When it was clear that he was done as a player, he made the fairly quick and seamless transition into a front-office role with the Colorado Rockies as an assistant to the GM. He went on to fill multiple scouting roles in the next decade, most notably in his role as Director of Scouting and Player Personnel for the Arizona Diamondbacks. When Tony Reagins stepped down from the Angels GM role in the fall of 2011, Dipoto was named the Angels new GM. Angels owner Arte Moreno said he hired Dipoto because he "liked the way that Jerry viewed baseball analytics". This comment would remain forever relevant and controversial given what unfolded in the latter part of Dipoto's tenure.
Dipoto's aggressive nature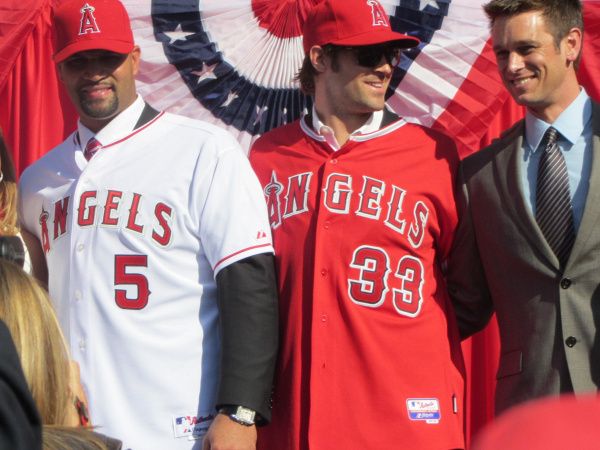 Dipoto wasted zero time making a name for himself and shocking the baseball world in his first offseason as Angels GM. A little over a month after he was hired, Dipoto signed the two premier free agents in a matter of hours on one December morning. Shortly after signing Albert Pujols to a mega-10-year-deal, news broke that Dipoto also signed left-hander C.J. Wilson to a five-year $75 million contract. The fact that an Angels GM made significant signings in free agency wasn't new. We'd seen prior GMs, such as Buzzie Bavasi in the late 70s-early 80s, make moves for significant talent. What was surprising, however, was just how quickly Dipoto made such significant moves. As we'd come to see later, this was part of the wheeling-and-dealing nature of Dipoto.
Even with these aggressive moves, the promotion of instant-star Mike Trout, and the midseason trade for ace Zack Greinke, the Angels would miss the playoffs due to a putrid 8-15 start in April. The team showed its true talent the rest of the way (81-58 record after that point) but the early falters sunk them. Dipoto's aggressive nature didn't stop after the season. In the 2012-2013 offseason, Dipoto saw Torii Hunter and Zack Greinke leave in free agency and responded by signing Josh Hamiton to a five-year, $125 million deal. Dipoto also brought in Chris Iannetta, Joe Blanton, Tommy Hanson, and Sean Burnett into the fold.
The 2013 season, however, was an utter flop. Yet another poor April (9-17 record) began a sub-.500 season thanks to major underperformances from all of the recent additions to the club. Mike Trout firmly established himself as baseball's best player but it wasn't enough to carry the rest of the roster was just wasn't very good. Before and during the 2014 season, Dipoto made a boatload of moves albeit not quite as flashy (or careless) as the previous ones. In that time, Dipoto brought in David Freese, Fernando Salas, Tyler Skaggs, Hector Santiago, Joe Smith, Huston Street, Vinnie Pestano, Jason Grilli, and Collin Cowgill. The results finally showed for Dipoto: the Angels won 98 games, winning the AL West for the first time since 2009.
Dipoto's fallout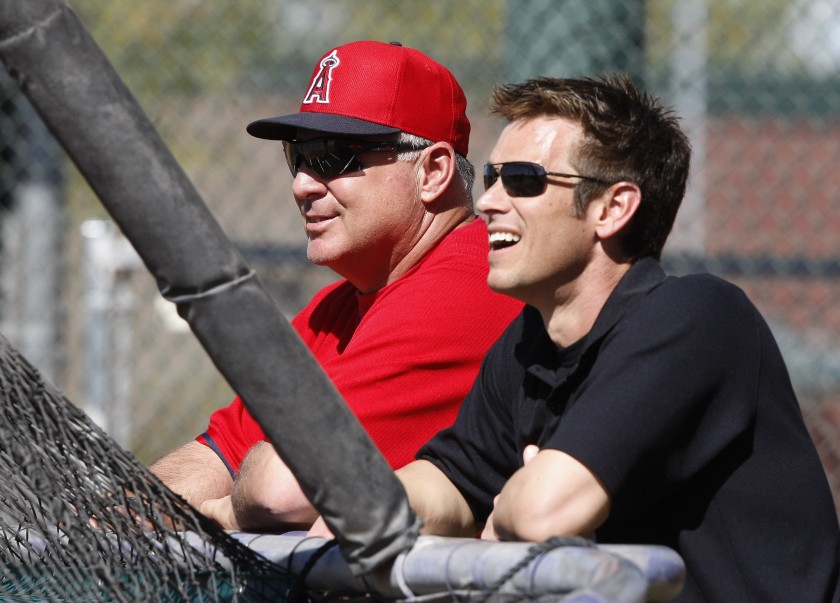 The 2014 season would be Dipoto's last full season as things were about to get ugly in 2015. The turbulent relationship between Dipoto and Angels manager Mike Scioscia was well-known and resulted in Dipoto stepping down in the middle of the 2015 season. Disagreements about the implementation of analytics and the method to incorporate them into scouting reports led to the final breaking point of the relationship between Dipoto and Scioscia. The tension between both sides was present in Dipoto's first season, an early indicator that this was not a healthy relationship. Firing longtime hitting coach and Scioscia appointee Mickey Hatcher in the middle of the 2012 season did not help the relationship. This was more than simply an argument between the old school and the new school. This was a power dynamic, a tug-of-war that saw two prominent members of the same organization fail to come together and find middle ground with their philosophies. Scioscia, who held more power and track record in his title manager than any manager in recent memory, had the organization's backing and it was clear which side would win.
Just like I touched on in the last GM installment about the relationship between Tony Reagins, Arte Moreno, and Eddie Bane, this same power dynamic and controversy is hard to truly evaluate. There is public information from prominent sources breaking down what occurred and what led to Dipoto's departure. The difficulty, however, lies in knowing exactly how these conversations went down and who was out of line. It could very easily be both sides that were at fault, unwilling to work together even amidst their differences of opinion. Or it could be more one-sided than we think. Truthfully, I don't know what the right answer is and who deserves more of the blame between Dipoto or Scioscia/Moreno. What's clear, however, was the Angels public feud and departure of Dipoto was a massive PR shitstorm for a club still in the middle of a competitive season.
Dipoto's lasting impact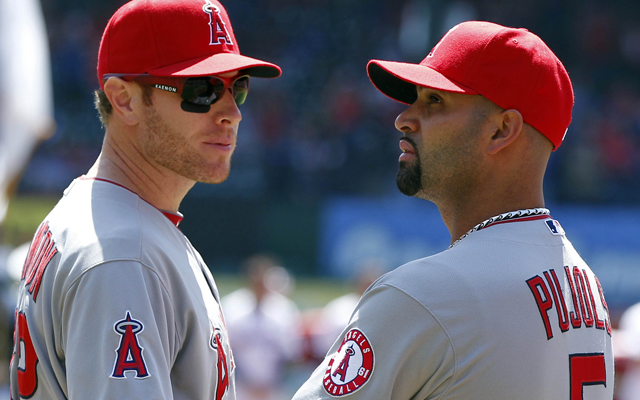 Dipoto's departure and public feud with Mike Scioscia and his short-term-heavy approach make him one of the most controversial figures in the franchise's history. When Dipoto ditched the toxic situation in July of 2015, so much of the future was unclear, beyond just who the next full-time GM would be (Bill Stoneman held the interim role through the rest of the year). Dipoto's departure and handling (or mishandling) of building for the long-term left the Angels and their next GM in dire conditions.
Dipoto's wheeling-and-dealing nature had huge ramifications for the organization. While lauded at the time (to an extent) for making an effort to build a winner, the moves for Pujols, Hamilton, and Wilson were multifaceted moves with huge consequences. From a purely financial perspective, those players cost a lot of money, especially given how they performed on the field. But they also restricted payroll in a major way, putting the Angels in a long-term money crunch due to players who weren't performing up to par. Beyond the money, the Angels also sacrificed early draft picks for all those players, creating a disadvantage in a realm where the Angels could sign their next cost-controlled youngsters. Even the lesser talked about moves, such as trading for Zack Greinke or trading Mike Clevinger for Vinnie Pestano, depleted the Angels of the resources necessary to build a sustainable winner.
Those moves don't even touch the surface of Dipoto's long-term roster building. Dipoto's track record in the draft and the international world is nearly as rough as his free-agent/trade resume. When Dipoto took over in 2012, Baseball America ranked the Angels system as the 19th-best in baseball, thanks to players like Trout and Garrett Richards. As expected, the promotions of those players led to a decline in the farm system, which isn't the issue. The issue was the response to this and the ability to replenish the system.
Via the draft, here is the list of noteworthy signings in Dipoto's four seasons: David Fletcher, Keynan Middleton, Michael Hermosillo, Justin Anderson, Sean Newcomb, Taylor Ward, and Jahmai Jones. Signing Fletcher in the sixth round of the 2015 draft was an obvious success but that entire draft record is underwhelming. Add in Dipoto's international signings, mainly the Roberto Baldoquin debacle, and you have a four-year resume showing an inability to evaluate young talent. By the time Dipoto had left, the Angels were routinely running out one of the worst farm systems in baseball. To this day, it still remains a bit perplexing that a GM who was a former player and scout and was heavily invested in analytics had this poor of a resume. Regardless, Dipoto's short-term priorities and inability to build the farm system led to catastrophic results.
What Dipoto did well
Dipoto showed the desire to provide immediate results for the Angels. Say what you will about his nature and the long-term outlook but Dipoto clearly wanted instant results on the field, a commendable trait in this specific industry. Dipoto also was at the helm for the lone Angels postseason appearance this past decade with the 98-win 2014 season. In his four seasons (if you include all of 2015), the Angels averaged 87.5 wins a season. A slightly better start in 2012 and/or finish in 2015 may have left Angels fans with a very different opinion on Dipoto.
And to play devil's advocate, Dipoto was thrown into a situation of power dynamics by both his immediate boss (Arte Moreno) and his conduit for on-field success (Mike Scioscia). For example, Moreno played a huge role in the Pujols negotiations and Scioscia was baseball's longest-tenured manager, meaning he may not have been apt to changes as much as a newer, younger manager. Because of these factors, Dipoto was dealing with many issues beyond just building a competent organization. He had to do so while having less power and say than two other prominent members of the organization.
What Dipoto didn't do well
The question you have to ask yourself: were the long-term consequences Dipoto helped create worth the 87.5 wins a season and one playoff appearance? I'd venture to guess that most fans would say no. Dipoto spent tons of money that crippled payroll flexibility and consistently swapped out long-term health for short-term gains. As a result, the Angels were competitive in the time Dipoto was in Anaheim but it seriously cost the Angels in the long run. There is no doubt that Dipoto bears a lot of responsibility for the dire position that his predecessor, Billy Eppler, inherited. It's hard to forget the first season post-Dipoto in 2016. With nearly $100 million tied up to four underperforming, or already traded, players (Weaver, Wilson, Pujols, Hamilton) and baseball's worst farm system, Dipoto left the Angels in a truly pitiful situation.