Constructing an MLB roster remains and will always be one of the hardest jobs in all of sports.
As general manager of a baseball team, there are countless tasks to handle, which look at both the short-term and the long-term. There's putting together a 26-man roster via player development, the draft, free-agent signings, and trades. There's finding the balance between winning now and thinking about the long-term prognosis in every single move. There's trying to project how well a pitcher will perform, both statistically and on the health side. Perhaps most difficult is trying to put together a farm system and evaluating what a guy might in 3-4 years. Put simply, constructing a baseball roster has its major difficulties.
That leads me here today to continue my series evaluating every general manager in Angels franchise history. Evaluating any general manager needs context, given that putting together a roster in the 1960s-1970s (prior to free agency) is way different than it is in the year 2020. My goal is to evaluate every general manager based on all of the given information we have about them and how much success the team had while he was there.
With this in mind, let's get onto the ninth general manager in Angels franchise history.
Tony Reagins (Oct. 16, 2007 – Sept. 30, 2011)
Reagins is a Southern California guy through-and-through. Born in Indio, California, Reagins would go on to attend Cal State Fullerton to get his bachelor's degree in Marketing. After graduation, Reagins landed an internship with the Angels in their marketing department. After alternating between internships in the marketing and baseball operations departments, Reagins landed his first full-time role in the marketing department in the mid-90s. After holding down that role for a handful of years, Reagins found his way back into baseball operations. Reagins was the Angels Director of Player Development for six years, a time that coincided with the glory days of the Angels development system. Following the departure of Bill Stoneman, Reagins was hired as the new Angels GM following the 2007 season. Reagins was the fourth African American in MLB history to be hired to a GM role, not an insignificant development at the time.
Reagins inheritance of wealth and early success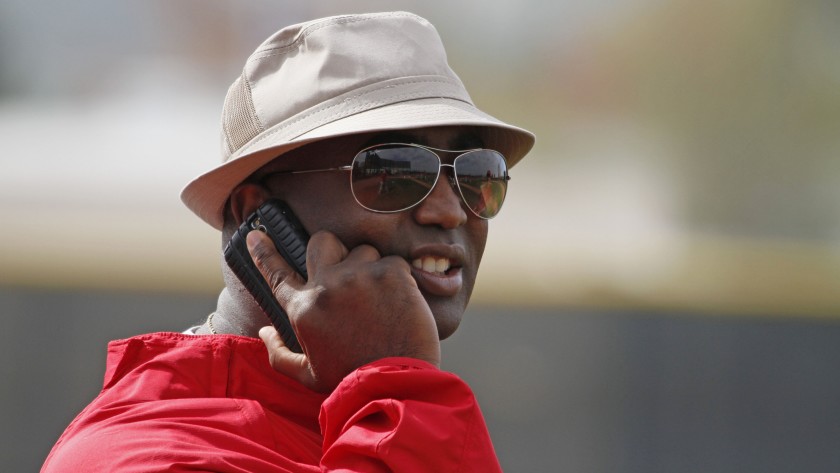 Make no mistake about it: Tony Reagins took over an Angels roster that was loaded. To be fair, Reagins was also partially responsible for that loaded roster, given that he handled the player development duties in the time leading up to his promotion of GM. When Reagins took over, he had a roster with established stars (Vladimir Guerrero, John Lackey, Francisco Rodriguez) and young, cost-controlled talent (Jered Weaver, Howie Kendrick, Erick Aybar, Mike Napoli) that was enviable. On the heels of winning the AL West in 2007, the Angels would do so again in 2008 with a 100-win season and in 2009 with a 97-win season.
Reagins certainly deserves some of the praise for this success, beyond just the impact he had in his role in the player development department. In July of 2008, Reagins sent the highly-touted Casey Kotchman to Atlanta for Mark Teixeira. This move not only impacted the 2008 club (Teixeira was really freaking good) but the club also received a first-round compensation pick following Teixeira's departure in the upcoming offseason. The following summer, they used one of those two first-round picks on Mike Trout. Beyond the Teixeira move, Reagins also signed Torii Hunter prior to the 2008 season and Bobby Abreu prior to the 2009 season. These moves helped solidify an already good roster for the first two years of Reagins tenure.
The 2009 Draft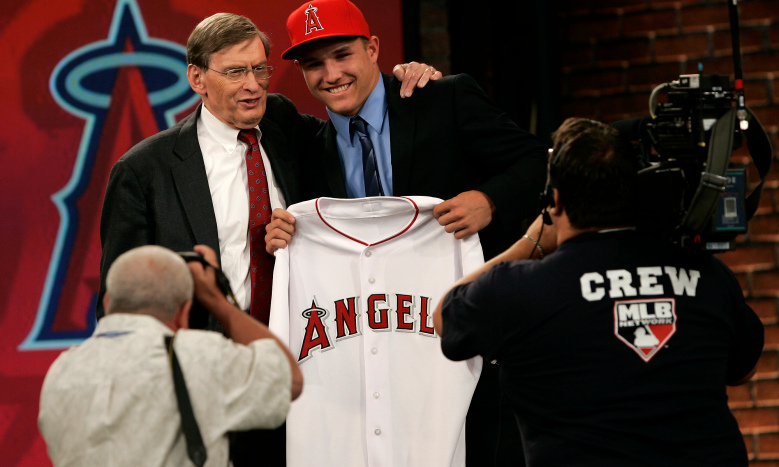 Reagins often brings up negative connotations among Angels fans but the fact remains that he was the GM for the most important draft class in the franchise's history. In fact, there is a good case that this is the best draft class in MLB history. After seeing Mark Teixeira, Francisco Rodriguez, and Jon Garland leave in free agency, the Angels had a surplus of draft picks. Of their six selections they held in the first 80 slots of the draft, the Angels selected Mike Trout, Randal Grichuk, Garrett Richards, Tyler Skaggs, and Patrick Corbin. It's really hard to overstate just how dominant of a class this was and the impact it had on future Angels teams. Obviously, selecting Trout was the big catch (pun intended) but getting those other players in addition to Trout was just absurd.
This is where things get tricky. How much credit does Reagins deserve for this draft? On one hand, Reagins held a prominent role when the Angels churned out quality players left-and-right from 2000-2007 and was obviously an important voice in the draft-selection process in 2009. It's clear that he had a talent for evaluating and developing talent. On the other hand, the shaky relationship between Reagins and then-scouting director Eddie Bane is well-known. Bane was fired in the winter of the 2010 season, a move that was perplexing at the time and remains just as confusing today. Reports surfaced that Reagins and Bane did not get along well and the reasoning that Bane was fired due to "poor drafts" doesn't hold true (although the 2010 draft was not particularly good). Who deserves the credit and who deserves the blame for this situation is unclear and we'll likely never know. Bane likely had a bigger say in the 2009 draft given his title of Scouting Director but the truth is we really don't know and this makes this process of evaluating this draft difficult from Reagins' perspective.
The downfall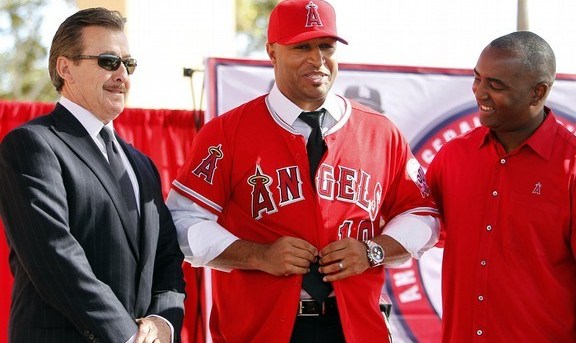 As alluded to, there is a negative connotation associated with Reagins among Angels fans, which began following the 2009 season. In his final two years as GM from 2010-2011, the Angels not only declined in terms of performance but also in terms of roster-building. Reagins really kickstarted a trend of ill-advised moves that sacrificed all of the things that built the Angels teams of the past decade (i.e. building from within) in exchange for short-term success. Following the departure of three major players in the 2009-2010 offseason (Vladimir Guerrero, Chone Figgins, John Lackey), the club was certain to regress in the coming season. Reagins even appeared to be fine with this idea, only adding a few minor pieces to the 2010 roster (Hideki Matsui, Joel Pineiro). You could probably include Scott Kazmir to this list since he was acquired with some years of club control at the trade deadline in 2009.
When it was clear that the club wasn't going to be competitive in 2010 (especially following the Kendrys Morales injury), the Angels probably should have sold some pieces off and went into a mini rebuild/retooling phase. Instead, Reagins swung a major deal for Dan Haren involving Tyler Skaggs and Patrick Corbin that summer. While this move was fine in a vacuum and Haren produced a great deal in Anaheim, it was the first of many moves that sacrificed long-term success for trying to keep their (already closed) window alive. Adding in the 2009 acquisition of Kazmir only adds to the notion that the Angels were entering dangerous territory around this time.
The winter of 2010-2011 was catastrophic on many levels for Reagins and the Angels. Following whiffs on Adrian Beltre and Carl Crawford in free agency, Angels owner Arte Moreno allegedly presented Reagins with an ultimatum: go acquire Vernon Wells or you're canned. Reagins abided, trading an arguably more productive player in Mike Napoli (along with Juan Rivera) in exchange for Wells and his bad contract. This single move, in addition with the whiff on a player such as Beltre, completely altered the state of the AL West in the coming years. Beltre and Napoli both ended up with the Texas Rangers, who took a stronghold of the AL West, while Wells was a disaster in his two seasons in Anaheim (0.6 WAR).
Following the 2011 season, Reagins resigned and was replaced by Jerry Dipoto, another GM who was ultra-aggressive in his desire to build a short-term winner without serious consideration for the future.
What Reagins did well
Reagins was the GM for the most influential draft class in club history and deserves credit for helping bring Mike Trout to the Angels organization. That draft, as well as the prior player development successes in Reagins prior role, show a strong track record for Reagins in this realm. Apart from the player development perspective, Reagins signing Torii Hunter and Bobby Abreu and trading for Mark Teixeira were also huge boons to the Angels' success in 2008-2009. Reagins obviously did not build the core of those great teams but he did supplement the rosters with the necessary pieces to keep that strong window going. Reagins also had some sneaky value finds in the draft, whether it was signing Matt Shoemaker as an undrafted free agent in 2008 or Kole Calhoun in the 8th round in 2010.
What Reagins didn't do well
I mentioned it above but it's really difficult trying to assign credit/blame for Reagins given what we know. Arte Moreno's meddling in major team decisions and the Reagins/Bane relationship gives us an undeniably controversial picture but an incomplete one. If you took all of Reagins moves from 2010-onward without context (firing Bane, not signing Beltre, trading for Wells), he looks way in over his head. But it's much more complicated than that. This is not trying to discredit Reagins for the mess he got the Angels into; he very clearly did play a part in all of this. How much blame he deserves, however, is unclear and we will likely never get the full picture on this. One thing that is certain is that the trend of splurging on players outside of the organization became a common theme in the last few years of Reagins tenure, a trend that continued even after Reagins left.