Constructing an MLB roster remains and will always be one of the hardest jobs in all of sports.
As general manager of a baseball team, there are countless tasks to handle, which look at both the short-term and the long-term. There's putting together a 26-man roster via player development, the draft, free-agent signings, and trades. There's finding the balance between winning now and thinking about the long-term prognosis in every single move. There's trying to project how well a pitcher will perform, both statistically and on the health side. Perhaps most difficult is trying to put together a farm system and evaluating what a guy might in 3-4 years. Put simply, constructing a baseball roster has its major difficulties.
That leads me here today to continue my series evaluating every general manager in Angels franchise history. Evaluating any general manager needs context, given that putting together a roster in the 1960s-1970s (prior to free agency) is way different than it is in the year 2020. My goal is to evaluate every general manager based on all of the given information we have about them and how much success the team had while he was there.
With this in mind, let's get onto the second general manager in Angels franchise history.
---
Dick Walsh (October 1, 1968-October 27, 1971)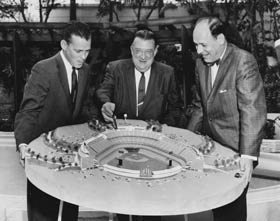 Dick Walsh spent a lot of time in baseball in his career but his experience was drastically different than his predecessor Fred Haney. After serving in the U.S. Army during World War II, Walsh found his way into baseball with the Brooklyn Dodgers' AA affiliate. When the Dodgers made their way west in the 1950s, Walsh became the MLB club's assistant GM. Walsh's duties weren't personnel-driven but rather business and stadium-centric. Walsh played a huge role in bringing Dodger Stadium to the Chavez Ravine, which prompted the club to promote him to Director of Stadium Operations in 1962 (information from the Los Angeles Times).
After a four-year stint in that role, Walsh found his way into a different sport: professional soccer. Walsh served as commissioner for the United Soccer Association and the North American Soccer League (the two merged together). Walsh's business acumen and history bringing Dodger Stadium to Los Angeles helped him land this role for a three-year stretch in the 60s. It wasn't long until Walsh found his way back in baseball, however.
Walsh arrives in Anaheim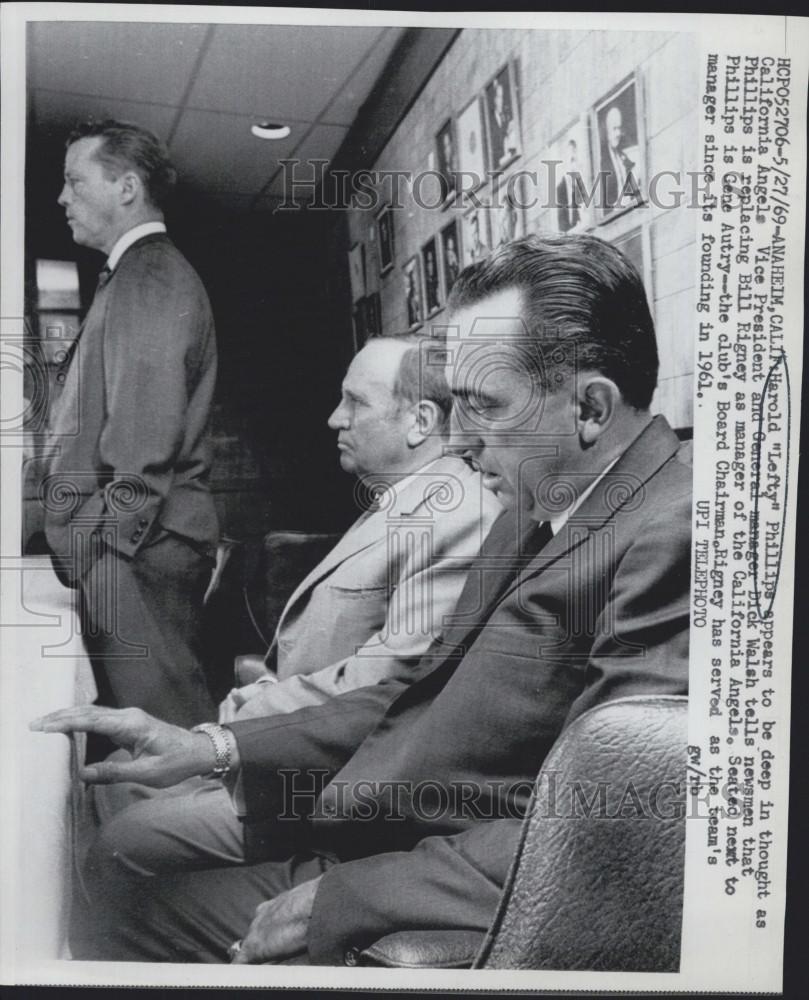 Following Fred Haney's retirement at the end of the 1968 season, Walsh was brought on board as the second GM for the Angels franchise. Just 43 years old at the time, Walsh had quite the background given his experience with the Dodgers and his time in soccer. Following a 67-win 1968 season, Walsh was tasked with turning around a franchise that was treading water as a middling .500 team.
Walsh's arrival came at an interesting time given the low-scoring run environment of the prior season. The 3.42 team runs scored per game represented the second-lowest number in the history of baseball. The Angels, playing in the spacious Angel Stadium, were especially hit hard by this run environment. Their 498 runs were far-and-away the lowest total by an Angels team in a non-strike-shortened season. In 1969, MLB lowered the mound from 15 inches to 10 inches. The results were immediate: runs jumped from 3.42 to 4.07 per game.
Walsh's Angels' tenure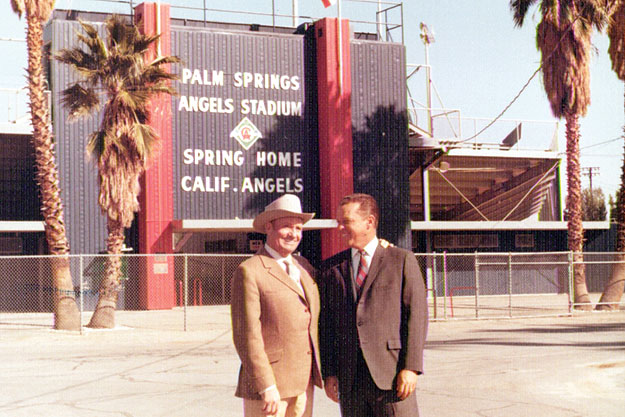 One of Walsh's first moves as GM was hiring Lefty Phillips as Director of Player Personnel. It wasn't long for Phillips to get promoted from this role to manager of the MLB club. After a horrid 11-28 start, Walsh fired Bill Rigney, the only manager of the Angels franchise to date, and replaced him with Phillips. The Angels would win just 71 games in the first year under Walsh.
Following his first season, Walsh made a handful of trades to shake up the roster. Reliable starter Jim McGlothlin was traded in a package for Alex Johnson, who would go on to win the AL batting title (.329) in his first year in Anaheim. Early on in the 1970 season, Rick Reichardt was traded in a deal for Ken McMullen, who would produce in a major way in three seasons in Anaheim (9.7 WAR). Longtime infielder Bobby Knoop was traded for Sandy Alomar Sr., a strong defender, and baserunner who swiped 119 bags in his four seasons in Anaheim.
The results paid off as the Angels jumped from 71 wins to 86 wins, playing competitive baseball for much of the year. Those 86 wins were tied for the most wins (1962) by an Angels team to date. Unfortunately for Walsh and the Angels, the success didn't last and things got pretty ugly in the 1971 season. Not only did the Angels regress to 76 wins in 1972 but several moves backfired and eventually led to Walsh being done after three seasons.
Most notably, Walsh and the Angels continually suspended Alex Johnson in the 1971 season due to his "character" issues. Johnson, however, was dealing with major mental health issues that eventually led the MLB Player's Association Executive Director, Marvin Miller, to file a grievance against the Angels. Johnson and Miller won, forcing the Angels to reinstate Johnson back to the roster. Regression from numerous Angels, most notably Jim Fregosi, and the lack of production from the newly-acquired Tony Conigliaro ultimately led to the down season and Walsh's firing.
What Walsh did well in Anaheim
Walsh's acquisitions of Alex Johnson and Ken McMullen and the 1971 MLB draft selection of Frank Tanana were great moves. Johnson and McMullen played big roles in the 1970 team hanging in the playoff picture for much of the season. The reconstruction of the 1969 roster helped lead to a 15-win swing that is commendable on Walsh's part. Tanana didn't pitch an inning for the Angels under Walsh but he went on to become one of the most productive pitchers in franchise history. By fWAR (30.8), Tanana is the fifth-most valuable pitcher in franchise history, ranking between Jered Weaver and John Lackey.
What Walsh didn't do well in Anaheim
Just about everything else went wrong for Walsh in his Anaheim tenure. The club was bad in two of his three years and, like his predecessor, Walsh didn't leave a promising club for the next GM. The selection of Frank Tanana was the only move that really helped the Angels for the future beyond Walsh's tenure. From an on-field standpoint, the Angels simply didn't have great results during Walsh's tenure.
What really drags Walsh's resume down, however, is the handling of the Alex Johnson situation in 1971. In his autobiography A Whole Different Ballgame, Marvin Miller discusses the successful grievance hearing involving Alex Johnson. Miller doesn't hold back on his disdain for Walsh, whom Miller accuses of not acting humanely in the Johnson situation. Accounts of racism and flat-out misunderstanding of mental health issues led to a botched situation of Alex Johnson's issues. Fortunately, this issue helped baseball as a whole better understand mental health and view it similarly as physical health.
Overall Evaluation
Walsh's tenure was short and rather unexciting. The club was middling around .500 much like the team did before Walsh arrived. The Tanana selection helped set up some future success but there weren't many moves that helped the long-term outlook for the club. When you struggle both in the short-term and the long-term, it's hard to justify the moves that Walsh made. Add in the Johnson fiasco and you have a resume that screamed below-average.
In all fairness to Walsh, he was out of his element as Angels GM. His prior background of handling stadium operations for the Dodgers and running a soccer league didn't exactly make him qualified for making MLB player personnel moves. Walsh didn't perform but some of the blame has to go on Angels owner Gene Autry, who hired a man who wasn't exactly a great fit for GM. And in all fairness to Walsh in regards to the Johnson situation, much of baseball (and the world) did a horrific job of handling mental health issues to that point. That does not excuse the (alleged) racism but it's important to note that mental health education was lacking then.
As a whole, Walsh's tenure was uninspiring in Anaheim. Similar to his predecessor, Walsh managed to acquire one future star (Tanana) but failed to put together a competitive roster. The Angels, meanwhile, would go on to finish under .500 for the next half-decade.