I'm going to state the obvious here: I love watching Shohei Ohtani. As a lifelong baseball fan I know we're seeing something that has never been done before and likely won't be repeated. But let's be real, this team isn't going far with Ohtani. So what might happen if we trade him?
For this exercise I'm relying on the baseballtradevalues.com simulator and a little common sense. I'm sure you'll find issues here and there, but these should be a decent gauge of how impactful a trade could be.
I'm thinking any trade needs to bring back "win now" type pieces that are either MLB ready or close to it. The Angels would be retooling more than rebuiling; adding pieces to a Trout led team and hopefully hitting the playoffs in 2023.
Let's start with the unthinkable: sending him up the 5 to the bane of our existance.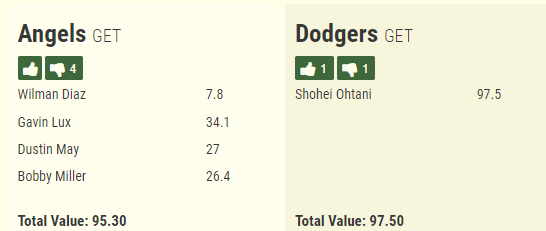 Gavin Lux immediately becomes our best middle infielder. I went with Dustin May over Julio Urias here because 3 years of control is better than one. Bobby Miller is a stud and the piece LA would be most reluctant to throw in but if Perry could pry him away, he'd be our top pitching prospect and likely in the rotation in 2023. Diaz is a lottery ticket from an infield rich system.
Here's another trade in our neighborhood: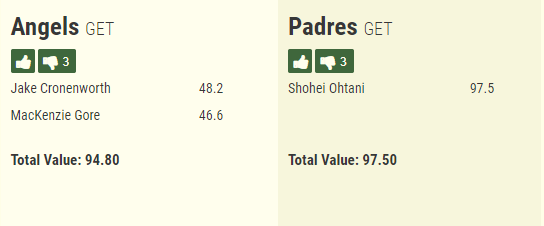 The Angels desperately need quality infielders and Cronenworth provides that. A career OPS+ of 124 with three more years of control after this year provides immediate MLB help. The Padres have infield depth. They'd also be replacing a pitcher so 23 year old former top prospect with 5 years of control MacKenzie Gore heads to Anaheim.
A fun thing about Ohtani is that even small market clubs can afford him for the year and a half. Maybe Milwaukee wants him?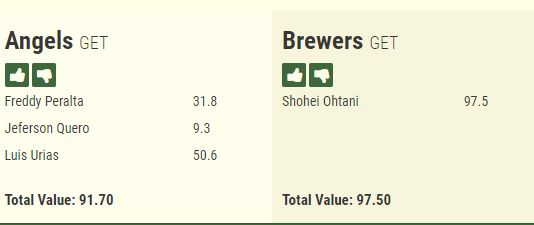 The Brew Crew are in the midst of a great run and small market teams don't get a lot of chances like this. Here we'd see Milwaukee harken back to the CC Sabathia trade and really go for it. However, they'd get Ohtani for another year after the trade and at a rate they can afford. The Angels would pick up our best infielder in Urias, a decent arm to round out the rotation, and a near MLB read prospect at a position of need. That's 3 years of Urias after this season and another 4 of Peralta.
Speaking of small markets, I know it is dangerous to trade with them but what if the Rays wanted to add some star power?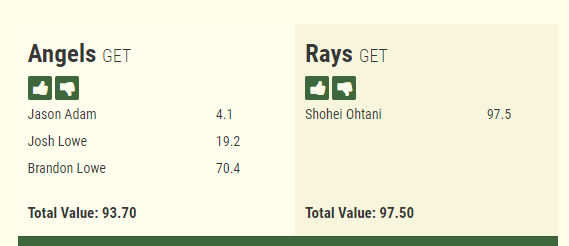 Stop me if you've heard this before…the Angels land their best infielder here. Brandon Lowe is an absolute stud. He's off to a slow start by his standards this year but has 4 more years of control left. Josh Lowe is a near MLB ready outfielder and Jason Adam is a high quality bullpen piece with 3 years of control remaining.
The simulator is a tool and these trades have varying degrees of reality, but then again we've literally never seen a player like Ohtani before. However, I think this shows that we should be able to recoup what Ohtani gives us on both sides of the ball in aggregate. Considering how top heavy the Angels are, this might be a boon.
Imagine shedding Thor's $25 million salary, replacing him with May and Miller, having a legit bat in Lux and money to spend. Or Lowe/Fletcher lengthening the lineup until the other Lowe arrives all while Adams helps shore up the bullpen. The Padres return might look light in comparison, but that's a legit bat and Gore was a highly rated prospect recently.
It would hurt. Boy would it hurt. But it could also help greatly.