The trade for Raisel Iglesias gives the Angels a bonafide stud to pitch in the late innings.
Iglesias has been one of baseball's best and most consistent relievers since he became a full-time reliever in 2016. Given the extremely volatile nature of reliever performance, it's hard to find reliable relievers over a multi-year basis, let alone a five-year stretch that Iglesias has excelled in. In the four years leading up to the shortened 60-game season (2016-2019), Iglesias averaged 73 1/3 innings, a 2.78 ERA, and struck out 29.7 percent of hitters. He did this all while pitching high-leverage innings as the closer for the Cincinnati Reds. Since 2016, Iglesias is legitimately one of baseball's best and most consistent relievers.
Perhaps the most encouraging aspect about Iglesias is the fact that he's continued to improve, even as he's about to enter his age-31 season in 2021. Iglesias has not only maintained his strong fastball velocity (96 mph in 2020) and strong secondary pitches but he's also improved his command in that time. Iglesias most recently dominated his 23-inning sample in 2020 with a 28.6 strikeout-minus-walk percentage and 176 ERA+. He has improved his strikeout and walk numbers in three consecutive seasons.
The combination of swing-and-miss stuff and strong command has made Iglesias a certifiable beast. When you see the pure stuff and his pitch characteristics, it's easy to see why Iglesias has been such a superb reliever. With a three-pitch mix, swing-and-miss stuff, and strong command, Iglesias has a starter's package in a relief role. Everything starts with his explosive fastball, a pitch that is above-average in every facet. Iglesias was only one of 11 pitchers in baseball in 2020 with a four-seam fastball that averaged 96+ mph, had above-average vertical and horizontal movement, and an above-average whiff rate.
His main secondary pitch is a wipeout slider that is one of the best sliders in the business. The pitch not only had ridiculous results in 2020, mainly a 48.3 percent whiff rate, but it also had unique characteristics. This past season, only three pitchers had sliders that averaged 84+ mph, had 10+ inches of horizontal movement, and generated a 40+ percent whiff rate: Paul Fry, Luis Patiño, and Iglesias.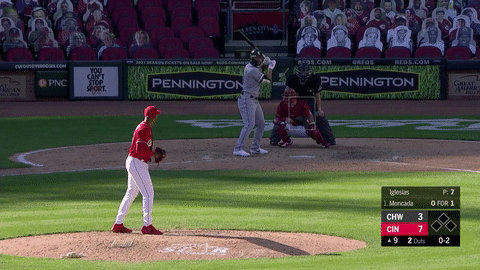 What separates Iglesias from other relievers is the added element of a strong third pitch. Iglesias doesn't just have a throw-in change-up, either. The pitch is a legitimately strong pitch that is a great equalizer against left-handed hitters. In 2020, just nine pitchers (min. 40 change-ups) featured a change-up with above-average vertical and horizontal movement with a whiff rate over 40 percent.
As a result of all of these strong traits, there's no reason to believe that Iglesias won't be a great addition to the Angels bullpen for 2021. Relievers can be incredibly volatile so there's obvious room for risk but Iglesias has shown he is one of baseball's uniquely reliable relievers. On the heels of a poor 2020 team performance and recent depletion of relievers via non-tenders, the Angels needed a bullpen arm like Iglesias.