As the Angels land in Tampa Bay, a greater contrast couldn't have been seen. Despite the success, the Rays play in the second worst stadium in MLB, with an attendance fitting the A's, not a 90+ win team. But, despite that, spirits are high, and why wouldn't they be? The Rays are one of the best run organizations in Baseball, and just announced a new stadium. Fans are happy, excited, have expectations, and despite setbacks including losing their best players to injury and criminal acts, look to make a deep postseason run.
Meanwhile the Angels are officially a losing team yet again for the 8th straight year. A team with a huge budget, giant stars, and absolutely no sense at all. This team should be great, but it has been an absolute failure. Nothing spent on medical staff, or player development, or analytics, just players that look good on billboards. While the Rays do the best with the little money they have, the Angels lose a ton while blowing money on aging stars.
It may be a name related reason after all. The moment the Rays dropped Devil from their name, they have been one of the best teams in Baseball. Meanwhile, once the Angels dropped Anaheim from their name, they have become a laughingstock. Seriously, from 1997-2015, the years that the Angels had Anaheim in their name somewhere, the Angels had that Disney magic, going to the playoffs 7 times. Since then? 8 straight losing seasons.
So how did this one go then? Well, Patrick Sandoval went 5 innings, giving up 2 runs on 5 hits, striking out 7 and walking 3. Honestly, not bad against one of the best teams in Baseball. Of course the offense didn't help and he left in line for the L so…
Highlighted Recap
The game immediately looks bad as Patrick Sandoval gives up a triple and then a home run in back to back plays.
But, Logan gets the Angels on the board in the 4th with a solo shot.
The bullpen did their job, somehow, and it was a close game into the 8th when Neto hit one out to tie the game!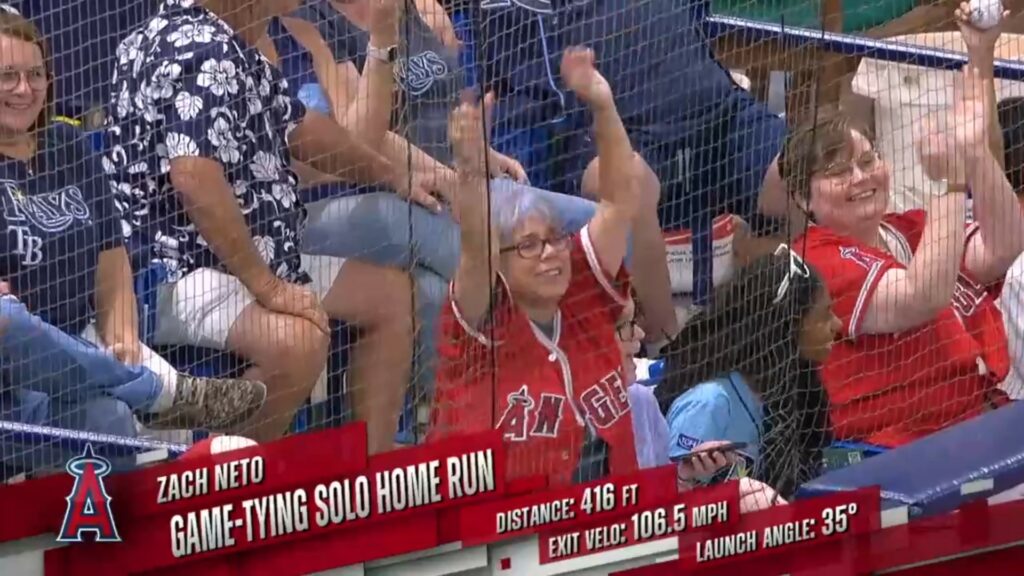 Well, the Angels can't win, that would hurt their draft pick! Thankfully, Loup is here to Loup it up! 2 run double? Sure.
Wait, need more, how about a 2 run single?
Yeesh. Angels lose, Grichuk gets hit in the head, typical Angels game. Drink responsibly.
Upcoming
More day games vs the Rays next two days. Weee…