The boys are back in town and I'm looking forward to a game at the Big A with my family. Yes, the team is out of it but a few hours at the ballpark with my son is always a good thing. I just wonder who will start the home stand as an Angel but not end it as one.
MLB's trade deadline is Tuesday at 3 PM Pacific. That gives Perry just a few days to try to unload some current talent in hopes of adding future talent.
At this stage, trying to keep our links section up to date is a fool's errand. The best site to follow all the action and rumblings is mlbtraderumors.com.
Some outlets are taking the simple buyer/seller approach. EastSPiN will give out immediate grades on every trade.
And the biggest name being floated around is Juan Soto. Here's what you need to know.
The Yanks got the trade wheelings and dealings going, shipping out three pitching prospects for Andrew Benintendi. One of the prospects, Beck Way, is a guy I suggested we target.
Yes, I've posted a lot of scenarios from the trade simulator at times. Naturally, comments tend to veer towards the player rankings themselves and the usefulness of the tool. The Benintendi trade shows again that while the site isn't flawless, it is usually pretty close to real life.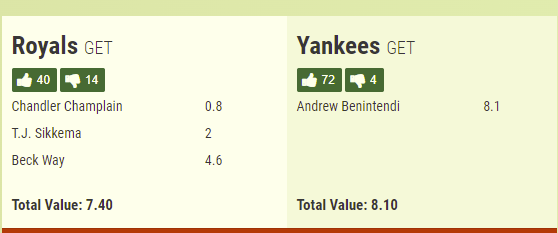 Far and away the biggest news in Angel land this week was the status of Mike Trout's back. He's downplaying the doomsday reports and saying he'll be back.
The Athletic did a nice piece on Reid Detmers turning around his season with one tape session in AAA.
So if our relievers are learning they're tipping pitches from Trout and our starters are getting better help in Salt Lake, what exactly is our MLB coaching staff doing?
Before we go, I'll leave you with one more trade to ponder:

Here we give San Diego some needed luxury tax relief by taking on Hosmer for three years and Snell for this year and next. The Padres also add immediate MLB help and two cost controlled players for their competitive window.
The Angels add Snell to their six man rotation next year at a cost of $8 million less than we paid Thor this year for likely better production. Hosmer and Walsh are close enough by WAR to not see a huge drop off. But we snag our shortstop here. In short, first base, shortstop, and a key rotation piece for right at $27 million in salary. This is paid for with Thor and Bradley coming off the books.
Enjoy your weekend. Keep one eye on the games and one on the trade tracker.