As the August 2nd trade deadline draws near, fans from across the interwebz are coming up with trade ideas. I obviously like perusing the trade values simulator so I figured I'd share some ideas that aren't mine but that I do like. Call it a food for thought exercise.
There are a ton of proposals linking the Angels and Cardinals, which makes sense as the Cards have tons of MLB ready talent and an ensuing 40 man roster crunch and playoff aspirations.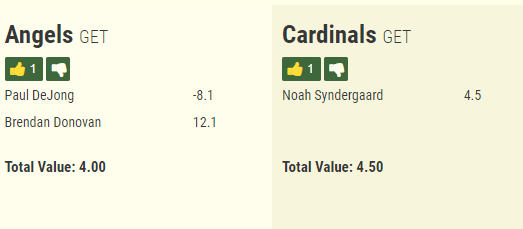 The Angels ship out a few months of Thor but receive a much needed infielder in Brendan Donovan. The left handed hitter has six years of club control and is an on base machine. DeJong is toast at the plate but carries a solid glove and is there because his $9.1 million salary next year makes swap cash neutral. DeJong becomes expensive bench depth but that's more than offset by our starting second baseman making minimum wage.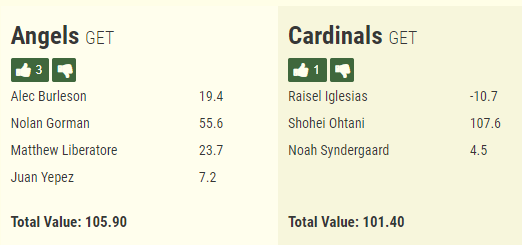 This one is far more aggressive but it nets the Angels multiple MLB ready pieces and provides significant salary relief. Liberatore is only 22 and should develop into a middle of the order arm. Gorman, also 22, is an absolute stud who can play second or third. Burleson is a decent bat who can play a corner outfield spot or first base and Yepez is similar to Burleson but with a lower OBP and more pop.
A slight variation on this trade that I also like: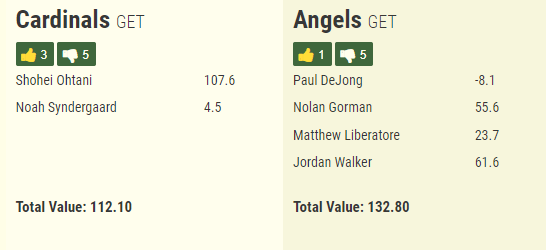 Jordan Walker is a beast. I'd take him over the salary relief of Iggy and the extra prospect. He's a third base only guy and two years away from MLB, though. This trade would signal a true rebuild.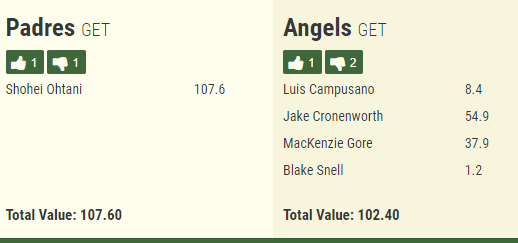 Just because it won't happen doesn't mean I can't like it. Mid rotation arm in Gore, stud second baseman in Cronenworth, needed catching help with Campusano, and whatever we get from Snell is a bonus.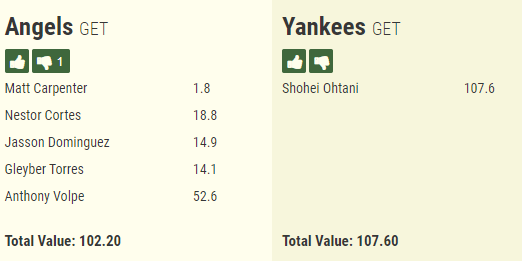 See above about not happening. This nets us a new infield basically. Torres has put up 3 WAR already this season, Volpe is the hottest prospect in the MFY system. Cortes is a mid rotation type arm, Dominguez is a 19 year old center field prospect and Matt Carpenter is a great rotational piece who is a free agent in a few months and really serves no purpose here. Yanks should just keep him.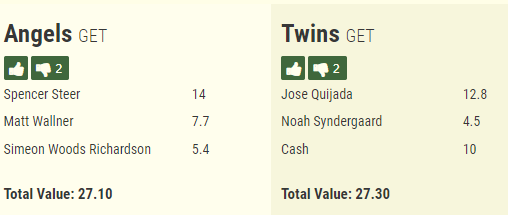 Spencer Steer is a near MLB ready infielder who can play all over the dirt and sports hefty OBP in the minors. He's also a Long Beach State alum, which makes the board happy. Wallner can play all three outfield positions and sports an impressive .272/.383/.513 line across 3 minor league seasons. I've already speculated about snagging Woods Richardson, who is quality when healthy. This right here is acting like a big market club and buying some talent. I'm all over this.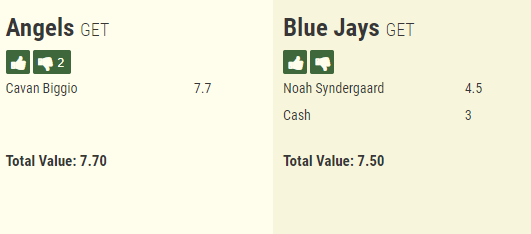 Sometimes you have to take a chance. Biggio was a highly rated prospect, he's 27 so he's in his prime, and his down year in 2023 still has him sporting a 108 OPS+. At worst, he's a substantial bench upgrade and depth over what we have. I'd make this trade in a heartbeat.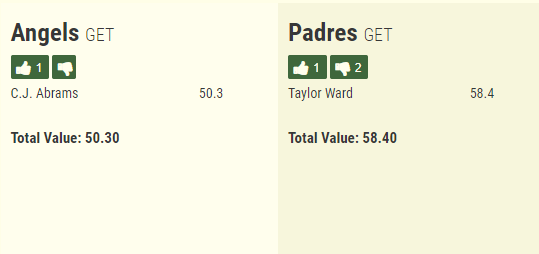 This would be selling high on Ward and likely buying low on Abrams. However, I think a corner outfielder is easier to acquire than a starting shortstop. I think Abrams is a starting shortstop. He's yet to prove it at the MLB level, but he's only 22 and is just getting his first taste. We could give him the consistent playing time he needs this year and pencil him in for the next 5 years.

Vasquez is in AA and is putting up solid numbers thanks to his 60 grade curveball. His fastball is mediocre but works better than it should thanks to hitters needing to be aware of the hammer. He needs to develop control to stick in the rotation, but if he does he's a mid to back end pitcher.

Another simple swap. Thor for a sweet swinging shortstop who likely moves to second or third as he fills in. Doncon provides some much needed position player upside to the system.

Angels shed Iggy's $16 million per year for the next three years and add a nice back end of the rotation arm while doing so. I'd be all for this. Thor returns home and heads to the post season, making for a great story line. I'd be shocked if NY would do this, but if they would I'd jump.
I'll keep looking around and posting some ideas. Do you particularly like any of these? Do you hate any? Think I should put the sim down a bit, ha ha?
Let me know below.