The Angels finish their series in Texas on Easter Sunday. It was a game of highs and lows, old school baseball with speed and situational hitting.
Jose Suarez took the mound for the Angels. He went 4 and a third innings, giving up 3 runs on 5 hits, while striking out 3 against 3 walks.
The biggest news from the game, however, was Mike Trout getting drilled in the hand and leaving the game in the 5th inning. At least the X-Ray is negative.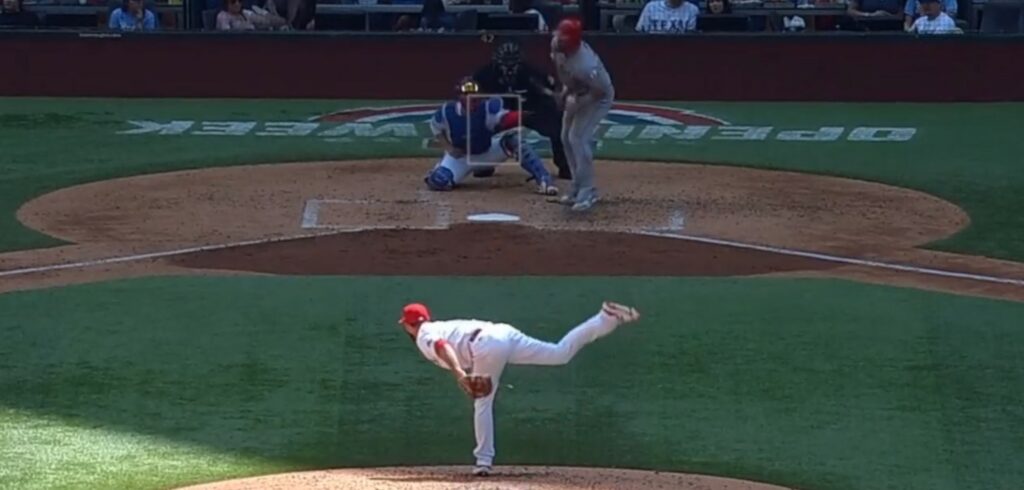 Angels who did have a good day, however, did exist. Matt Duffy had a 3 hit game. Tyler Wade stole a base and scored. However, he also got caught stealing later, typical. Marsh also stole a base as he came in for Trout. Although, Marsh also got doubled up rather stupidly. However, it was not the only stupid play on the bases. Just as bad was Ward, who got picked off in a botched play.
It was small ball that scored the runs, speed forcing errors and good pieces of hitting. Seriously, the Rangers had 3 errors on the day.
Recap Highlights
The first run was scored in the first thanks to Ohtani and Ward hits and a wild pitch. It could have been more, but Ward got picked off.
It was a lead that did not last long, as Suarez allowed a run in the bottom of the 2nd to make it a tied game.
But the Angels immediately got it back next half inning thanks to a speedy Tyler Wade and a hustle double by Trout.
Ward walked, and Mayfield singled, with a bad throw allowed Trout to score!
Duffy singled to bring in Ward for the 3rd run of the inning. 4-1 Angels!
No lead is safe in Texas, as Jose Suarez gave up a 2 out, 2 run home run to lose most of that lead. 4-3 Angels after 3.
Scoring died down afterwards, although both sides had rallies. That all changed in the 6th, as Velazquez drove in Jo Adell.
Then, Tyler Wade singled in Velazquez.
Two more runs scored in the 8th, both on fielder's choice. 8-3 Angels.
Angels win on Easter, 8-3! It is a 3-1 series win, and the Angels are 6-4 on the season.