I'm just as shocked as you are that I'm writing this piece.
When the Angels acquired Alex Cobb on February 1st, my reaction was very similar to other Angels fans: underwhelmed and confused. On Twitter, I called Cobb "a #5 starter, no more or no less" and said "he is what he is". On our Cobb piece at Crashing the Pearly Gates, my first response was "It'd be an understatement to say that this has been a completely underwhelming and frustrating offseason." To be quite honest, I still feel similarly about Cobb and the Angels offseason as a whole but I'm trying to take an optimistic approach as the season nears.
And there is certainly a lot of optimism needed in regards to Alex Cobb. The 33-year-old was bad in 2018 (4.90 ERA), missed most of 2019 due to hip surgery, and was roughly league-average (106 ERA+) in the shortened 2020 season. But even amidst that improvement last year came some ugly peripheral numbers. His 6.23 expected ERA (based on strikeouts, walks, and quality of contact) was nearly two runs higher than his actual ERA (4.30). His Statcast profile, as you can see below, was not pretty.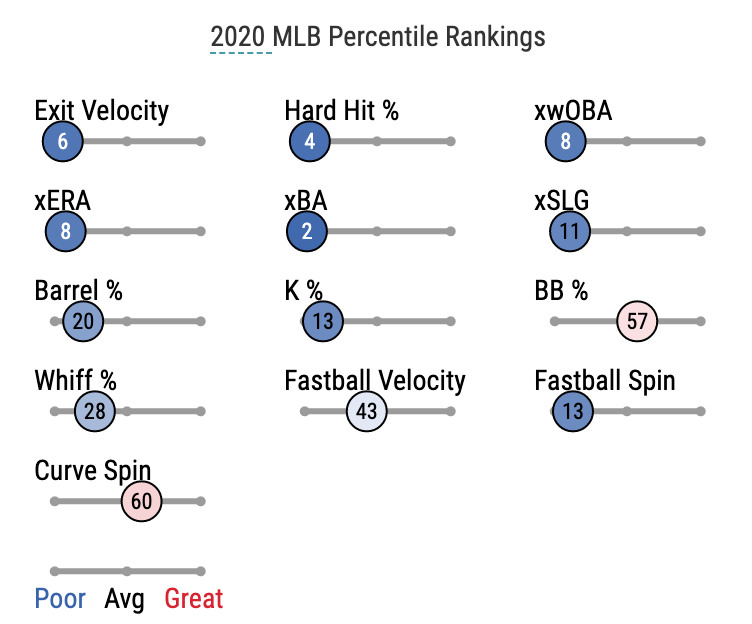 Oh, right. That trying to be optimism thing I mentioned. While Cobb still has plenty of risk with his recent production, age, and injury history, there are a handful of things working in his favor heading into 2021. Here are some different elements that could be a boon to Cobb's season, some related to his skill-set and some related to his new situation.
Getting out of Camden Yards
The first three areas that I'll touch on are completely unrelated to Cobb's actual skills as a pitcher. The first one is obvious: moving from Baltimore to Anaheim. I'm throwing out the 2020 park factors because a 60-game sample provides too much random noise. If you look at the differences between Camden Yards (Baltimore) and Angel Stadium from 2015-2019, it's very noticeable to see how each park plays. The chart below shows the park factor ranks (ESPN) for each ballpark in both runs (R) and home runs (HR) in each year from 2015-2019.

The gap has narrowed considerably since Angel Stadium lowered the home run boundary of the right-field wall prior to 2018, leading to more pull power from left-handed hitters. But Camden Yards has still edged out Angel Stadium every year in terms of runs scored and comfortably led in home runs in three of the five years. Even with the new changes at Angel Stadium and even if you think the stadium is more neutral than pitcher-friendly now, it's still a bump up for Cobb.
Making half of your starts in Anaheim rather than Baltimore should be a boon. Just ask Dylan Bundy, former Oriole-turned-Angel who saw his career 1.58 HR/9 rate drop to a career-low 0.69 last season (no, Cobb will not be as good as Bundy).
Switching from the AL East to the AL West
In years past, this might not have been as dramatic of a change. The AL West consistently had three of the better offenses in baseball with the Astros, Athletics, and Angels. In 2021, however, there's a pretty clear shift in how the two divisions will play. Where the Astros (Springer) and Athletics (Semien, La Stella, Grossman) lost talent, the Blue Jays (Springer, Semien) gained talent. The AL East, generally a hitter-friendly division regardless, just got a whole lot better for 2021. Instead of facing the Yankees, Jays, Rays, and Red Sox for nearly half of the schedule, Alex Cobb will now face the Astros, Athletics, Mariners, and Rangers.
Couple the switch in opponents with the pitcher-friendlier ballparks in the AL West and you now have a second area where Cobb should be helped. A better home ballpark, friendlier visiting ballparks, and easier opponents should help Cobb plenty.
The new 'deadened' baseball
Here's the final area out of Cobb's control that may end up helping him a ton. On Monday, Eno Sarris and Ken Rosenthal broke news at The Athletic about the deadening of the baseball heading into 2021. The story cited the baseballs being ever so slightly smaller and having less bounce, which should lead to fewer baseballs leaving the yard. How many fewer baseballs remains to be seen but it's likely that we'll see hard contact down to some extent in 2021.
That's great news for any pitcher in the game but especially for someone like Alex Cobb. While his overall skills and declining age certainly play a part, Cobb has also seen the quality of contact improve significantly against him in recent years. After running roughly league-average hard-hit rates and exit velocities against for much of his career, those numbers have gotten rather ugly recently. Over the past two years, hitters have ran a 90+mph average exit velocity against Cobb and nearly half of the batted balls against him have been of the hard-hit variety (95+ mph).
If there is some deadening of the baseball, Cobb will be helped out. If there is an even bigger impact than we are predicting, then Cobb could have a serious reduction in the quality of contact against him. Cobb moving to Anaheim, out of the AL East, and having a new, friendlier baseball should lead to better results and we haven't even gotten to his specific skills as a pitcher.
Cobb's stuff and command are still intact
Strangely, Cobb's stuff and command haven't tapered off much and are even better in some regards. From a pure stuff standpoint, Cobb had many positives in 2020. His sinker velocity was at a career-best 92.5 mph. His split-finger fastball generated a career-best 36.2 percent whiff rate. And while his curveball had a below-average whiff rate, the pitch is still above-average in terms of vertical movement, spin rate, and velocity. Much like Dylan Bundy in 2020, Cobb could stand to benefit from further shaving his sinker usage (47.5 percent) and utilizing his splitter/curveball more.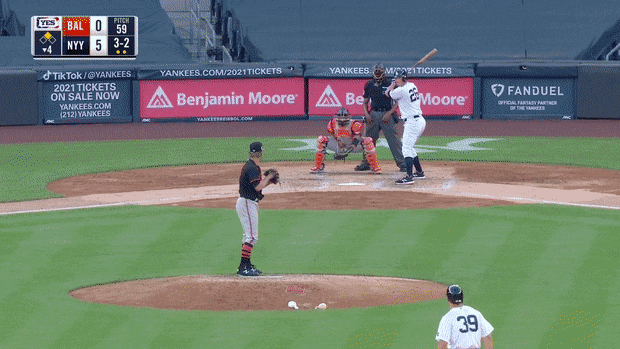 In terms of command, everything seems to check out. Even with the inflated walk rate (8 percent) in 2020, he actually threw more pitches in the zone and more first-pitch strikes. In other words, there's nothing to worry about with the walk rate. Cobb maintaining his strike-throwing abilities and showing some nastier secondary pitches on the mound could lead to some better results in 2021. There's also this fun tidbit from The Athletic's Eno Sarris:
That ground-ball rate, though
The final positive note I want to end on is Cobb's ground-ball rate and how that fits with the Angels. This one's pretty straightforward. Cobb's 53.1 percent grounder rate should play well in front of an Angels infield defense with Anthony Rendon at third base, José Iglesias at shortstop, David Fletcher at second base, and Jared Walsh/Albert Pujols at first base. If there is any meaningful changes with the baseball, too, that could potentially lead to softer contact on ground balls, leading to more ground-outs.
Some final thoughts
I talked about maintaining some optimism about Alex Cobb and I feel like I did that fairly well. But I have to finish this by talking about the obvious risks in buying in on Cobb. He's a 33-year-old who's thrown just 64 2/3 innings the past two years. He's had major surgeries in the past (hip surgery and Tommy John surgery). Based on Eno Sarris's metrics, Cobb's chances of landing on the Injured List are in the 91st percentile. That injury risk and age, along with his below-average production over the past three years, makes him rather risky in 2021.
But if Cobb is able to stay healthy, he's already likely to benefit from a better situation around him. If he takes his pitch mix a bit further (i.e. throwing more splitters and curveballs), there could be another level Cobb reaches. I'm not fairly confident in Cobb reaching this best-case scenario but there are at least some intriguing elements beneath the rather boring profile.