Outside of Shohei Ohtani, Dylan Bundy may be the most fascinating pitcher in the Angels rotation, and I'm not just referring to his porn mustache.
Acquired in a trade this past December, Bundy represented the biggest addition to the Angels pitching staff. That may sound underwhelming given the Angels atrocious pitching performance last year but Bundy is a quality arm who will make an immediate impact.
Bundy's pedigree is well-known. He was one of the best high school pitching prospects of all time and a consensus elite pitching prospect, who was then derailed by injuries that wiped out a majority of the 2013-2015 seasons. Bundy has admirably recovered from brutal arm injuries (Tommy John Surgery and shoulder calcification) and become a roughly league-average starter. Since 2016, Bundy has posted a 105 ERA- (5 percent worse than league average) and 104 FIP- in 612 2/3 innings.
While Bundy's durable league-average production and two years of club control are certainly desirable, I have to think the club sees more potential in Bundy. Based on his stuff, a variety of underlying numbers and recent suboptimal pitch utilization, there may be something more in the tank. Let's explore.
Bundy's fastball is not very good
While Bundy was heralded as a prospect with an upper-90's fastball, that same pitch is very clearly his worst pitch now. Currently sitting in the 90-93 mph range, Bundy's fastball doesn't have the same velocity it used to but he does have the high-spin needed (86th percentile) to make it a useful pitch. As you're probably aware of, high-spin fastballs generate better results up in the zone. You can get away with slower fastballs with high spin up in the zone due to perceived rise and the lack of vertical movement. You can make a 92 mph fastball look like this: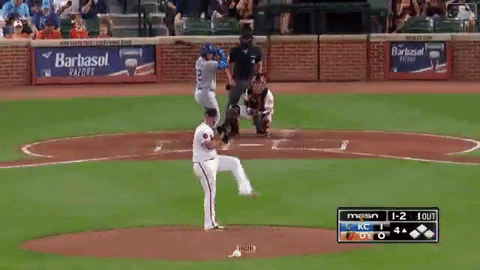 Pitching up in the zone has its benefits but there is high-risk high-reward for doing so. Missing your spot by even a few inches could mean a low-90's fastball crossing the middle of the plate for Bundy. But pitching down in the zone with the fastball isn't necessarily any safer in an era of juiced baseballs and emphasis on launch angle. Bundy is in a tough spot with this pitch because it's not really all that good and the only place it may be effective is way up in the zone to generate whiffs.
The pitch utilization, as of now, simply hasn't been effective. By xWOBA (Expected Weighted On Base Average), the pitch has been subpar for years now. Hitters had a .378 xWOBA against Bundy's four-seam fastball last year. In 2018, that number was .400. In 2017, it was .363. The pitch has essentially capped Bundy's upside, despite having the stuff to be better.
Bundy needs to utilize the pitch less, try to pitch more effectively up in the zone or utilize his sinker more to generate grounders. The latter option could work but he threw the sinker just 7.5 percent of the time last year. There's also another and more appealing option: stop using the fastball so much and throw more off-speed pitches.
Bundy should utilize his elite off-speed stuff more often
Simply using his elite pitches more often may lead to better results. Michael Ajeto of Pitcher's List examined this exact issue and found that a few tweaks could really benefit Bundy. Both his slider and change-up, by a variety of measures and the eye test, are incredibly good.
The slider is Bundy's best pitch, a true two-plane breaker that is deadly against righties and a real bat-misser. In 2019, hitters had a .222 xWOBA and whiffed on 47.9 percent of Bundy's sliders. He had even better results in 2018, posting a .162 xWOBA and a 50 percent whiff rate on the slider. It's easy to see why hitters struggle so much with the pitch.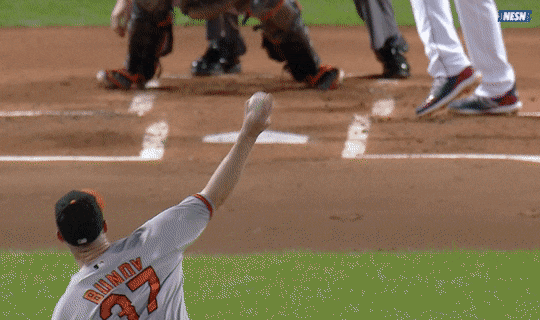 Bundy can aggressively use his slider against righties while switching to the change-up against lefties. The change-up is not quite as good as the slider but it's still a nasty pitch that could be used more often. Hitters had a .300 xWOBA against the change-up in 2019 while whiffing on 32.5 percent of their swings.
More encouraging is the fact that the change-up's shape was much better and experienced more drop than ever in 2019. Last season marked the first year where Bundy had an above-average vertical drop on the pitch, which looked like this: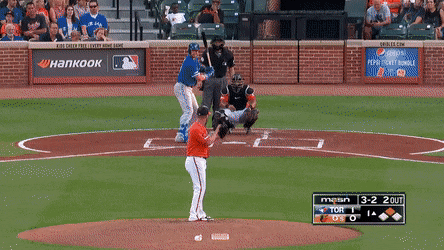 Bundy may even want to think about using his curveball a bit more. The pitch has been above-average both in terms of vertical drop and whiff rate over the past two years. Despite that, Bundy threw it only 10 percent of the time in 2019.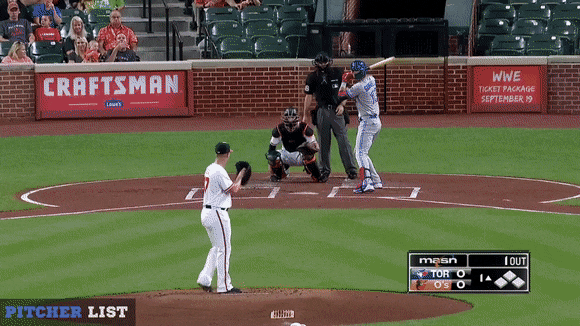 The best optimization
The question is how Bundy best goes about changing up his pitch usage and getting the best results. It's easier said than done to simply use the fastball less and throw more breaking balls to get instant success. Pitch sequencing and setting up the fastball to allow your breaking pitches to play off the heater matters a good amount. But there is likely some grey area with his pitch utilization where Bundy can explore that may lead to better results. He may have already started tapping into that.
Bundy had a career-low 50 percent fastball usage last season, marking an even split in fastball/breaking ball usage. A 50 percent fastball rate placed him 30th among starting pitchers (min 160 IP) in lowest fastball usage, meaning he has even more wiggle room to experiment with. A drop into the 40-45 percent range means even more deadly sliders and change-ups, which may be a route Bundy and the Angels would like to explore. For what it's worth, Bundy threw 50 percent fastballs in his Spring Training debut on Tuesday, continuing last year's trend.
Luckily for Bundy and the Angels, they have a strong pitching coach with a track record in Mickey Callaway. While Callaway may not share ex-pitching coach Doug White's more progressive view on analytics and pitch usage, the new Angels coach does have a strong track record from his time in Cleveland and New York. Having Jacob deGrom and Corey Kluber at your disposal could make any coach look good but Callaway was likely in those situations for a reason and he might be someone who can help unlock Bundy's potential.
If Bundy is unable to tap into more of his stuff and he pitches near his career norms, the Angels are still getting a quality backend starter this year. But given what we know about Bundy's underlying numbers and the stuff he has, there may be more in the tank and at 27 years old, he could have a real breakout season.
Photo credit: KA Sports Photos