Much of the attention on the Angels offseason has been on pitching and rightfully so.
The club has made that rather obvious with their acquisitions of José Quintana, Raisel Iglesias, and Alex Claudio. While the club absolutely needs to continue adding pitching, they've pretty clearly focused on beefing up a pitching staff that has been one of the worst in baseball over the past half-decade. There's another weakness on the roster, however, that is garnering less attention this offseason.
In the condensed 60-game season in 2020, the Angels received exactly zero Wins Above Replacement (WAR) from their corner outfielders. That is, the combination of Justin Upton, Jo Adell, and others provided production that a replacement-level player could've provided from Triple-A. The Angels still need pitchers but they also need to fix up a pretty glaring need in the corner outfield. Let's start by addressing the most obvious issue in right field.
Adell or….well?
Jo Adell, a consensus top-five prospect entering 2020, was an unmitigated disaster in his first taste of the majors last year. Among players with at least 100 plate appearances, Adell had the lowest WAR (negative 1.3) and wRC+ (29). Only Miguel Sano had a higher strikeout rate than Adell's 41.7 percent clip. Add in some disastrous results in right field, a new position that Adell was learning, and you had an overall nightmare situation for both him and the Angels. The raw skills are still there— he had a 98th percentile sprint speed and only 14 players had a higher maximum exit velocity (115.5 mph)— but it's clear that he needs more seasoning in Triple-A.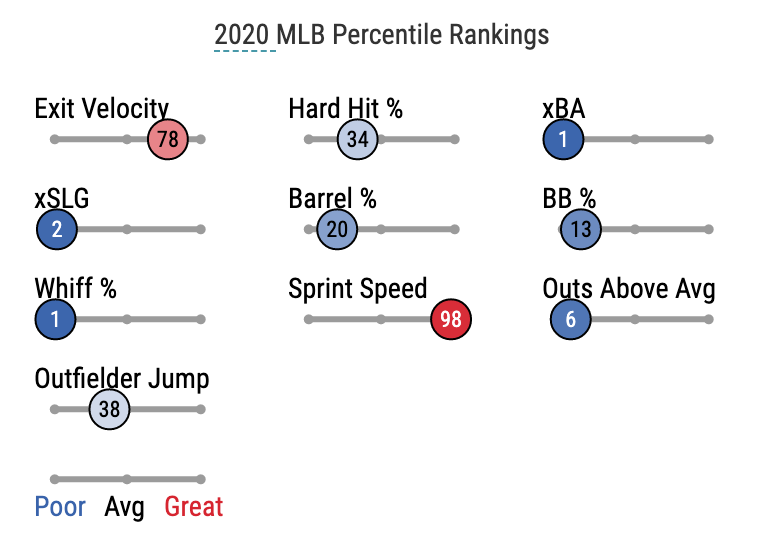 The Angels have already implied that Adell will start the 2021 season in the minors. With no obvious candidate to take those reps in right field, it's fair to wonder what the plan is for the position. Jared Walsh, a potential option, will likely be the everyday first base option. Taylor Ward, someone I am sort of buying as a useful big leaguer, probably shouldn't be penciled in as an everyday option. Brandon Marsh, the Angels best outfield prospect beyond Adell, will probably start the season in Triple-A. Scott Schebler, signed to a minor-league deal in November, hasn't been a useful major leaguer since 2018.
The club is in a bit of a tough spot for the position in 2021. It's completely possible that one of Adell or Marsh performs at a high level in the minors, prompting a quick promotion. You don't necessarily want to block one of those two players but you also don't want to bank on them being MLB producers in 2021. Unfortunately for the Angels, there aren't a whole lot of outfield options left in free agency, which took a serious hit on Friday with the signings of Joc Pederson and Eddie Rosario.
The continued decline of Justin Upton
While the obvious option in right field is to give more MiLB time to Adell and find a competent replacement, it's much more complicated in left field. There's no denying the superb career that Justin Upton has had; among active players, only 14 players have a higher fWAR (36.5) and only three have more home runs (307). But the numbers are pretty clear: Upton is steadily declining in every imaginable way and is entering his age-33 season.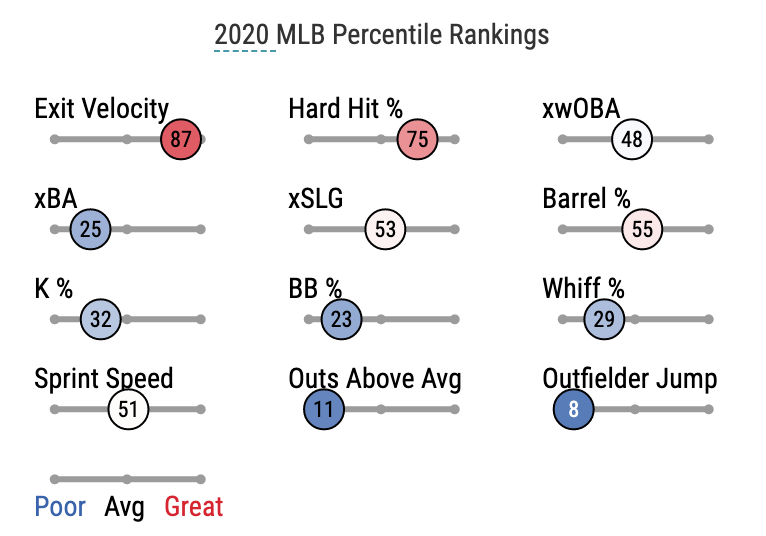 While Upton finished last season strong (155 wRC+ and 5 home runs in September/October), he's been ineffective and often hurt for the past two seasons (negative 0.3 WAR in 105 games). He's still hitting the ball hard but the consistent abilities to barrel baseballs and handle full-time duties in left field are dwindling. Add in Upton's remaining $51 million over the next two years, along with a no-trade clause, and there's no obvious decision to make with him. That leaves two positions that are in flux heading into 2021.
What to do about this?
Unfortunately, the free-agent market for outfielders has taken a serious hit. Even the useful short-term veteran options are rapidly declining; both Joc Pederson and Eddie Rosario signed cheap one-year deals on Friday. The remaining options in free agency beyond Marcell Ozuna are uhhh… not great! The top outfield options according to the Fangraphs ZIPS Projections
Marcell Ozuna (3.6 WAR)
Brett Gardner (1.8 WAR)
Yasiel Puig (1.7 WAR)
Jackie Bradley Jr. (1.5 WAR)
Adam Duvall (1.1 WAR)
You can probably rule out Ozuna (contract) and Bradley (center fielder). Puig is caught up in yet another sexual assault/abuse scandal. Gardner seems like an obvious bet to go back to the Yankees but if he doesn't, he'd be a great addition on a short-term deal for the Angels. Duvall also makes plenty of sense after having a resurgence in Atlanta, smacking 16 home runs in the shortened 2020 season. If the free-agent market doesn't work, perhaps the club can make a move for a lower profile outfielder via trade —David Peralta, Adam Frazier, Mike Tauchman, and Randal Grichuk come to mind.
The attention has, rightfully, been on fixing a broken pitching staff. But I think it's a mistake to assume that things are fine in the outfield. Rolling into the season with the current group of outfielders represents another weakness for the Angels in 2021. In addition to finding more pitching, the club ought to find a competent option for outfield duties in the 2021 season.