Welcome to the third installment of the If I were Perry Minasian series, where CtPG writers detail the transactions they would make for their desired Angels offseason.
In order to rosterbate responsibly, guidelines for this exercise are as follows.
Remember, no one has a crystal ball. Trades should be fair at the time they were made but can look very lopsided in hindsight. People on the internet will probably pull these up two years later and laugh at you. This can be very humbling! That is the nature of the game. —RS
Another offseason is here at CtPG and as such it is our turn to take a spin at the wheel of being a GM again. With 45 million to play with, some figures to look at, and other writers to convince, here is my plan on what to do if I were Perry.
Goals
I have simple goals here.
Bullpen is the key to winning in the 21st century. Make the best bullpen.
Get an ace.
More offense!
I have been thinking about this for a while now. Getting a bunch of good starters is hard, especially since everyone is after them. Our young staters are fine, it just needs someone in the top at least. 2 would be better but that would be difficult. It is actually easier to get more offense as everyone will be looking to get the pitchers.
Cutting Costs
First things first, there is some dead weight, some more dead than others. Gosselin, and Guerra are cut for 2.8 million more dollars. 47.8 is a lot, but it is not enough, as there is a giant elephant in the room, Justin Upton.
Trading Upton is not easy. He has 28 million tied to him, a no trade clause, and has been not good. San Francisco won't eat his salary even if we put in a prospect, right? Best one can hope is a contract swap from a contender and get Upton to approve. Now who could that be?
Trade Justin Upton to NYY for Aaron Hicks
Yes, this is a hard sell for everyone but it could work if one gets lucky. NYY agree as it saves them money in the long run for Lux Tax shenanigans (if that is still a thing in the next CBA). Angels save 17 million for 2022 and get the better outfielder. Upton gets to play for a playoff team. Just have to convince him that he is a great player and certainly won't get boo-ed in New York please say yes? 4 years and 44 million for a player who had an OPS+ under 100 last year is scary, but he could bounce back, right?
Point is, Angels budget for 2022 is increased to 64.8 million.
Trading Time!
The Reds are looking to dump salary, badly. Everyone knows it. Their starters will be expensive even if you take on a contract. Getting an ace from them could work but will be steep. After much debate, I won't get those, instead, going after these bullpen pieces.
Angels aquire Eugenio Suárez and pitchers from the Reds for Jo Adell
3 cheap, young, bullpen arms and a hybrid sp/rp and all I had to do was take on Suarez. He will be moved to 2B and Fletcher will take over SS. Hey, we got our SS! Success!
Suarez plays better when he isn't at short and he hits bombs. Perfect for my strategy. Plus, 4 fresh arms to the bullpen! All that for 13.8 million too.
Yes, giving up prospects is tough, and Adell means we have given up on him for arms. But hey, 51 million left to fix that.
Big Time Free Agency
For free agency I used Fangraphs's own Ben to do the numbers. He is less likely to be biased and by sticking to one system I can't pick and choose my way to save money.
Angels sign Carlos Rodón for 3/45M
The Angels cannot afford to miss out on getting a top Free Agency starting pitcher again. Rodón is overlooked and is a good fit with no draft pick attached. 15 million is a lot, but the big risk has to be made. Got that ace. 36 million left.
Angels re-sign Raisel Iglesias for 3/45M
Raisel is just too good to let go. He is a multi inning closer who has been ultra consistent AND good for the Angels. There is always risk with these things but this is a risk that you HAVE to take. 15 million means 21 million left.
The Angels are what, exactly? Angelic beings right? That's what it is supposed to be. Yet they have not been in recent years. Someone needs to come and fix that and what better way than to get the one who always makes those around him men of faith?
Angels sign Nick Castellanos for 3/63M
And that makes it 4-0 ballgame. Using the last bit of money, the Angels offense gets even better. Arte is happy because star, I'm happy because memes, the players are happy because offense is great.
Recap
The goal of this was to make the bullpen killer and then hit them to death relying on a good enough end of the rotation and youth to step up for the rest. Adell could have been a part of this if it was 2024 but we don't have time for him to get better. We need players now, players who will out slug everyone and then a bullpen of excellence.
Lineup
The lineup is now stacked.
Mike Trout (LF)
Shohei Ohtani (P/DH)
Nick Castellanos (RF)
Jared Walsh (1B)
Anthony Rendon (3B)
Max Stassi (C)
Eugenio Suarez (2B)
David Fletcher (SS)
Brandon Marsh (CF)
Putting Trout back at leadoff maybe makes him steal again. He won't get to 300/300 if he doesn't get back to doing that now. Ohtani behind him also makes pitching around Trout difficult. Castellanos behind Ohtani makes pitching around Ohtani difficult. Walsh makes the RLRLR lineup work more and puts pressure off of Rendon who is now 5th and hopefully gets back into form without having to carry the team.
Stassi can come up big if Rendon does walk and Suarez can hit 30 bombs down in the 7 hole. Fletcher works better down there and Marsh at 9 makes him a second leadoff guy and in later parts of the game makes the lineup go RLRLRLR.
Rotation
The rotation is more youth focused than people may like but it's the goal.
Carlos Rodón
Shohei Ohtani
Patrick Sandoval
Griffin Canning
Jose Suarez
Reid Detmers
Hoffman, Barria, Naughton, Junk, and Diaz is the depth. It's not ideal but the whole goal is to use bullpen and hitting anyway.
Bullpen
Raisel Iglesias
Art Warren
Austin Warren
Tejay Antone
AJ. Alainz
Mike Mayers
Jeff Hoffman
Sam Bachman
The bullpen is remade and will carry often this season. It is also young. VERY young, with all but Raisel being arb or pre arb.
Bench
Aaron Hicks

Chad Wallach
Jack Mayfield
Jose Rojas
Reasoning
Now I could have just gone all in on pitching when I got all that money, but big contracts on starting pitchers who could blow up may not be exactly the wisest thing ever? Part of my reasoning is because I am wary but also because well, I like the young starters the Angels have. I was going to get more young pitchers but that seemed unreasonable to get from the Reds just for eating a contract.
But what truly changed my mind from trying to get Mahle or buying multiple starters was seeing how the team played last year. Bundy went from ace to trash, the offense fell apart due to the injuries, and the pitching, well, actually improved! I believe in these pitchers we have here in the rotation and they can truly shine. These men should have faith and that is a deep drive by Castellanos and that makes it a 4-0 ballgame.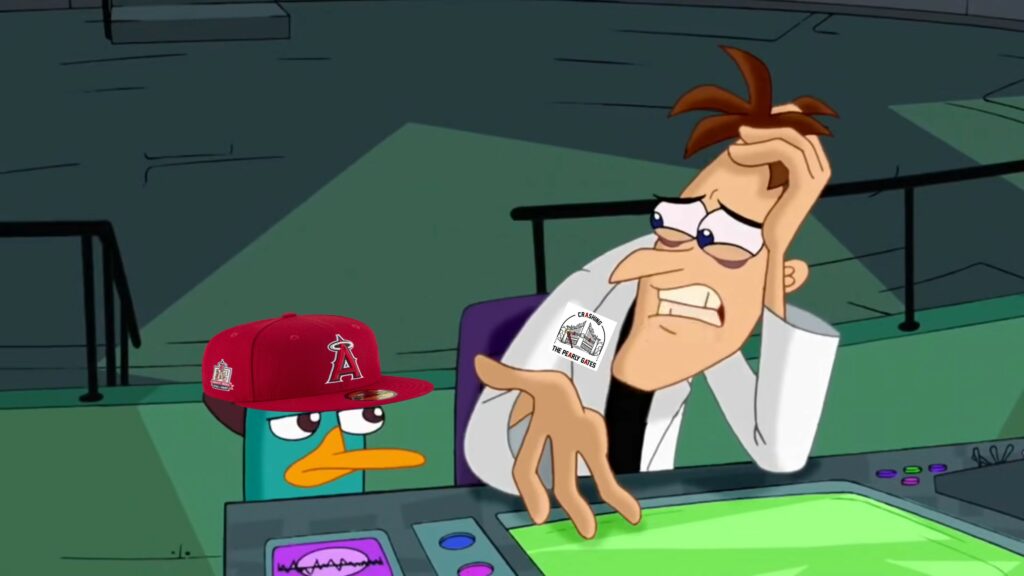 Yeah… I also really love Nick Castellanos and figured "Why not?" and for that to happen I needed to have $21M left over so I took Suarez over Moose in the Reds deal and switched my focus to a bunch of bullpen arms so I had enough left over. Is it the wisest plan? Maybe not, but of the players acquired, only Hicks is here for 4 years, the others are on 3 year deals with Suarez having a 4th year option or are pre arb or arb relievers. Also having a switch hitter 4th OF makes days when Trout needs to rest or players get injured be an easier pill to swallow.
This also means that a ton of money comes off the books all for the 2025 season instead of say, 2030. It isn't like I acquired old players either as the oldest is Raisel coming back at 31.