The Angels have a lot of needs to address entering the 2022 season coming off a 77-win season, good for 4th-place in the AL West. It goes without saying, then, that the Halos need to acquire numerous quality players to become competitive. With just five players under guaranteed contract next year (Mike Trout, Anthony Rendon, Justin Upton, Shohei Ohtani, and David Fletcher), I don't envy the task at hand for GM Perry Minasian.
This post intends to break down how much we can expect the team to spend this winter and gain an understanding of what the roster could look like next season under these payroll stipulations.
Here is what Opening Day payroll has been for the past five seasons, per Cot's Contracts:
2017: $166.4 million (7th in MLB)
2018: $166.6 million (6th)
2019: $158.9 million (8th)
2020 (prorated for 60 games): $71.2 million (6th), or $192.4mm with 162 games
2021: $182.0 million (7th)
Without any notable payroll commentary from ownership, it can be assumed no meaningful increases will result. Ownership's incentive is to drum up excitement and awareness: if there was a big bump incoming, I'd think it would have been telegraphed by now through team reporters.
It's also unlikely any meaningful decrease will occur. The local economy in Orange County has largely recovered from the pandemic with the unemployment rate at 5%, according to data from the CA Employment Development department. This figure has continued to trend down since the summer and is down from 9.6% in September 2020.
Related point: people will feel safer attending sporting events ("return to normalcy" in 2022 vs 2021 and 2020, especially after the recently-available vaccine booster shots.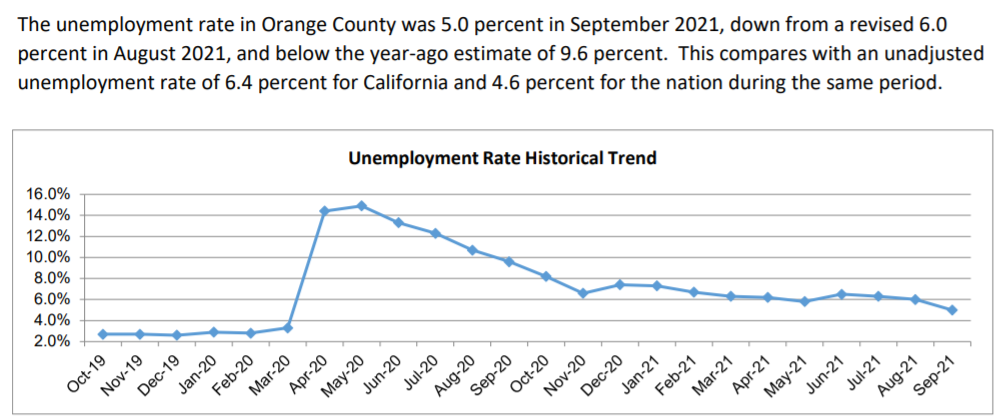 Based on this information, we are comfortable maintaining last year's payroll figures for our staff's general manager scenarios we will be rolling out shortly. This gives Minasian $45.0 million to spend, with an implied Opening Day payroll of $181.75 million. You can refer to this attached Google Sheets for my calculations.
Couple notes:
2021 was Albert Pujols' last year under contract, which freed up a lot of $
Raisel Iglesias was extended a QO for $18.1 million, this is not reflected in our payroll calculations
MLBTR estimates were used for arbitration candidates including Max Stassi ($2.7mm), Mike Mayers ($2.2mm), Phil Gosselin ($1.5mm), & Junior Guerra ($1.3mm) – nontendering these players would reduce payroll by these amounts
Ways I could be misguided: (1) How does the CBA affect how owners spend this winter, will it lead to a lockout, etc? (2) Does Shohei Ohtani's breakout incentivize ownership to spend $ and lead to potential multiplier effect of publicity if they win? (3) Covid reaccelerates over the next two months, resulting in less spending
These are the three largest risks to my estimated payroll figure, though there could be more I have not given enough weight. Feel free to discuss in the comments, as this is the most $ the club has had to spend in years.