The Angels employ the likely 2021 American League MVP and the clear-cut best player in MLB this year. Despite that, the Angels sit at just one game above .500 (50-49) and are caught in between being true buyers or true sellers.
This is a familiar tune for Angels fans, who have seen a similar pattern over the past decade of Angels baseball. The only difference is instead of Mike Trout being that clear-cut best player (he's been on the Injured List since mid-May), it's Shohei Ohtani, who leads the majors with 6.6 Wins Above Replacement (Baseball Reference). The overall point remains the same, however: the Angels have enough star talent on the roster to remain relevant but too many holes to be a true competitor. Add in a barrage of injuries to key players (Trout and Anthony Rendon are both out) and it further exasperates the issues.
The reality is the team, as currently constructed, is probably not good enough to make the playoffs. The roster as it currently stands is hampered by a disastrous bullpen, horrid defense, rotation depth concerns, and the Trout/Rendon injuries. Further making contention unlikely is the fact that the Angels are five games back of a Wild Card spot and have a 10 percent chance of making the playoffs according to Fangraphs. With the Angels 10 games back of Houston in the AL West and multiple teams in between the Angels and the second Wild Card spot, there just isn't a high likelihood of the Angels making the playoffs.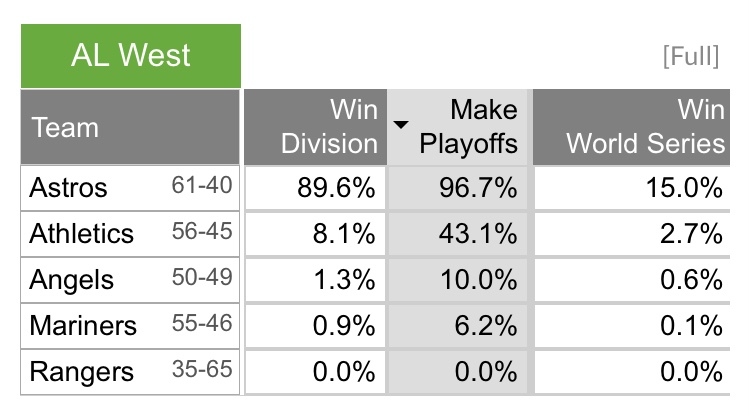 Here's the thing, though: you can squint and see a real contender on this roster with a Trout/Rendon return and an active trade deadline. Despite injuries to key offensive players, the Angels have a top-10 offense by both runs scored (475) and Weighted Runs Created Plus (107 wRC+). The Angels rotation has really stabilized (3.13 ERA in July) thanks to a strong trio of Shohei Ohtani, Patrick Sandoval, and Alex Cobb. A return of Mike Trout, some pitching additions, and a possible Reid Detmers/Chris Rodriguez promotion(s) could drastically change the fortunes of the Angels.
Time is running out, however, for the Angels to make some decisions before Friday's 1 PM (PT) trade deadline. Given how the Angels are caught in between buyers and sellers, they could be one of the most interesting teams to watch in the coming days. With that in mind, let's explore three different scenarios the Angels could explore: selling, buying, or something in between.
Option 1: Selling
If you strictly looked at the Angels record and playoff odds and didn't have context of anything else, you'd be sure that they'd be selling. The team is five games back of a playoff spot with two months to go and has to leapfrog four teams to snag a Wild Card spot. They have a 1-in-10 chance of making the playoffs. A large chunk of the roster consists of impending free agents, some of whom have been plenty valuable (Alex Cobb and Raisel Iglesias) while others have been less so (Dylan Bundy, Kurt Suzuki, and many others). An analytical perspective would say to sell off all of your pieces to swap out as much short-term value for long-term value as you possibly can.
The issue with this? The Angels simply don't have that many valuable pieces to sell. The aforementioned Cobb and Iglesias are clearly the best (realistic) trade options (Trout and Ohtani are not getting traded). Cobb is one of the 30 best starters in the majors according to fWAR (2.3). Iglesias is a legitimate high-leverage reliever boasting a top-10 strikeout rate (39.5 percent) and expected ERA (2.35). Both guys would fetch you a pretty nice return, especially if they were included in the same deal. Outside of those two, Andrew Heaney might be the only other semi-valuable trade piece for a team that thinks they can get more out of him.
If the Angels go for the straight selling route, they're signaling that they probably just don't have enough firepower to make a run this year. With a fully healthy Trout and Rendon, things could possibly be different but selling will be a serious consideration. If the Angels do go this route, they're best-suited to completely sell off the impending free agents for as much as you can get. Replace them with your top prospects (Jo Adell, Detmers, Rodriguez) and other potential MLB role players (Packy Naughton, Matt Thaiss) and utilize the last few months to get a better idea of where you stand heading into the offseason.
Option 2: Buying
On one hand, it's hard to view a team that's five games back of a playoff spot as true buyers, especially since said team has not finished above .500 in a season since 2015. On the other hand, a team that employs Shohei Ohtani and Mike Trout (possibly back soon) can always be viewed as a buyer. The individual talent on the Angels roster is good enough to be viewed a potential buyer, especially given what we know about the lack of trade chips to sell. While it's a longshot for the Angels to make the playoffs, it's not inconceivable for a team to erase a five-game deficit over the course of a few months.
Will the Angels be true buyers in the sense that they actively target short-term players who are impending free agents? Probably not. I don't think there's a Mark Teixeira (2008) or Zack Greinke (2012) trade in the works. What could happen, however, is the Angels trade for a collection of players who can help both this year and beyond. The Angels, obviously, need pitching and can acquire either short-term options (Max Scherzer, Jon Gray, Zach Davies, Brad Hand) or look to guys under control beyond this year (Kyle Gibson, Craig Kimbrel). It's a pipedream but acquiring a frontline starting pitcher with club control like Germán Márquez, Luis Castillo, José Berríos, or Sonny Gray would obviously be fantastic. Whether any of them become available or if the Angels have enough trade chips to acquire them is a different story.
The point is the Angels do have the option of buying in the next week, whether that's a long-term or short-term play. There are also varying levels of buying the Angels can engage in, like making a soft effort to remain quasi-competitive or making a clear win-now type of approach (say, a Jo Adell trade). The Angels being straight buyers seems like the least likely of these three scenarios but a hot streak heading into the deadline could change this.
Option 3: Hybrid of selling/buying
Here's an interesting option the Angels could explore: being both sellers and buyers. Let's say that the Angels like both Raisel Iglesias and Alex Cobb a lot but both have immense trade value or the Angels don't view them as necessary beyond this year. You can maximize your return from a seller's perspective by moving these two and possibly targeting close-to-ready MLB players. In addition, the Angels could trade all of the impending free agents who had a sliver of value (Andrew Heaney could have value). Gain as much value from the impending free agents as you can and target near-ready MLB prospects (or players in the majors).
At the same time, the Angels could be active on the buyer's market to seek out options for this year and beyond. As mentioned before, the Angels have some options to acquire pitching for beyond this year. That could be a smaller move but perhaps they can swing a huge trade for one of those big, cost-controlled starters. The Angels can also beef up other positions of need, like a backup/partner for Max Stassi (Jacob Stallings or Mitch Garver) or a depth infielder (Rendon's injury issues this year may be an issue moving forward). While selling off some pieces, the Angels could possibly buy enough strong pieces to have a better roster heading into the offseason. With enough luck, they could still stick around for this season.
In this scenario, you're essentially retooling the roster going into next year. It's not exactly signaling that you're punting this year but rather acknowledging the slim playoff chances and looking more to 2022. By making these moves, the Angels could also open up the door for several players in the upper minors who could use some legitimate MLB time. Jo Adell could use a few months in the majors with everyday at-bats. Reid Detmers and Chris Rodriguez could get 8-10 starts in a MLB rotation. Even smaller moves like trying Matt Thaiss at catcher or plugging Hector Yan into the bullpen could be beneficial.
Fans may be turned off by the club not picking a clear direction but I'd argue this could be the best route. The Angels probably won't make the playoffs but it's close enough to embrace some sort of buying. At the same time, you need to acknowledge that 2022 is a likelier bet to make the playoffs. With the delayed returns from Mike Trout and Anthony Rendon, it further complicates the issues. If I'm the Angels, I'm going this route. Try to get value from your two most valuable (realistic) trade chips, buy some MLB players with club control, open up roster spots for your performing minor leaguers, and make a push to have a better 2022 season, with the outside shot that they can make the playoffs this year.