In a small sample of what will be a small-sample 60-game season, the Angels rotation has produced two superb performances to kick off the season.
Andrew Heaney opened up the season with a 1-run performance in 4 2/3 innings, striking out six batters and walking none. Newcomer Dylan Bundy followed that up with an even better performance on Saturday afternoon. Bundy allowed one run in 6 2/3 innings, striking out seven hitters and walking none. Cumulatively, the two struck out 13 batters, walked none, and allowed just two runs in 11 1/3 innings of work. That production will suffice.
Heaney carried over some of his second-half success in 2019 (23.9 K-BB% in the 2nd half) to his first start on Friday night. Heaney, who dealt with back tightness earlier this week, was on a stricter pitch count but he made the most of his 67 pitches. He generated 13 whiffs, 10 of those coming on heaters that were generally up in the zone. As usual, Heaney had sparkling K/BB numbers but the batted balls raised some alarms (97.8 mph average exit velocity). This is the conundrum with Heaney, who has had no issues flashing strong stuff and control but has had issues with opposing hitters barreling him up. That said, Heaney was rather dominant in his short stint on Friday.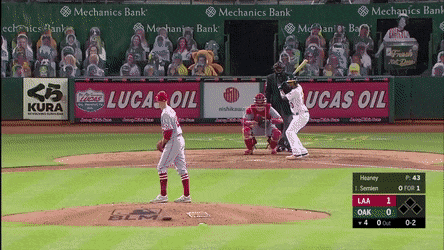 Bundy's performance was even better in a longer outing (90 pitches). Through-and-through, Bundy was dominant in missing bats (11 swinging-strikes), throwing strikes (64), and generating weak contact (84.4 mph). Bundy relied heavily on his elite slider, throwing it 30 times and generating eight whiffs. Bundy had a stretch in the middle of the game where Oakland hitters were flailing at sliders way out of the zone. Perhaps the most notable aspect of Bundy's outing is the fact that he threw non-fastballs 54.4 percent of the time. This continues a trend of less reliance on his (poor) fastball, a trend that may lead to major success in 2020.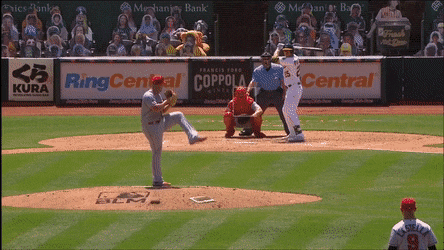 On the heels of a historically bad performance from Angels pitchers in 2019, most notably in the rotation, the early success ought to be viewed as a positive sign. Angels starters were bad across the board in 2019, failing to give the team either quantity (innings) or quality (run prevention and peripherals). Heaney and Bundy's strong opening performances will be followed up with Shohei Ohtani's return to the mound on Sunday and Griffin Canning's debut on Monday. If Angels starters continue to give the club strong outings, the team's chances of making the playoffs are rather high.