As Angels fans, we have more time on our hands than usual with no baseball for the foreseeable future. Why not take a trip down memory lane and reflect on all of the postseason appearances in Angels franchise history?
Today marks the last part in a 10-part series documenting every Angels playoff appearance. I'll go chronologically, going from the first playoff appearance all the way to their most recent appearance. Next up on the list is the 2014 team that won 98 games and ended their half-decade of playoff-less baseball. Unfortunately, their visit to the playoffs was a forgettable one and they haven't made it back since.
PART 1: The 1979 Season
PART 2: The 1982 Season
PART 3: The 1986 Season
PART 4: The 2002 Season
PART 5: The 2004 Season
PART 6: The 2005 Season
PART 7: The 2007 Season
PART 8: The 2008 Season
PART 9: The 2009 Season
---
The 2014 season likely brings mixed feelings to the Angels faithful. On one hand, the Angels made it back to the playoffs in a 98-win season. They played competitive and exciting baseball throughout the year, including an epic seasonal battle with their rival Oakland Athletics and 10 walk-off victories. Furthermore, Mike Trout's emergence as baseball's best player led to his first AL MVP award and first visit to the playoffs. On the other hand, the Angels were one-and-done, getting swept in the ALDS against the Kansas City Royals in a forgettable series. After a half-decade stretch of no baseball, the Angels botched their 2014 postseason visit and have not made it back since.
Position Players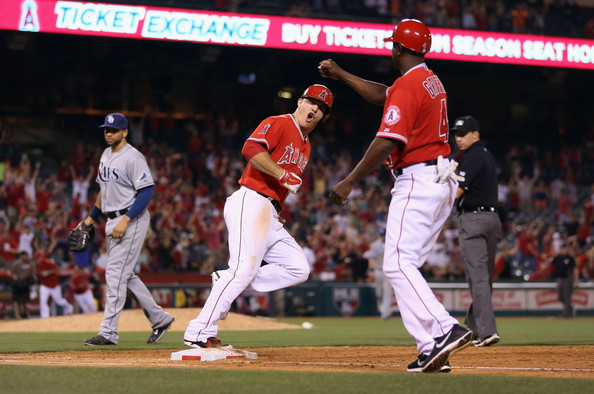 The 2014 position player group was legitimately one of the best groups in franchise history. Before we evaluate, though, it's important to contextualize the run environment in 2014. The 2014 season represented the lowest-scoring run environment (4.07 R/G) since 1981 and the lowest home run environment (0.86) since 1985. So when you look at the Angels' collective .259/.322/.406 line, remember that was considered one of the best offensive outputs in baseball that season. The Angels finished the 2014 season with the third-best fWAR (30.4) and wRC+ (110). Both of those figures rank fourth all-time in Angels franchise history.
Any conversation with a post-2011 Angels team starts with Mike Trout, who took home his first MVP(s) award home in 2014. Even in what was considered a "down" Trout season, he paced baseball with his league-best 8.3 WAR, winning both the AL MVP award and All-Star Game MVP award. The depth behind Trout was also superb in 2014. Howie Kendrick (4.6 WAR), Erick Aybar (4.2), and Kole Calhoun (3.4) were all well-above-average everyday players. Albert Pujols (2.7 WAR) and David Freese (2.5) provided league-average value at the corners. Hank Conger (2.7 WAR) and Chris Iannetta (2.5) were one of baseball's top catching tandems. Even Collin Cowgill (1.4 WAR) and Josh Hamilton (1.1) provided roughly average value in left field. This group had the star power at the top, a trio of great everyday players behind him, and the necessary depth beyond to create a superb position player group.
Pitchers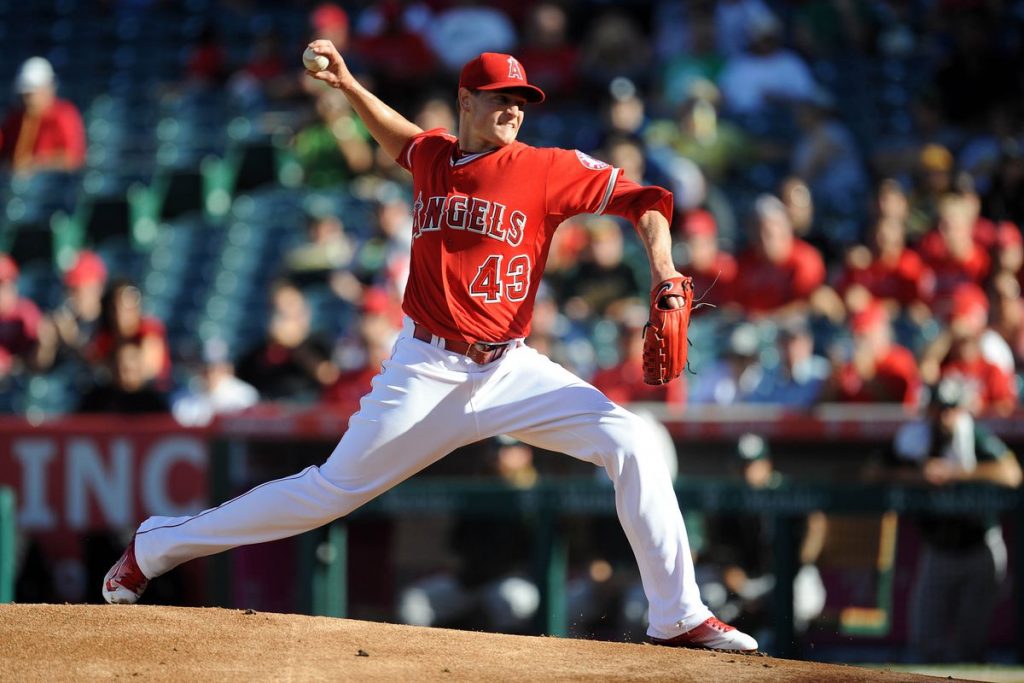 The 2014 staff was certainly not great but they were a perfectly competent group that improved as the year went on. Angels pitchers finished middle of the pack in WAR (14.5), ERA- (98), and FIP- (97). Both the rotation (13th in WAR) and bullpen (16th in WAR) performed at just about league-average marks. It's worth noting, however, that improvements and personnel changes propelled the Angels staff to becoming one of the best groups in the second half. Their first-half ERA- (107) improved significantly in the second half (89) as did their FIP- (from 102 to 91).
The rotation was lethal for a stretch when everybody was healthy and coming together. Garrett Richards emerged as a legitimate ace (2.61 ERA and 72 ERA-) before a nasty knee injury ended his season in August. Matt Shoemaker's emergence as a rookie (2.1 WAR and 83 ERA-) seriously boosted the staff, especially in the second half (1.87 ERA). Jered Weaver (98 ERA-) was roughly league-average in over 200 innings of work. In his first season in Anaheim, Tyler Skaggs (RIP) tossed 113 solid innings (1.6 WAR) prior to undergoing Tommy John surgery in July. After two strong seasons to start his Angels tenure, C.J. Wilson's third season was a huge underperformance (124 ERA-). Hector Santiago was a league-average run preventer in 127.1 innings. The rotation as a whole improved drastically from the first half (104 ERA-) to the second half (91 ERA-)
The bullpen's turnaround from the first half (107 ERA- and 108 FIP-) to the second half (86 ERA- and 77 FIP-) was even more drastic. Much of this had to do with a personnel change, mainly the acquisitions of Huston Street (47 ERA-) and Jason Grilli (59 FIP-). Those two bolstered a group that also had strong performances from Joe Smith (50 ERA-), Cory Rasmus (71 ERA-), Mike Morin (79 ERA-), and Fernando Salas (80 FIP-). This entire group was lights out in the second half, posting a 48 ERA- in July and 72 ERA- in August.
ALDS vs Kansas City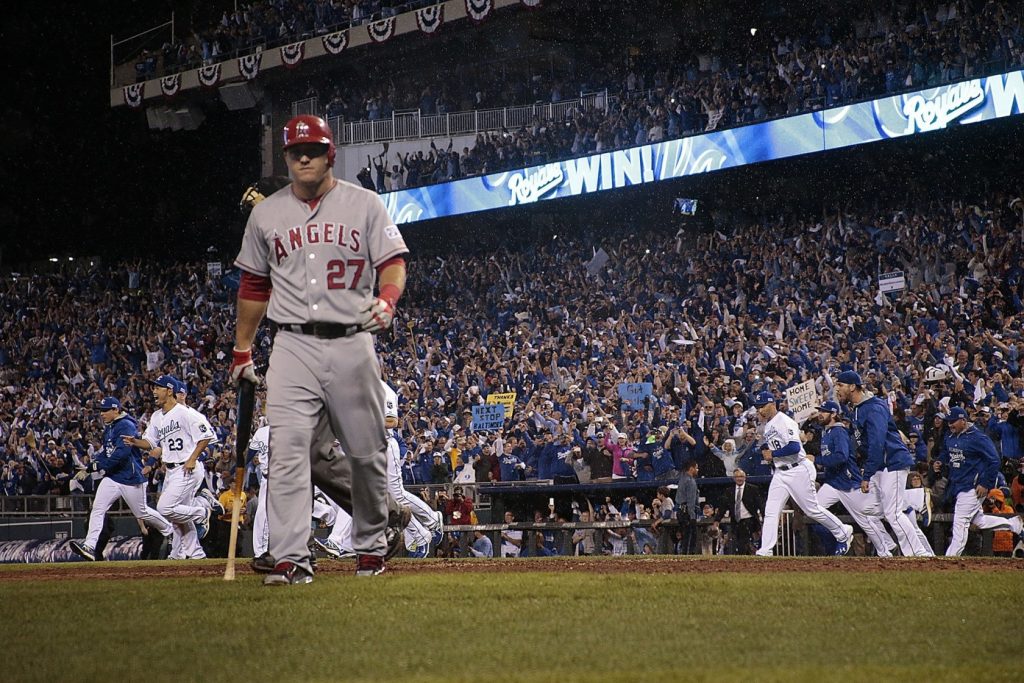 The Angels were the unfortunate benefactors of struggling in a small sample and facing a red-hot Royals team. The Royals sweep of the Angels was even more painful considering how close the first two games were. Both Royals wins in Anaheim came in the 11th inning via go-ahead home runs from Mike Moustakas (Game 1) and Eric Hosmer (Game 2). Game 3 was a dud from the Angels, where the Royals scored 7 runs in the first 4 innings and all but ended the series. Angels hitters, who produced as one of baseball's best offenses in the regular season, scored just 6 runs and posted a .559 OPS.