As Angels fans, we have more time on our hands than usual with no baseball for the foreseeable future. Why not take a trip down memory lane and reflect on all of the postseason appearances in Angels franchise history?
Today marks the ninth part in a 10-part series documenting every Angels playoff appearance. I'll go chronologically, going from the first playoff appearance all the way to their most recent appearance. Next up on the list is the 2009 Angels team that rallied together after Nick Adenhart's tragic death and won their third straight AL West title in a 97-win campaign.
PART 1: The 1979 Season
PART 2: The 1982 Season
PART 3: The 1986 Season
PART 4: The 2002 Season
PART 5: The 2004 Season
PART 6: The 2005 Season
PART 7: The 2007 Season
PART 8: The 2008 Season
---
From a personal standpoint, the 2009 Angels team resonate the most with me on numerous levels. First and foremost, this was a damn good team that outscored their opponents by 122 runs. Their lineup, top-to-bottom, was lethal, versatile, and able to beat you in so many ways. But on a more meaningful level, this team was just finishing off their first series of the year when tragedy struck. After tossing a gem the night before, 22-year-old Nick Adenhart died in a car accident which also killed two other friends. A tragic incident that could've derailed the Angels season instead became a rallying cry, where the Angels honored their fallen comrade by winning 97 games. As someone who was present at Adenhart's last start, the game following his death and countless other memorable games during the year, this 2009 team fully sucked me into Angels baseball. While the club finished just short of making it to the World Series, seeing the Angels finally beat the Red Sox in a playoff series and put their past demons behind was incredible.
Position Players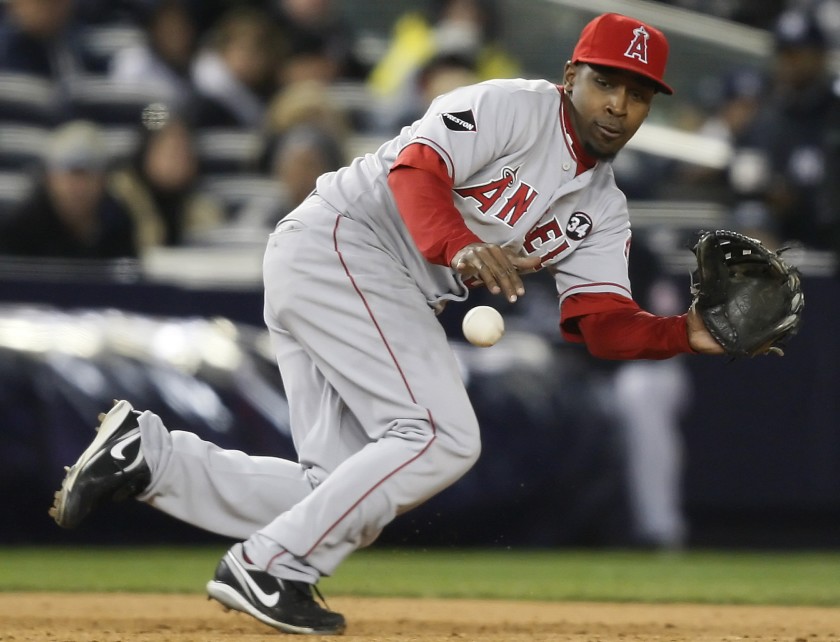 Who could forget the admirable and memorable performance the 2009 Angels position players had? The 2009 team scored the most runs (883) in franchise history, posted the best batting average (.285) and finished in the top 10 in fWAR (29.1), wRC+ (108), OBP (.350), SLG (.441), and stolen bases (148). Their 883 runs ranked only behind the World Series champion Yankees in 2009. As a collective group, they finished fourth in fWAR, third in OBP, fifth in SLG, and 10th in BaseRunning Runs. Other than their average defense (minus 1 Total Zone Runs), this group was superb across the board.
The most impressive part about this group is the collective effort involved. Chone Figgins was the clear-cut best player, finishing as a top-10 position player in baseball by WAR (6.6) and finishing 10th in AL MVP voting. While no other player finished with more than 3.8 WAR, there were 8 players ranging between 2.1 to 3.8 WAR. Nine Angels regulars finished with a wRC+ above 100. The core of the lineup featured Torii Hunter's usual production (128 wRC+), Kendrys Morales' breakout season (136 wRC+ and 5th in MVP voting), and newcomer Bobby Abreu's strong offense (120 wRC+). Juan Rivera (25 HR) and Mike Napoli (121 wRC+) added depth throughout the lineup. Erick Aybar (3.8 WAR), Maicer Izturis (3.2), and Howie Kendrick (2.1), a trio of strong middle infielders, each provided above-average offense and defense. In his final year with the Angels, Vladimir Guerrero battled major injuries but still posted a respectable 107 wRC+ in 100 games.
According to MLB's Mike Petriello, the 2009 Angels and the 1983 Yankees are the only two teams in MLB history with 10 hitters with league-average or better hitting performances (min. 300 PA). And who can forget when the Angels rolled out an entire lineup of .300 hitters in a game in August? This was not only one of the best statistical groups in Angels' history but they were also a damn fun group to watch.
Pitching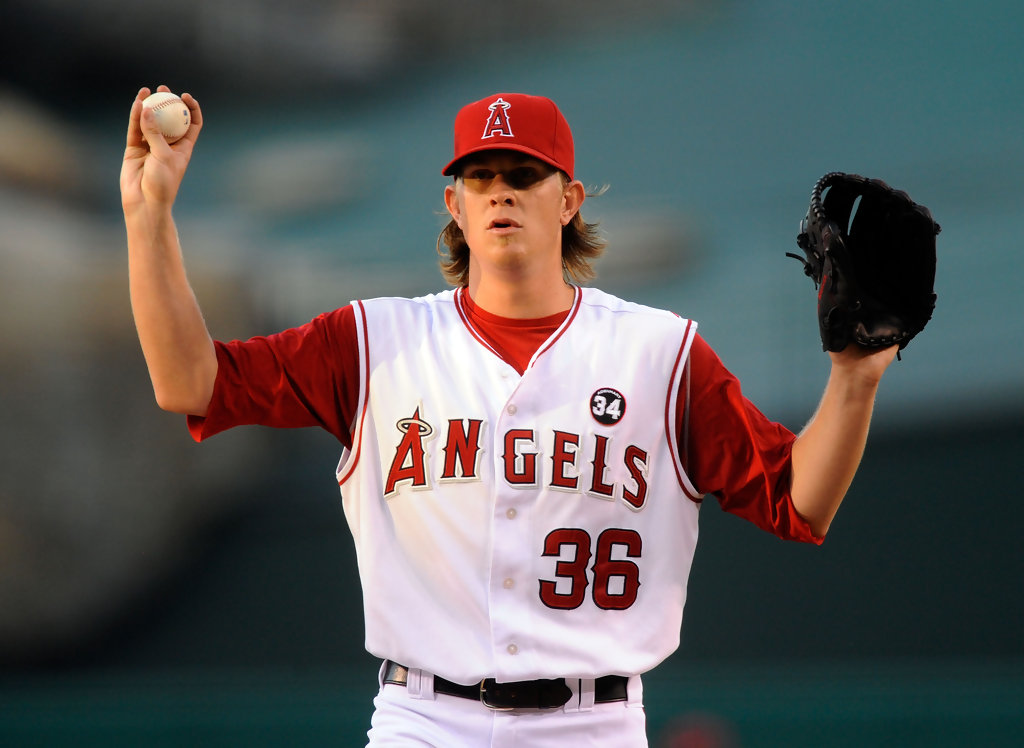 As impressive as the position players were, the Angels pitching was exceptionally mediocre. In 2009, they ranked 17th in WAR (13.7), 20th in K-BB% (8.6%), 18th in ERA- (101), and 19th in FIP- (102). Perhaps the most impressive feat this staff accomplished is their nearly identical ERA (4.45), FIP (4.45), and xFIP (4.46). That's not exactly an exciting tidbit but it's noteworthy nonetheless. Both the rotation and the bullpen hovered around league-average in many facets. The rotation was 17th in WAR (11.2), 14th in ERA- (101), and 20th in FIP- (104). The bullpen finished 15th in WAR (2.6), 24th in ERA- (102), and 15th in FIP- (98).
The rotation was headed by emerging frontline starter Jered Weaver and John Lackey, the latter of whom would leave in free agency following the season. Weaver tossed 211 high-quality innings with an 85 ERA- and 93 FIP-. Lackey, who missed some time with an injury, tossed 176.1 innings with a strong 87 ERA- and 85 FIP-.
Those two were hardly the problem. The issue was two of their All-Star starters from 2008 who took significant steps backward. Following a legitimate run at the Cy Young award in 2008, Ervin Santana cratered in 2009, seeing his ERA jump from 3.49 to 5.03 and his WAR dip from 5.3 to 0.8. Part of this was due to a sprained MCL in his elbow that led to time on the Injured List and a 2.2 mph drop in fastball velocity. After posting a 3.41 ERA in 2008, Joe Saunders saw his ERA jump to 4.60 in 2009. Were it not for the surprise performance from rookie Matt Palmer (89 ERA-) and the late-season acquisition of Scott Kazmir (39 ERA- in 36.1 IP), this group would've been in serious trouble. Nick Adenhart's tragic death in April was not only a huge psychological impact for the Angels but also a huge on-field impact, given that Adenhart was primed to become a rotation cog.
The bullpen was not any better. The departure of longtime bullpen cog Francisco Rodriguez and the regression from Jose Arredondo (136 ERA-) played a huge role in this. Other than Darren Oliver (62 ERA-), Jason Bulger (81 ERA) and Brian Fuentes (89 ERA-), this group was not particularly good. Kevin Jepsen flashed strong peripherals (66 FIP-) but his run prevention was poor (112 ERA-).
ALDS vs Boston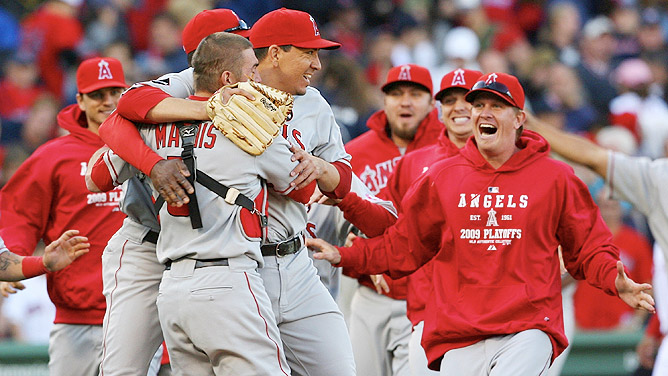 At long last, the Angels finally did the unthinkable and beat the Red Sox in the playoffs. After previously being eliminated four times by the Red Sox, the Angels reversed the trend by sweeping Boston. The series kicked off in Anaheim, where the Angels won two exhilarating games over Boston and electrified The Big A. John Lackey's 7.1 shutout innings and Torii Hunter's three-run home run helped lead an Angels' shutout in Game 1. Game 2 was a thriller that was tied until the 7th inning when Maicer Izturis' go-ahead RBI single and Erick Aybar's two-run triple helped secure the win. Game 3 in Boston is one of the most memorable in Angels franchise history. Down 5-2 entering the 8th inning, the Angels clawed their way back to pull off an epic comeback win. Vladimir Guerrero's go-ahead two-run single in the 9th inning was the final touch on a much-needed series victory for the Angels and their fans.
ALCS vs New York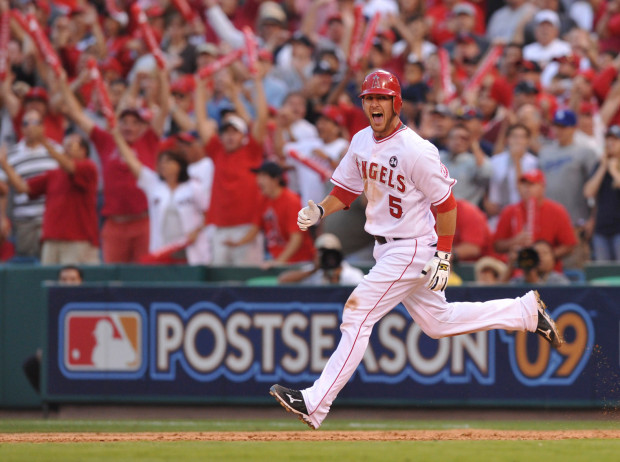 The 2009 Yankees, the eventual champions, were an absolute force to be reckoned with. Loaded with names like Rodriguez, Jeter, Sabathia, Pettite, Posada, Cano, etc, the Yankees were a handful for the Angels. The Angels put up a good fight, however, taking the Yankees to Game 6 and perhaps receiving a different fate had Game 2 ended differently.
In Game 1 in New York, C.C. Sabathia stifled Angels hitters in an 8-inning, 1-run performance. Game 2 was a heartbreaker. After the Angels took a 3-2 lead in the 11th inning, Alex Rodriguez quickly tied it up with a home run. Maicer Izturis' error in the 13th inning led to a walk-off Yankees win. Jeff Mathis' walk-off double in Game 3 got the Angels back in the series but the Yankees quickly rebounded with a 10-1 victory in Game 4. The Angels won a thrilling Game 5 to send the series back to New York, where the Yankees clinched the series in Game 6 and sent the Angels home.