Generally rebuilds take a few years. MLB is not the NBA. Teams generally need 30 to 40 good players in order to have 26 good players for a full 162 games with a lot of those players being pitchers. And it takes time build that type of depth.
What would it look like if the Angels took a path completely unexpected and went into a full tank mode? Let's see.
Considering a 2 to 3 year rebuild is on the aggressive side of things, let's get rid of any talent with 3 or fewer years of control. I'm going to admit I'm not the best prospect guru around so take my suggestions as more guidelines than specific targets. Also, as the next few years will be lost years, we might as well shed payroll when possible.
Who has trade value? Well, according to the baseballtradevalues.com simulator, quite a few players.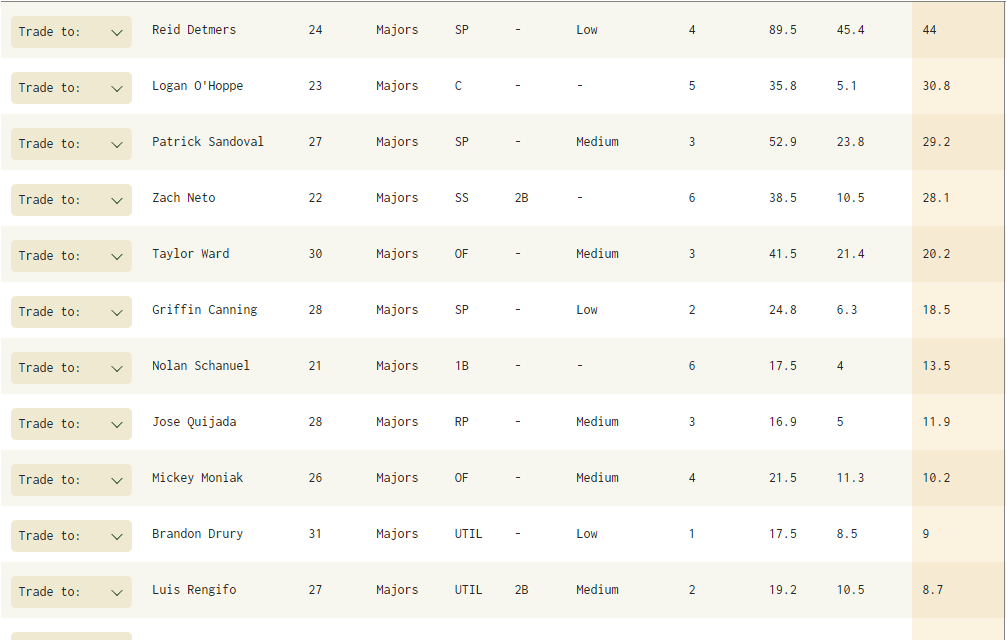 Detmers has the most value largely due to that 4th year of control. Keeping him doesn't make a ton of sense unless we are convinced he's going to be a front of the line pitcher who is worth extending. You know who does need pitching in the short term? The Dodgers.

Dalton Rushing is a lefty masher who raked in High A last year, Andy Pages is a solid all around outfielder, and Maddux Bruns has three 60 grade pitches at the age of 21. With some better control he's as good as a good Detmers, without it he's at least a late inning reliever.
Next on the list is Patrick Sandoval. You know who traded for Sandoval once? Jerry Dipoto. And as the GM of a team that narrowly missed the playoffs he just might do so again. This would bump one of his young, optionable arms to AAA and give the Mariners great depth as the try to get those last few critical wins needed to make it to October.

Cole Young was the Mariners first round pick last season and hit well in Modesto. Tyler Locklear is a bat that needs a defensive home. Locklear looked good with the glove in college but there's debate about whether he'll stick at the hot corner at the MLB level.
This next one will hurt a bit as he's a Fresno State Bulldog and signed a ball for my son who now gets excited for every one of his at bats. But Taylor Ward would not be a part of this team's next window and the Blue Jays need outfield help desperately.

Orevlis Martinez has already tasted MLB life but at age 21 still has plenty of options and upside remaining. The bat will play, but is he a 3B or SS? Brandon Barriera has added several MPH to his fastball as he's transitioned from high school to pro ball and at age 19 is still quite a project. Really, this trade is for Martinez and to save Ward's arbitration year salaries.
Griffin Canning had a great rebound last year. His value has never been higher. But he won't be here for the complete rebuild. The Reds have a deep system, young MLB team, and want to compete next year. They don't have a ton of cash for the MLB team, though.

Arroyo is blocked by super stud Elly De La Cruz and these two simply add to the depth up the middle. If he hits at all, he's a stud MLB level player. At only 19 years old he has plenty of development time. Rodriguez is a contact hitter with tons of speed who has played on the grass and dirt.
Looking at the next contention window in approximately three years, every player acquired in these trades would be 22 to 25 years old, most coming with a full six years of club control. Other lottery tickets could be acquired by unloading Luis Rengifo and Brandon Drury. Those would also come with salary relief.
These are all moderately sized trades, nothing too Earth shattering on its own but in combination clearly shows a rebuild in progress. To truly slash and burn would require some pain beyond knowing the results will be bad for a few years.
$248 million. That is what is owed to face of the franchise and Angels legend Mike Trout, who will be in his mid 30s at best by the time this rebuild takes place. In this scenario it is best to let all move on and send Mike home so he can spend the years competing for October glory.

The Angels pay down roughly half of Trout's contract and acquire a solid pitching prospect. This hurts but Abel has already reached AAA and at 6 foot 5 with an easy mid 90s fastball and should be a solid piece to the next winning club.
So where would this leave the Angels? With a plethora of 19 to 22 year old talent, particularly up the middle of the field and on the mound. Between shedding the arbitration year salaries of several players and saving $128 million on Trout, this would provide the next competitive team with abundant resources to add what it needs.
For the next few years, the Angels could continue building an MLB roster using non-tender candidates from other teams while incorporating most of my Let the Kids Play piece.
If the playoffs are a longshot anyway, why not stock up on youth?