The current MLB is made up of teams trying to win and teams trying to tank so they can hopefully win later. The key to success is realizing which side of the street you are on and moving accordingly. Neither the Rockies or Angels are good at that, but in this case a deal might work for both sides.
Arte is convinced he can win despite all evidence to the contrary. The Rockies have a history of holding onto players too long and getting weak returns for them.
So, I give you Charlie Blackmon. Or if you prefer Fangraphs, I give you Charlie Blackmon.
If you click on either of those links, you'll see Chuck is right at league average with the bat nowadays and plays a slightly below average outfield. He's also slated to earn $10 million on team that is going nowhere and needs prospects to hope to compete some day.
But we could get enough talent back with him to justify that salary.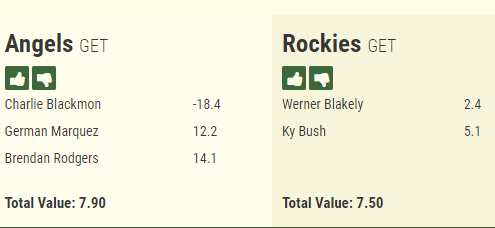 Yes, I'm at the simulator again but to be fair it did pretty well on the real trades this year.
In this scenario, the Angels finally land German Marquez to add to the rotation. Marquez is having a down year so we're buying low here. However, he's only 27 and his fastball is still well above MLB average. His curve and slider would pick up some bite closer to sea level as well. In short, this is a gamble I'm willing to make.
This sets up a rotation of Ohtani, Marquez, Detmers, Sandoval, Suarez with the sixth spot up for grabs. If Ohtani is moved, Marquez is likely a good guy to lead a five man rotation and if he does rebound can be kept in 2024 via a $16 million option.
Brendan Rodgers adding another Fletcher, only better of late. A league average bat capable of playing second, short, or third base who will put up 3 WAR this year. And he crushes lefties to the tune of a .304/.351/.519 career slash line.
Yes, his home and road splits are typically wide for a Rockie but I'm buying into the Coors Field Hangover theory that hitters will get used to the break of pitches no matter their home park. In this case, the breaks would be the same on the road, bringing his splits closer but likely keeping his overall output solid.
Between Fletcher, Rodgers, and Rengifo we'd have three MLB quality players for the middle infield and coverage for the inevitable Rendon injury. Plus we'd always have a pinch hitter or runner on the bench.
Adding a real shortstop would create true depth around the diamond but Perry wouldn't be forced to blow the budget for one.
In exchange, the Angels give up two wide variance prospects. Ky Bush was the team's second round pick last year and has an electric fastball. That fastball might lead him to a big league bullpen gig or he could develop his secondary pitches and be a 2/3 type starter. You don't know.
Werner Blakely is much less known on the prospect lists but the Angels signed him for well over slot in 2020 and his performance in Arizona last fall was promising. He's a multisport athlete who needs reps but has the physical tools to be a stud if he learns the nuances of baseball.
Really the key here is money. That's $27 million for Blackmon and Marquez plus a few more for Rodgers in arbitration. It just so happens that Thor and Bradley combined to bring in $27 million this year on one year deals so this likely only impacts payroll by $5 million or so.
Is this the type of move that really moves the needle? Yes and no. It replaces multiple sub replacement players with MLB quality players and sets up a nice rotation all while maintaining payroll flexibility.
Yes, Ohtani will get a nice raise in arbitration if he's here next year. But even with that between the Upton and Iglesias contracts off the books, Perry should have some cash to fill other needs and be able to play the market to his benefit.
Depth chart if this took place:
OF: Trout, Ward, Blackmon, Adell
IF: Rendon, Fletcher, Rodgers, Rengifo, Walsh
SP: Ohtani, Marquez, Sandoval, Detmers, Suarez
I have a few more of these to do over the course of the season. In the meantime, feel free to praise and/or bash this one with your usual gusto.