To get significant results, significant action must be taken. The Angels are about to miss the playoffs for the 8th straight season yet there's no wave of talent in Salt Lake or Mobile that can be reasonably expected to carry the team into a new competitive window. And a look at next year's free agents isn't all that enticing.
Trout is untradeable and we all know Arte will try to hold onto Ohtani as long as possible. So, looking at the obvious holes on the team for 2023, the payroll restraints Perry will face in trying to add 37 players around the Trout/Rendon/Ohtani contracts, and the need to get the two greatest players in the game to the playoffs, if I'm Perry I set off the biggest sale this team has ever done.
Need #1: a legit MLB shortstop.
This is going to be massively expensive on the free agent market. Too expensive to consider. However, a solid trade to a needy neighbor can fix that.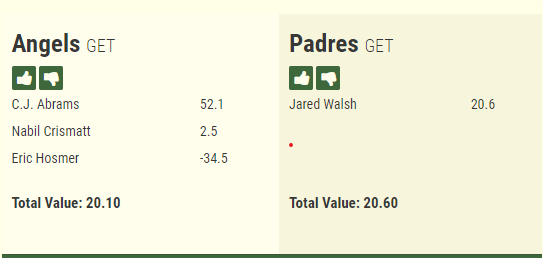 C.J. Abrams is a 21 year old stud who has been a top 10 overall prospect in every publication for the last several years and the Padres are desperate for payroll and luxury tax wiggle room so they can add pieces for a contention window. Plus they have good MLB players at second and short already.
Here the Padres upgrade at first base while freeing up $18 million in AAV for luxury tax purposes. The Angels take a hit at first, but Hosmer is posting a 109 OPS+ and is on pace for right at 2 WAR so it isn't a huge hit. Arte operates on actual payroll, not AAV, and Hosmer's actual cost is $13 million per year. Crismatt is a nice bullpen piece, 27 years old, and cost controlled.
Need #2: Pitching, as always.
The old adage on Wall Street is to buy low and sell high. I do this here with one of my favorite players.

Dustin May is working his way back from TJS so there's risk here he doesn't pan out just like there's risk Taylor Ward goes back to being the guy we've known in recent years. However, the Dodgers have gotten sub par offense from Bellinger in center and Chris Taylor has been parked in left rather than used in the super utility role that so benefits the team. Ward would be a clear upgrade over Taylor as a starting outfielder. So to add some pop to their lineup for 4 cost controlled years and free up Taylor, the Dodgers send over a near MLB ready pitching prospect along with a guy who will be limited next year.
Need #3: Catcher
Max Stassi has disappeared at the plate and Kurt Suzuki is well past his expiration date. While there's a chance for a Stassi rebound over the course of his 3 year extension, there's absolutely no help on the farm.

Joey Bart is a former first round pick but not the current SF regime's first round pick. After some early struggles he was demoted and has now been passed on most prospect lists by Patrick Bailey. And the Giants have yet another stud catching prospect in Adrian Sugastay, both of whom are the new regime's picks. I'll take either Bart or Sugastey here while the Giants add Thor for a playoff push in 2022 and Suarez to round out their rotation for a few years.
Here's what these trades accomplish, instead of paying Correa $35 million and Walsh $700K to hopefully produce 4 and 2 WAR respectively while completely ignoring the rest of the lineup, I'm paying Abrams and Hosmer $13.7 million combined to likely produce the same totals. And I have Abrams for five cost controlled years.
Crismatt instantly upgrades the bullpen and allows the Archie Bradley contract to expire, saving me another $3 million.
Bobby Miller should be a significant upgrade over Jose Suarez and May will have the best stuff in the rotation when he comes back.
Bart is a gamble, but even if he never hits his ceiling should be at least a solid backstop for a few years. Considering I've already upgraded on Suarez, that's a solid return for 3 months of Thor.
I'd still want more pitching, but between Thor's $25 million and Lorenzen's $6 million, I should have some room. Although I would definitely try to extend Lorenzen before the year is over.
The outfield would need another bat, but that's the one area of next year's free agent crop that is pretty deep. Deep enough to grab a good one without breaking the bank, anyway.
New depth charts look a lot more balanced:
1B: Hosmer, Mini Thor
2B: Fletcher, Rengifo
SS: Abrams, Fletcher, Rengifo
3B: Rendon, Fletcher, Rengifo
C: Stassi, Bart
OF: Trout, Marsh, Adell, FA signing (Benintendi, Joc, Calhoun, Gamel)
SP: Ohtani, May, Sandoval, Miller, Detmers, Barria, Canning, Junk, Rosenberg
RP: Iglesias, Crismatt, Tepera, Loup, Wantz, Quijada
Rough math, I added the salary for Hosmer at $13 million but will shed Thor's $25 million, Bradley's $3.75 million, and Lorenzen's $6 million (unless I can extend him) for a total savings of $21 million while making the team deeper.
Add in the $28 million falling off the books with Upton and that leaves some serious spending power. I'd make a hard, hard push to sign Benintendi to deepen the lineup while hopefully keeping Lorenzen in the middle of my rotation.
What I really have are options. Outside of one outfield bat, I'm not in desperate need of anything. If I can extend Ohtani and/or Lorenzen, great. If I can't, I have resources to chase a Joe Musgrove or take a chance on Mike Clevinger. And if I add one of those guys, maybe I trade a prospect for that outfielder.
Bottom line is, trades like these aren't the Angels normal MO but it has been established we aren't competing with the team we have. We know we can't buy our way out of this mess and we don't have a solid prospect pipeline. Trading away 2 key players and a rental could create the platform for a good run, though.