Eventually, baseball will be back, then we will all have to reacquaint ourselves with the delicate starting pitching balance the Angels have struck for 2022. Assuming the rotation is mostly built, let's take a look at why this position is questionable, and why the Angels could be teetering on the edge.
First, what does it take to get through a season in terms of starting rotation? In 2021, the A's rotation threw the most innings, logging 894. The fewest innings by a starting rotation clocked in at 735.1 and belonged to the 110-loss Baltimore Orioles. The correlation between starter innings and team record is real, but of course there are outliers (ahem, Tampa Bay Rays). The point is that unless you are the Tampa Bay Rays, you are going to need your starters to throw some innings. Preferably quality innings. Last season, the average number of innings thrown by starting rotations was 813 (the Angels logged 776). How do the Angels get there in 2022?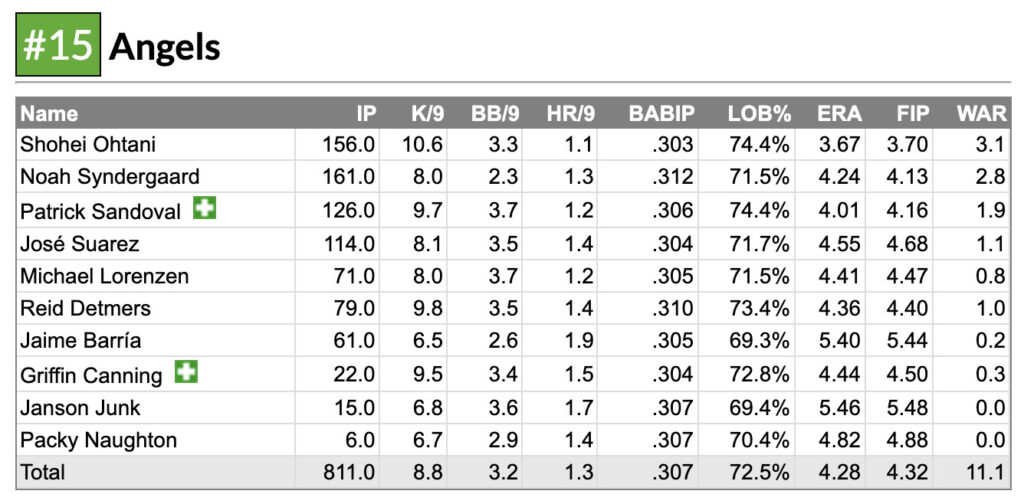 Taking both ZiPS and Fangraphs Depth Charts predictions, we can average out the two and get something like this:
| Pitcher | 2022 Innings Est. | Depth Chart IP | ZiPS IP | 2021 MLB IP | 2020 MLB IP |
| --- | --- | --- | --- | --- | --- |
| Shohei Ohtani | 138.5 | 165 | 112 | 130 | 1.2 |
| Noah Syndergaard | 151.5 | 163 | 140 | 2 | 0 |
| Patrick Sandoval | 123.5 | 147 | 100 | 87 | 36 |
| José Suarez | 120 | 131 | 109 | 98 | 6 |
| Michael Lorenzen | 62 | 71 | 53 | 29 | 33 |
| Reid Detmers | 89 | 90 | 88 | 20 | 8 |
| Jaime Barría | 91.5 | 70 | 113 | 56 | 32 |
| Griffin Canning | 54.5 | 19 | 90 | 64 | 56 |
| Totals | 830.5 | | | | |
Adding up all these numbers from these 8 guys, gets you to the number you need out of our starters. That's IF you buy into all those numbers.
I can live with most of these predictions. For instance, Shohei Ohtani could throw a few more innings and land close to the 140 inning mark. There are, however, big question marks starting with Noah Syndergaard. Having thrown only about 5 total innings (minor and major league) over the past two seasons, it may be hard to see him go much past 120. Very few pitchers return from TJ surgery to throw 150 innings.
Patrick Sandoval increasing his workload by 30% also seems a bit of a stretch, but perhaps possible. Let's go with 115 for him which seems like a fairer number. I can live with the other predictions, though Detmers could also be a stretch. Given these few adjustments, you may get 780-790 innings out of these 8 starters. Is that enough? It seems borderline at best without a bullpen that can throw heavy innings all season long.
Additionally, you are looking at some rookies and unproven talent to help fill the holes, including a few guys like Jhonathan Diaz and Janson Junk.
Below, we see the starting rotation as assumed by Roster Resource:

Does that inspire confidence? Perhaps. If ALL goes perfect with Ohtani, Thor, Sandoval, and Suarez continuing to throw well, then we may be looking at a top 10 rotation. But the reality is you have a #2 and #3 pitcher and perhaps the rest are #5 or #6 guys.
Shoehei Ohtani could very likely repeat his 2021 MVP performance so there is not too much worry there other than him staying healthy on both sides. Thor? Well, he certainly has the pedigree, but what will we see from him? The ceiling is high but he is definitely a bit of an unknown.
Patrick Sandoval is our #3 and while he came into his own a bit last season, he's a #5 on a first place team, or perhaps a #4. Had the Angels went out and signed a healthy front line starter, Ohtani, Thor, and Sandoval sure look at lot better as #2, #3, #4. Instead, Michael Lorenzen potentially slots in at #4 and the dude has thrown only 62 big league innings the past two seasons. Yikes! You can see the rotation falls apart fairly quickly after Ohtani, Thor, and probably Sandoval.
Jose Suarez and Jaime Barria are defintely ones to watch as well, but again, we don't know what we are going to get here. I mean, we have a better idea who Barria is after the past 4 seasons (a 4.5-5ish ERA guy), but who is Suarez? Like Sandoval, he seemed to come into his own in 2021 but the question will be, can he repeat that or even improve upon it?
In summary, it's a precarious positions for Perry's Angels. In lieu of signing a top/front-end starter (which seems unlikely at this point), the Angels are on the edge of another average season and the potentially top 15 rotation that likely falls to 20 with a single injury that lasts more than a few weeks. There is little depth at the top and the bottom depth brings a whole slew of #6+ guys to fill in the holes.
Should we excited? Hell yes, Angels baseball will be back soon! But let's temper our expectations on this rotation. One small thing that upsets this delicate balance could knock the Angels right back to a .500 team again (or worse).