Dylan Bundy pitched in Baltimore for the first time as an Angel. Former Angel Jahmai Jones also makes his Baltimore debut. Could be using him right now… Dylan went only 1 and a 3rd, 9 batters total, walking 3, hitting one, allowing 1 while on the mound but left with the bases loaded. It was a bullpen game vs the worst team in baseball. Thankfully, the Angels offense showed up today. But so did Baltimore's.
Recap
The Orioles were on an 18 game losing streak and were desperate to have some good news in their terrible season. Meanwhile the Angels were being themselves, winning and losing and winning then losing constantly, hovering around .500 for months now. A sweep would help, and losing to a team this bad would feel horrible for everyone.
Bad Bundy, Worse Baltimore
The Game started with the Angels going down in order. It did not go nearly as smooth for Bundy, giving up a first inning home run. 1-0 Baltimore.
Angels get their first baserunner on a dropped strike 3 to Churches. Stassi got the first hit to put 2 on for Marsh. He came through, singling in Churches! Adell tripled in 2 to give the Angels the lead! Lagares then hit a 2 run home run! 5-1 Angels!
Bundy was shaky again, even hitting Jahmai Jones. Walking the bases loaded was enough for Maddon and Bundy was pulled with 1 out in the 2nd.
Bullpen Game
Junior Guerra
Guerra came in with the bases loaded and 1 out in the 2nd. Luckily, a flyout and a groundout kept the runners from scoring, 5-1 Angels after 2.
Gosselin and Walsh had back to back hits to start the 3rd. Churches doubled in the 6th run! Stassi got a HBP and it chased the Baltimore starter. It was now a bullpen game for both teams. Marsh was up with the bases loaded and popped up. Adell singled in 2 for 4 RBI on the day. Lagares grounded out for the second out, and Ohtani was IBB-ed to load the bases again, this time for Fletcher, who lined out. 8-1 Angels!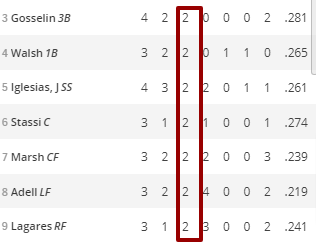 Junior pitched the 3rd with a 7 run lead, he gave one back on a 2 out double. That was it though, as it was 8-2 Angels after 3.
The 4th was another good inning for the offense, Gosselin walked, so did Walsh, Churches drove in Gosselin with a single, then Stassi doubled Walsh in, and Masrh singled Churches in. All before an out was made. Adell grounded out to the pitcher who nabbed Stassi at home, but Lagares singled in another, and so did Fletcher. 13-2 Angels!
Guerra went out there for another inning and it went quickly, allowing just 1 baserunner and sending the offense back out there. 13-2 Angels after 4.
For the first time since the first, the Angels failed to score. That did not bode well for Guerra who decided to give up more runs, and chasing him. He did pitch multiple innings, doing his job. 4 runs allowed in 2 and 2/3 innings and left with a 13-5 lead.
Andrew Wantz
Wantz came in to the 5th with 1 out and a runner on first. He struck out the first batter, allowed a weak single to the second, and got a flyout to end the inning. 13-5 Angels after 5.
Marsh led off the 6th with a single, but an Adell strikeout, a Lagares strikeout, an Ohtani walk, and a Fletcher groundout means they get nothing.
Wantz went back out for a second inning, and immediately gave up a leadoff home run. Then a dropped third strike and another home run suddenly made it a much closer game. A strikeout to the next batter was the last out he made as Maddon yanked him. Wantz left with a 13-8 lead. He gave up 3, 2 were earned in his 1 inning.
Austin Warren
The 4th pitcher today for the Halos was Warren. He came in with 1 out in the 6th and the bases empty. That was fortunate as after getting the second out, he allowed a double before getting another strikeout to end the inning. 13-8 Angels after 6.
Walsh reached on a 1 out error by Jones, but a Churches hit into a fielder's choice and a Stassi strikeout rendered it moot.
Late inning and Mayfield took over at 3B for defense. Warren went back out there and got the first out easy, but a walk to the next batter and he was pulled as well. Austin went one inning, allowing no runs but left with a runner on base.
Steve Cishek
In his 60th game, Cishek came in with a 13-8 lead with 1 on, 1 out in the 7th. A lineout and a groundout ended that threat, however.
Marsh led off with a single, but an Adell strikeout, and a Lagares fielder's choice meant there were 2 outs for Ohtani. Shohei finally joined the hit parade with a single to put 2 on for Fletcher. He came through and he singled in Lagares to put the 14th run on the board. 14-8 Angels!
Cishek went out there for the 8th, now with a 6 run lead. It didn't go as planned, allowing a baserunner and getting pulled with 2 Outs. The 6 run lead was just too close for Maddon and despite scoring 14 runs on the day, the Angels were going with their closer for the last 4 outs.
Raisel Iglesias
D-Cell came in the 8th a 6 run lead with one out in the 8th and got a quick groundball out to end the inning. 14-8 Angels after 8.
The Angels failed to add on in the 9th, not that it was really needed. D-Cell went back out there for the final 3 outs and shut the door down. The Angels win and Baltimore lost for the 19th game in a row.
Upcoming
The Angels get 2 more in Baltimore and then come home for 2 at home vs the Padres.Ohtani day tomorrow, but Q on Thursday. Yeesh. Please drink responsibly.