The Angels will spend six days up in the Bay Area, with four games against the Oakland A's and two games against the San Francisco Giants. Both these teams are quite a bit above .500, and keeping up with them for six games will be tough. Let's see if the Angels are up to the task. Too early to say make-or-break trip of the season?
We're going to highlight the Angels today, as we just came off a tough series against Oakland. Everyone should still be familiar with the AL West leaders!
This series consists of two games at 6:30 pm, followed by Saturday and Sunday at 1 pm.
Angels Lineup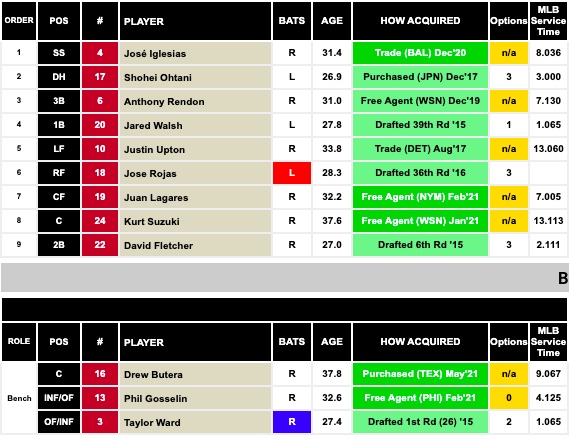 The Angels are somehow carrying twelve hitters and fifteen pitchers (one Ohtani counts in both categories), but the current situation seems somewhat untenable, especially going into San Francisco on Monday. José Iglesias is unknown after pulling his hamstring a few days ago, and with Ohtani on the mound Thursday, the Angels may need extra bench help. A move may be made today. Furthermore, Max Stassi won't be available until next week at the earliest, and Chris Rodriguez may return this weekend.
Justin Upton has been in the leadoff the past few games, and he seems to be hitting well in the role. However, selection bias might be playing a role. After observing with the eye test that Upton seems to feast on weaker pitchers while flailing against more capable ones, some simple splits on Baseball Reference seem to at least avoid contradicting the point. B-Ref defines a power pitcher as one in the top third in strikeouts plus walks. These are your pitchers who are trying to induce swings and misses, trying to blow their fastball by you, but if you make contact, perhaps you'll have a lot of success. They define a finesse pitcher as one in the bottom third in strikeouts plus walks. In an admittedly small sample size in 2021, Upton's OPS vs. power pitchers is .423. It is .694 vs. pitchers in the middle third, and it is .774 against finesse pitchers. This trend was the opposite as recently as 2019, so take it with a grain of salt. Ultimately, it is unknown whether or not Upton has turned a corner, but I am not excited to watch him at the top of the lineup against Oakland.
I'm sure we all want to figure out what is going on with Anthony Rendon. To put it delicately, none of the underlying metrics look positive for him at the moment. There isn't really anything to point to that bodes well for the future other than the fact that it is only May, and Rendon has been injured twice this season already.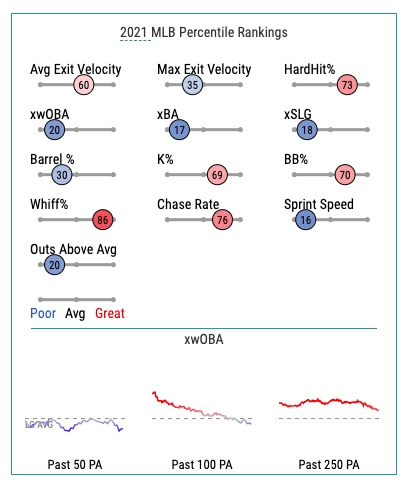 My faith in Rendon is primarily based on the fact that he has a track record of being a really good hitter. Good hitters don't just stop hitting without factors playing a role. At 30, the aging curve may be starting to hit, but it would be extremely early. I'm going to stick with "small sample size" and see what happens over the next month.
Where to begin? Rendon's fly ball percentage is at 34.6% (28% career), and his line drive percentage is at 21% (28.2% career). His weak contact rate, at 3.7%, is double his career rate, and he's getting under a lot of pitches. He appears to be able to hit the fastball, sinker, and changeup as well as ever, but curveballs, sliders, and cutters are giving him fits. To compensate for his struggles, he may be consciously swinging at more first pitches (34.7%, up over 10% from last year), and he's both chasing more and whiffing more. This obviously leads to a higher strikeout rate and a lower walk rate. If he were not Anthony Rendon, I would conclude that he is producing about as he should. But he is, and we simply cannot discount past performance when looking at these things.
Juan Lagares is…simply hitting the ball hard? (It's amazing what that will do, by the way.) I'm not sure what happened, but with an above-average glove and his newfound prowess hitting the ball, Lagares may have just bought himself another 3-4 years in the league. His hard hit percentage is 47.1% (career 36.3%)! A line drive rate of 44.4% (22.8%)! Reduced fly balls, reduced groundouts, reduced pop outs…Lagares just decided to hit the ball hard and the results are showing! I am here for this.
Someone who is also proving that perhaps he should stay at the Major League level is Taylor Ward. Ward has reduced his strikeout rate from 27.5% to 21.6%, simply because he's stopped whiffing on the pitches down and away. Additionally, Ward is crushing fastballs right now, slugging .605 against the hard stuff. If he can keep that mark up, the trickledown effect will have pitchers avoiding the fastball, and he can feast on the offspeed, as he did yesterday with his home run. I doubt he'll ever be a star, but if Ward keeps up this production, looking at the 2015 MLB draft…it may have been an overdraft, but the Angels could have done a lot worse there. (Psst: he should hit leadoff at the moment, and not just because I have him on my fantasy team.)
Probable Pitchers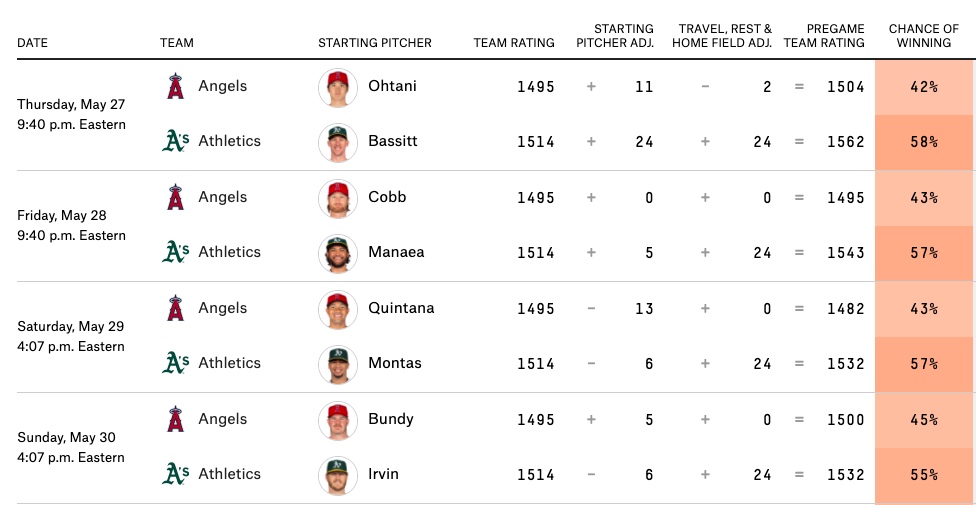 When Shohei Ohtani's velocity was down last week, freaking everyone out, I was concerned. However, it seems that the team's explanation of fatigue…checked out? Ohtani continued to mash at the plate, and the team gave him extra rest before this next start. We'll see what the numbers look like on Thursday.
Alex Cobb is in decent shape. Considering his splitter is his best pitch, it's a good thing he's started throwing that more than his sinker this year (continuing the Angels Bundy trend of getting guys to throw their good pitches more often). Compared to the 8.5% whiff rate on the sinker, Cobb is getting 37.1% whiffs on his splitter and 35.3% whiffs on his curveball. Although his ERA is 4.79, Cobb's expected ERA is 3.81. He is a perfectly fine #4 or #5, and I daresay even a quality #3.
José Quintana is less fine, but considering Maddon's recent usage of him, pulling him after three or four innings, he will not be the one sinking this team. Quintana is walking over 14% of hitters this year, putting him in the bottom 10% of the league. Hitters are hitting the ball hard off him, but still, his 7.92 ERA is well above his 5.00 expected ERA. If Quintana taking the ball every sixth game and delivering three or four shaky but somewhat competent innings is the price to pay for flexibility with the six-man rotation and a healthy Ohtani, I would pay that price every time around.
Dylan Bundy is basically the same pitcher he was last year. These may seem surprising, but these are Bundy's underlying numbers in 2021.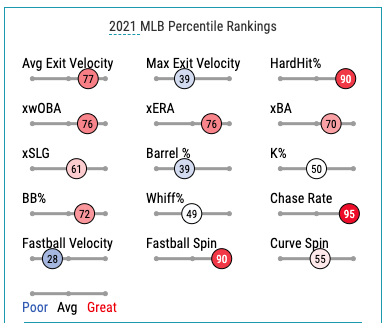 His expected ERA from last year, 3.04, has increased to a whopping 3.18 in 2021. He's top 10% in the league at limiting hard contact, and he's striking out batters and walking hitters within the realm of natural variation as last year. Currently, hitters have a .347 wOBA against Bundy, but they've been expected to have a .285 mark, which is very similar to what Bundy put up last year. Bundy is not pitching differently, nor has his velocity decreased. Extend him for multiple years at a reasonable cost and don't think twice about it.
Basically, everyone is fine. I know that won't make many feel better, but I tried. =)
Series Prediction
I feel okay about the team (save the bullpen). I would be happy with a split out of Oakland, although winning three of four would be really nice. We will see what happens this weekend.