Recap
The Angels lost today vs the Reds. It was a full game, a real, if still spring, 9 inning game.
Scoring started right away as Alex Cobb got hit hard and escaped with one run allowed in the first inning. Shohei Ohtani tied it up with a massive home run the other way in the bottom of the first.
Ohtani did it again, crushing it to left field and giving the Angels a 2-1 lead in the 3rd. Cobb calmed down and did not allow a run after that. Angels threatened in the 4th but came away with nothing.
Top of the 5th saw Félix Peña injured with a lower body injury and pulled. Reds capitalized on the new pitcher and scored 3 to take a 4-2 lead. Then in the 6th, scored 3 more, 7-2 Reds.
Angels meanwhile, did nothing until the 7th, when Jo Adell hit a solo home run the other way. 7-3 Reds after 7. After nothing in the 8th by either team, the Reds took a 7-3 lead to the 9th inning. The Angels did squat afterwards and lost 7-3.
Performances
Pitchers
Alex Cobb
One of the projected starters for the Angels and acquired from Baltimore. He did not do well to start, almost everything was hit hard and he was lucky that he did not give up more in the first. Cobb did no get any help from the ump, but blaming them is just a distraction.
But after that scary first inning, which is very Angels of him, he calmed down and pitched better. Many hard hit balls still happened, but also more swing and misses and weak contact.
3 innings and 2/3, 3 strikeouts, 2 hits, 2 walks, and an earned run on 68 pitches. Not the best, but certainly not the worst. Eye test wise, 5th starter material, but the Angels need more of a 3 out of him.
Félix Peña
The most reliable reliver for the team last yea. However, his spring has not looked ideal. Things were looking good with two easy outs but, after a misplayed groundball by Pujols, Félix Peña was pulled from the game with an injury.
Jake Reed
Reed took over for Félix Peña with a runner on and did not hold the lead. He gave up 3 runs (one was technically inherited) and did not look good out there at all in his 2/3 of an inning.
Patrick Sandoval
As someone who had a 0 ERA this spring but wild, it was a matter of time before something happened. That was today with 3 runs allowed in his first inning of work. Hard hit balls and walks doomed him. Also the wild pitch.
His second inning was of an easy 1-2-3 variety which makes his previous inning especially frustrating. It looked like he had a twin, and a bad twin pitched and then a good twin did.
Jose Alberto Rivera
A rule 5 draft claim, he finally made his Angels debut. It was not bad. a clean 1-2-3 inning, albeit vs the backup Reds as they had pulled their starters. The 24 year old had a sense of belonging as he made it look easy.
Jake Faria
A player wearing Weaver's number while being born in La Palma and pitching well, he is already a favorite of mine. Looks competent and made quick work of the reds in the 9th inning. May make the roster, depending on injuries.
Batters
Opening Day Starters
David Fletcher
He still makes contact like no one else, but shows why the three true outcomes is so popular. Making contact go right at fielders is unlucky to say the least. He went 0-3.
Shohei Ohtani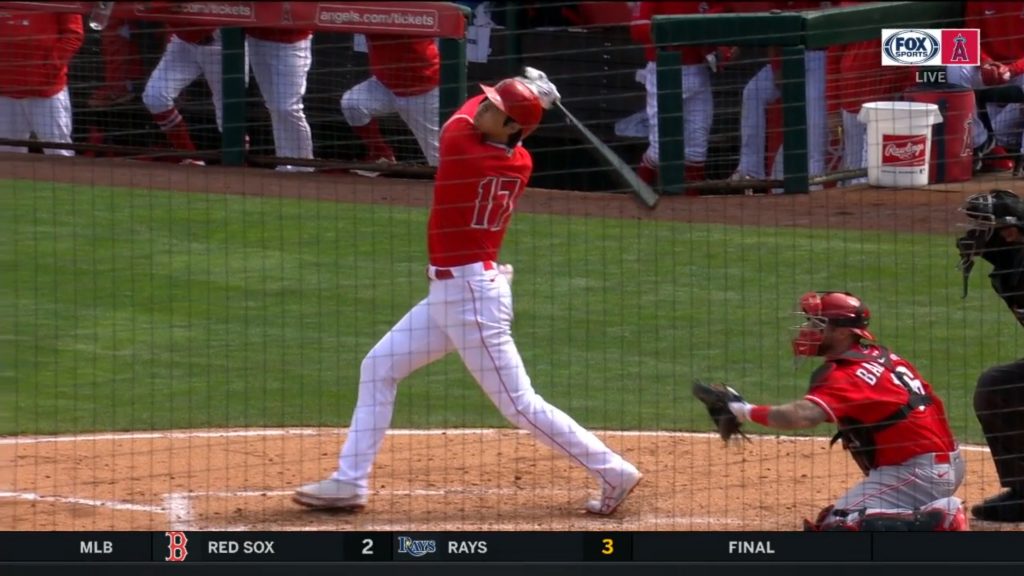 Ohtani had a monster day. Two home runs, both the opposite way, he looks poised and ready to be a monster with the bat. If you are not excited about him this season, it must be the injury worry. Besides that, there is nothing wrong with him.
Mike Trout
Trout at the plate has struggled, but he did have a great diving catch in center. I wouldn't worry too much, but others are looking much more ready for the season than he is. Baby may be keeping him up still.
Anthony Rendon
Rendon has looked locked in this spring and his eyes certainly were today. He had a walk and looked like last season, but did not manage a hit, going 0-2 in his 3 plate appearances.
Albert Pujols
Pujols has been oddly good this spring overall. Even though many of us would want him to retire already, seeing him do well does bring hope that he won't be the worst player in baseball. Today though, he, well, did not look too promising, 0-3.
Jose Iglesias
Our new defensive wizard shortstop had a double and single today. Maddon is looking to have him as the second leadoff hitter and looks to be 9th in the regular season when the time comes.
Looking to make the team
Anthony Bemboom
Our 3rd string catcher will most likely start in Salt Lake, but he showed off his arm by throwing out a baserunner trying to steal second. He may be up for about a third of the season due to inevitable injuries, but unless a that or a trade happens it doesn't look likely this year.
Dexter Fowler
Fowler has been pushed to be the opening day right fielder but has not impressed this spring. That included today where he went 0-2 with 2 LOBSTERS. He did get hit in the hand by a pitch that hit the bat first, but it isn't more than a stinger.
Juan Lagares
My personal pick for starting right fielder, he got the start today after Justin Upton was scratched. He did not do well today, going 0-3 with a bobbled ball that allowed the runner to score without a throw.
Jack Mayfield
With how many infielders that there are, making the team will be difficult to say the least. He was claimed off waivers from the Braves and has options but will take up a 40 man spot. Seems better than Barreto but with so many options, he needs to stand out more.
Juan Graterol
In his limited spring, he had hit well, but as someone not on the 40 man and 3 catchers ahead of him, he is not looking likely to make it. He allowed a ball to get past him and a run to score. 0-2 on the day.
Jo Adell
Adell came in late to the game, but impressed nonetheless. He hit a mammoth home run off the giant scoreboard in right. Jo has talent, but even that won't be enough to get him on the 26 man to start the year. Maybe by summer we will see a new and improved him.
Happy to be here
Jeramiah Jackson
Played some innings in the field, and went 0-1 with a strikeout. Was moved from 2B to shortstop between innings and will be someone to keep an eye on in the coming years.
Jordyn Adams
He misplayed a ball in the outfield that went over his head, the runners would have scored anyway, but it was not pretty. He went 0-1 with a pop up to first in his one at bat.
Brandon Marsh
My favorite prospect and overall the top of the Angels farm if you do not count Adell anymore, he still has yet to play in the field, which concerns me. Marsh struck out in his one at bat.
Kean Wong
Took over for Rendon at 3B and is another infielder that is a non roster invitee. With how many infielders the team already has, he is just here to hope that someone likes what they see. Going 0-1 with a strikeout did not help him, but an excellent catch at the hot corner made up for that.
Ballgame
The Angels are now 7-6-2 on the spring. They will play Cleveland tomorrow at 1PM. It has been a streaky spring for the club, as they have now not won in 3 straight after winning 3 in a row.
Overall, the Angels have struck out 10 times and only walked once. 6 hits, but only 3 runs, all of which were home runs. The pitching was more positive, with the majority of the runs coming with Reed and Sandoval. the rest looked good for the most part, with Cobb getting lucky in the first inning.