As we welcome our new Angel Play-by-Play announcers, it is appropriate that we look back at a staple of Angels baseball last decade: Victor Rojas.
Starting Out
Victor Rojas did not start with the Angels. He had experience in Arizona as the radio voice in 2003. From 2004-2008 he was with the Rangers for a mixed role on TV. Then, in 2009, he was the first host of MLB Network. Fox Sports West was impressed, and he was chosen to be the new Play-by-Play announcer in 2010.
It was definitely a difficult situation to step into. Nick Adenhart had died the year before due to a drunk driver, the team who just made the playoffs 6 of the last 8 years was losing key players to free agency, and Rory Markas, the previous voice of the Angels, died that January.
Yet he handled it well, even as 2010 proved to be a disaster on the field. Kendrys Morales broke his leg at home plate, the team finished below .500 for the first time since 2003, and despite the Angels hosting the All-Star Game, only Jered Weaver and Torii Hunter made the team.
Calling It
Broadcasters tend to have unique calls, separating them from the others in their business. For Victor Rojas, it was, of course, BIG FLY! Big Fly is even a brand for him, as he uses it for his merchandise.
It isn't the only catchphrase he has, however, as Angels fans know what you should do after a walk-off win (DRIVE! HOME! SAFELY!—which is good advice on its own). There is also 3-run Jimmy Jack and Oppo Taco, which are more rarely used.
2011 was the Angels 50th anniversary, which did not turn into good on field results, but it did bring memories. Like Mike Trout's debut, which Victor Rojas is glad to have announced.
Milestones
Victor Rojas has to be one of the luckiest announcers ever. There are only 9 players who have hit 600 home runs. He called 2 of them. Sammy Sosa in 2006, and Albert Pujols in 2018.
For Pujols, there were quite a few milestones that Victor Rojas got to call, like his 500th home run, his 2000th RBI, 600th double, and Pujols' 3000th hit. Victor Rojas had one last one to call for him, Pujols' 661st home run, passing Willie Mays.
Not that Pujols was the only one making milestones. From the booth, Victor Rojas witnessed Mike Trout's entire career up until now. Trout's first hit, first home run, and his first Cycle. He was there when Mike Trout amazed the baseball world with his glove, when he did it again, hit his 1000th hit, and 300th home run.
As if two legends weren't enough, Victor Rojas called the first Major League games of Shohei Ohtani, and he had a blast. Here we had the first true two-way player in decades, and Victor Rojas called his first hit, first MLB win, first amazing pitching start, first Cycle, the first by a Japanese MLB player, and the 3rd ROY for the Angels, with Victor Rojas calling two of them.
Victor Rojas coined of the most beautiful phrases ever, BIG FLY OHTANI-SAN! It is the thing I will miss the most about Victor Rojas.
Skaggs and COVID
Things are not always great in this organization, and tragedy is no stranger to this team. Tyler Skaggs' passing was a blow to the team, and Victor Rojas did his absolute best to honor and mourn with the Angels and us, the fans.
So when the team pitched a combined no hitter, it was an amazing moment, one that made us all cry. It was an image to define 2019 for the Angels and Victor Rojas was able to covey it all to us, as fans.
2020 then featured the well-known pandemic, and Victor Rojas provided us with a podcast to fill the void when baseball was put on hold. When baseball finally returned, he handled it well even as distance prevented him and Gubi from being in the booth for away games. He was a voice of reason during a trying time.
Fun In The Booth
The Angels did not do well as a team in the time Victor Rojas was here, but you did not know that listening to him. Despite the outcomes, he would bring this positive energy to every game. From the arrow game, to the many, many, many walk offs, and the opposite of a walk off. He called 3 no hitters, Ervin Santana, Jered Weaver, and the Taylor Cole/Félix Peña one honoring Skaggs.
Even when the Angels do not do well, he is upbeat. However, he won't sugarcoat things, and speaks his mind which comes across in his interactions with us here on this site and is truly refreshing.
His chemistry with Gubi was genuine and a joy to listen to. Victor Rojas is quick and caught a foul ball, swore on camera by accident, and just has a ton of fun.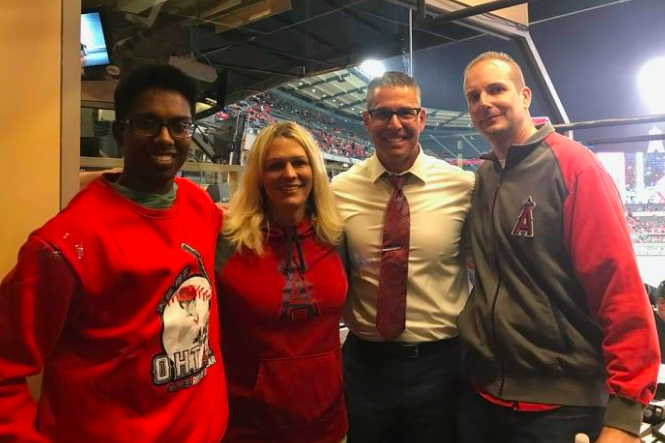 Fan interaction is another area in which he excels. He takes time to get out there, whether that be that with kids, some small Youtubers, Podcasts, or us. I know that many of us here will miss him, his genuine personality and interactions allowed us to deeper understand the game and behind the scenes. We will miss him, and wish him well on his passion on being a MiLB GM.