This fan post is written by one of our site members. Let them know what you think and feel in the comments below!
I think it's fair to say the Angels' 2020 bizarre COVID-19 season has not gone as planned. As of writing this the Angels are 7-14, well below expectations for a roster much improved from last season. The team is struggling to connect the dots, either from good offense and bad pitching, or great pitching (Dylan Bundy) and bad offense. The classic #TheHaloWay style of getting the bases loaded with 0 outs and scoring 0 runs is still very much en Vogue for this team, even with a top of the order that can compete with any other teams'. You may think this is the area in which I spend most of my time being upset at this team. Nope. My displeasure stems more from a certain bullpen pitcher for the Angels. Keynan Middleton.
Keynan Middleton, once dubbed the Angels "closer in waiting", spends quite some time on social media. A lot of time, actually, for a guy still trying to get his footing in the big leagues after Tommy John surgery. Key dazzled in 2017 as a rookie, pitching 58.1 innings to the tune of a 3.86 ERA. The next year he looked to take a step even further, throwing his first 17.2 innings to a 2.04 ERA. While his advanced stats, such as FIP and xFIP, seemed to highlight regression was coming, they did not seem to indicate he was a total fluke. However, Tommy John surgery interrupted what seemed to be a breakout, and it was not until late 2019 that Key reappeared out of the Angels' bullpen.
Now it is 2020, and fans were excited to see Key step up. Unfortunately, "La Llave", or "The Key", has not been all too spectacular. He's appeared in 9 games, walking 4.5 hitters per 9 innings, has a 5.63 ERA and the advanced stats say he is lucky to be there.
"But Dylon Bindi, pitchers can struggle! Surely you don't dislike Key for simply struggling like the rest of the bullpen!". Yes my friend, you are right. The bullpen is struggling. I don't hate any of our bullpen pitchers for on-field performances. Being a reliever is a thankless job. What I AM angry about, is Key's use of social media to attack fans. On July 30th, Key posted a tweet stating, "Last night during the 6th was the loudest I've ever heard angels stadium … no 🧢 😅🤣". The fake crowd noise WAS indeed very loud for the game, I'll grant him that. A 6th inning single got the roar of a walk-off grand slam in game 7 of the World Series. What I did take issue with was his reply to another user, in which Key said, "If angels fans were half as bought into cheering as they are talking shit on Twitter it'd get rowdy lol🤷🏽‍♂️💯".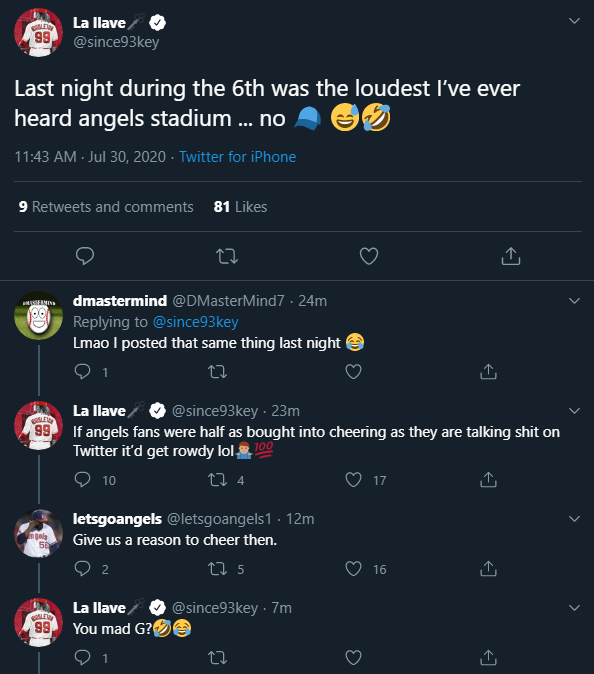 Now, that tweet bothered me. It bothered a lot of my friends as well. It bothered my family members. Even my dog gave me a side-eyed look of "He can't be serious can he?". The last time fans were at the stadium to cheer for the Angels, they were 14.5 games out of playoff contention. Trout was injured. What exactly do Angels fans have to get "rowdy" for?

This sort of disrespect to us as fans has happened before. Just last year, Albert Pujols stated he "Couldn't wait for Trout to see what real fans look like" when they visited St. Louis. Perhaps it IS the fans. Maybe being SoCal, Orange County citizens, we are a little more laid back when it comes to baseball. Maybe we don't pack the stadium for a 5th consecutive season of sub-.500 baseball. Or, PERHAPS, the fans don't get rowdy because the team has given us nothing to get rowdy for since 2014. Am I supposed to lose my voice when Key takes the mound in the 7th, as we trail by 5 to the Mariners? Am I supposed to jump and holler when Pujols limps his way to home run 660 that makes the score 8-3 in the bottom of the 9th? Accusing us fans of being "not real fans" or "not being rowdy" seems to be a pretty tone deaf take. The production on the field matches our enthusiasm. One fan defending Key stated "When I was an athlete we fed off the fans energy". I'm sure Friday night lights in El Modena were absolutely mental, but maybe after 5 years of mediocre baseball and flailing attempts at being competitive, the fans are tired. Maybe we deserve some entertainment for our $50 tickets, $20 coors lights and $10 hot dogs.

Maybe I'm overreacting. Maybe Key simply wants us to be more supportive of him when he jogs in from the bullpen with a lead, walks the first two batters and gives up a single. You tell me I guess. All I know is, being an Angels fan is hard enough without having Albert and Keynan telling us we are bad at it. Dylan Bundy will continue his Cy Young run tomorrow against the San Francisco Giants, and I intend to get rowdy for that. Thanks for reading!
Photo credit: Keith Allison, Wikimedia Commons