Sunday's game did not start as planned.
In his first start on the mound since 2018, Shohei Ohtani failed to record a single out. He faced six batters, allowing three hits, walking three batters, and allowing five runs. In his first start post-Tommy John surgery, Ohtani failed to generate a single swinging-strike in the 30 pitches he threw. Given that he posted an elite 34.9 percent whiff rate in 2018, that is remarkable. Ohtani's stuff was noticeably down (92.9 mph fastball) and he had essentially no feel for the strike zone. The outing was an all-around disaster but it's important to remember that he hadn't been on an MLB mound in 693 days and didn't have the luxury of a normal spring training to get himself ready.
Luckily, the Angels were able to stay in the game despite trailing 5-0 after the first inning. In the third inning with two runners on, Mike Trout uncharacteristically swung at a 3-0 pitch and belted it 393 feet for a three-run home run, his first homer of the season. In case you were wondering, it was indeed the first time in his remarkable career that he homered on a 3-0 pitch.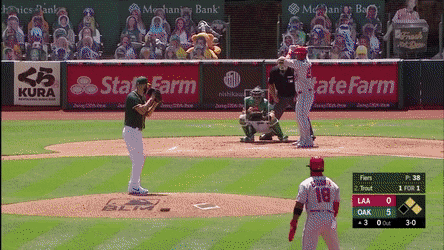 Trout wasn't the only one who helped keep the club in the game. Matt Andriese, the SoCal native (Redlands) debuting in his first Angels appearance, absolutely shut down the Oakland lineup. He pitched 5 2/3 innings, striking out five batters, walking one, and allowing no runs. Andriese heavily utilized his change-up, throwing it 30 times, 11 of which were swinging-strikes or called strikes. Without Andriese coming in to shut the door, the Angels likely weren't staying in this game.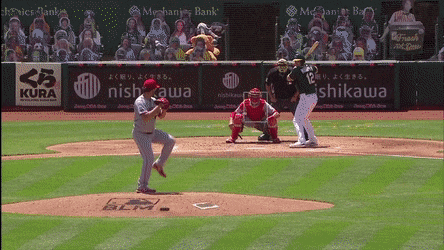 David Fletcher also pitched in his third career four-hit game, setting up the top of the lineup nicely. Still, these individual performances were not enough to erase the disastrous start to the game. Oakland only scored one run after the first inning (a 455-foot bomb by Sean Murphy) but the early damage was enough to hold off the Angels from completing a comeback win.