Somehow, in the midst of a worldwide pandemic, we are just one week away from the beginning of 2020 MLB regular season.
In a time where COVID-19 is not only still present in America but exploding in a majority of U.S. states, Major League Baseball and the players will begin their ambitious task of completing a 60-game regular season over the next three months (and a month of playoff baseball in October). Whether the decision to play baseball in this environment is morally and ethically correct is an ongoing debate but it likely won't impact teams playing games late next week. Beyond the ethics and morals of playing baseball, there is a bevy of logistics that make the 60-game 2020 season a giant question mark. In this article, I want to move beyond the moral/ethical questions about playing (FWIW, I'm mostly against playing in this context) and simply discuss the logistics of how this season will play out.
Evaluating the Angels strictly from a skill perspective
There were relatively high hopes for the Angels entering the 2020 season prior to COVID-19. On the heels of the franchise's worst season (72 wins) of this century, the Angels made some dramatic offseason changes to boost the Angels odds of making the playoffs. Given that Angels GM Billy Eppler is in a contract year, it made all the sense in the world to push for a more competitive team in 2020. Eppler and company signed superstar Anthony Rendon to a 7-year $245 million deal in December. In addition to Rendon, the Angels also acquired Dylan Bundy, Julio Teheran, and Jason Castro.
Pre-COVID and current projection systems have basically been in agreement on the Angels performing roughy around or above .500. The newly updated Fangraphs projections have the Angels exactly at .500 in the new 60-game season with a 25 percent chance of making the playoffs. The PECOTA projections at Baseball Prospectus basically agree, projecting a 32-win output and an adjusted 25 percent chance of making the playoffs. While these projections may seem unkind to an Angels team that has a boatload of (offensive) firepower, it's important to note that the Angels have a brutal schedule this year (more on that soon).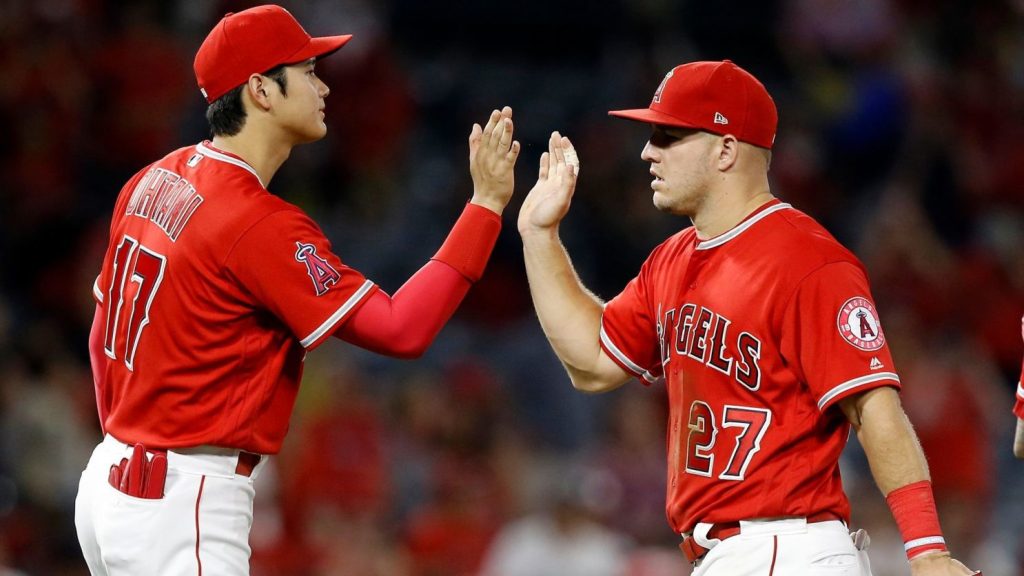 The strength of this Angels team is their superb position player unit that could very easily be a top-5 unit this year. Fangraphs agrees, giving the Angels the fourth-best WAR projection (10.6) from their position players, trailing only the Astros, Dodgers, and Twins. The trio of Mike Trout, Shohei Ohtani, and Anthony Rendon is legitimately one of the best groups in all of baseball. That group is supplemented by the underrated David Fletcher (3.4 WAR in 2019), bounceback candidates Andrelton Simmons and Justin Upton, solid role players Tommy La Stella and Jason Castro, and the looming stardom of top prospect Jo Adell. The floor of this unit is outrageously high and the ceiling is there to potentially perform as the best position player unit in baseball.
As accustomed to over recent years, the Angels will only go as far as their pitching goes. The 2019 season represented the lowest-of-lows where no Angels starter qualified for the ERA title and just one pitcher (Trevor Cahill) reached the 100-inning mark. The additions of Bundy and Teheran and the return of Shohei Ohtani on the mound could be huge additions but the fact remains that the pitching is a gigantic question mark. Fangraphs agrees, giving the Angels pitchers the 10th-worst projection (5.1) in baseball. With both Ohtani and Griffin Canning back and healthy, it could change the outcome of this staff and lead to a variance of outcomes.
What's different about this 2020 season and roster, however, isn't just the questions about how the season will play out but also the addition of the 60-man roster. There will essentially be a taxi squad to provide depth throughout the year and give the Angels (and other clubs) more depth than they've ever had before. Included on that 60-man roster are top prospects Adell, Brandon Marsh, Jordyn Adams, and Chris Rodriguez and recent draftees Reid Detmers and Adam Seminaris. It's anyone's guess how much these prospects will play in 2020 but all of them are on the horizon as potential options this season.
The Angels 2020 Schedule
Next Friday, the Angels will continue their apparently new annual tradition of starting their season off against the Athletics in Oakland (shocker: they start at home vs the White Sox in 2021). For the Angels, these intradivision games will be common this year as 40 of the 60 Angels games will come against AL West foes, including their first 18 games of the season. The rest of the Angels games will be against local NL West teams, including the Dodgers (6 games), Giants (4 games), Padres (4 games), Diamondbacks (3 games), and Rockies (3 games). The Angels will play no games against teams from the remaining four divisions and will only travel as far as Denver, Colorado.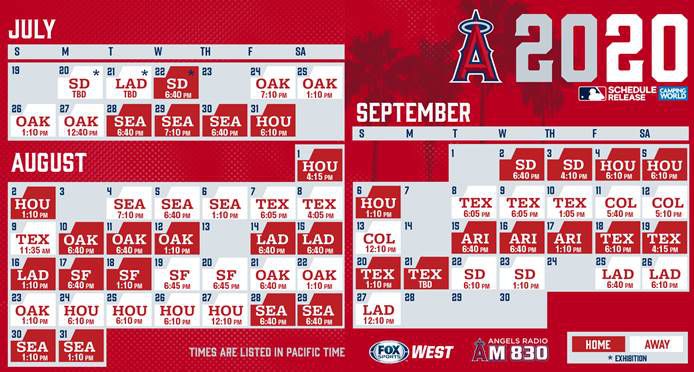 If you think the Angels were the unfortunate benefactors of a tough schedule, you would be correct. As alluded to before, the Angels have an absolutely brutal schedule this season. The Angels have 10 games against the Astros (107 wins in 2019), 10 games against the Athletics (97 wins), and six games against the Dodgers (106 wins). Nearly half of their games come against teams that were not only playoff teams in 2019 but were also legitimately three of the best teams in all of baseball last year. Even matchups against teams like the Rangers (78 wins in 2019) and Diamondbacks (85 wins) will give the Angels fits.
Numerous sources back up this notion of the Angels having one of baseball's hardest schedules. In a recent piece by Mike Petriello of MLB.com, he pulled data from Fangraphs projection systems, which has two separate projections. One system strictly accounts for the talent of a given roster and the other includes the strength of schedule with the talent of a roster. Petriello then adjusted these projections by using 60 games instead of 162 games. When he did that, he found that the Angels have the second-toughest projected schedule in the 60-game season (tied with the Rangers and behind the Mariners).
An even deeper look by Jon Anderson at Fantasy Pros found that Angels hitters and Angels pitchers each ranked in the top 5 for most difficult opponents. While this article debuted just before official schedules released, it operated under the same framework of teams playing 40 intradivision games and 20 games against their "geographical counterpart from the other league" (Anderson). This piece found that Angels pitchers would face hitters with a combined .769 OPS, the fifth-highest mark. Angels hitters, too, have the fifth-hardest opponents with a 4.42 ERA and 2.80 K/BB.
Taking all of this into consideration, it cannot be overstated how much a brutal schedule in a 60-game sample will matter. The Angels are a talented group but there is a tough schedule ahead along with the huge logistical question marks surrounding COVID-19 and its impact on the season.
The elephant in the room: the impact of COVID-19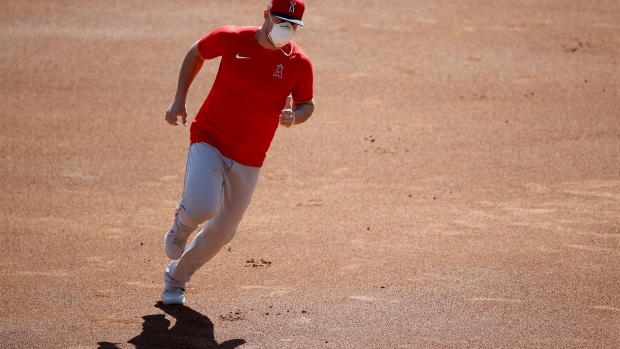 This season is not like other seasons. It's not just the 60 games or the inclusion of the designated hitter in the National League or runners starting on second base in extra innings. It's the fact that the league, teams, players, employees, etc. all have to be on their best behavior to strictly follow COVID guidelines to ensure the disease doesn't spread. Even if baseball does follow the rules, the likelihood that the disease spreads is high. Baseball can try to play this as safe as possible but a billion-dollar industry and its high profile athletes are not immune from the disease that is still all over America. This will be a day-to-day adventure of helping teams and players navigate their way through games, staying healthy, and somehow making this all work in a 60-game regular season.
I could spend hours exploring different hypotheticals of what may happen this year. To put it bluntly, baseball could quickly discover that this thing won't work and they'll have to shut it down. The disease could rapidly spread or impact key players. At what point would MLB decide enough is enough? If hundreds of players, coaches, umpires, employees, etc. test positive for COVID in the season's first few weeks, do they pull the plug? Will baseball evaluate the situation differently if, say, a random reliever contracts COVID compared to someone like Mike Trout? What is the acceptable amount of people (if any) to contract COVID to justify continuing games? Heaven forbid, what if anyone associated with the MLB season dies from a COVID contraction? Does the league shut it down when a player, coach, team employee, etc. contracts the disease and dies from the work setting, or does it justify moving forward?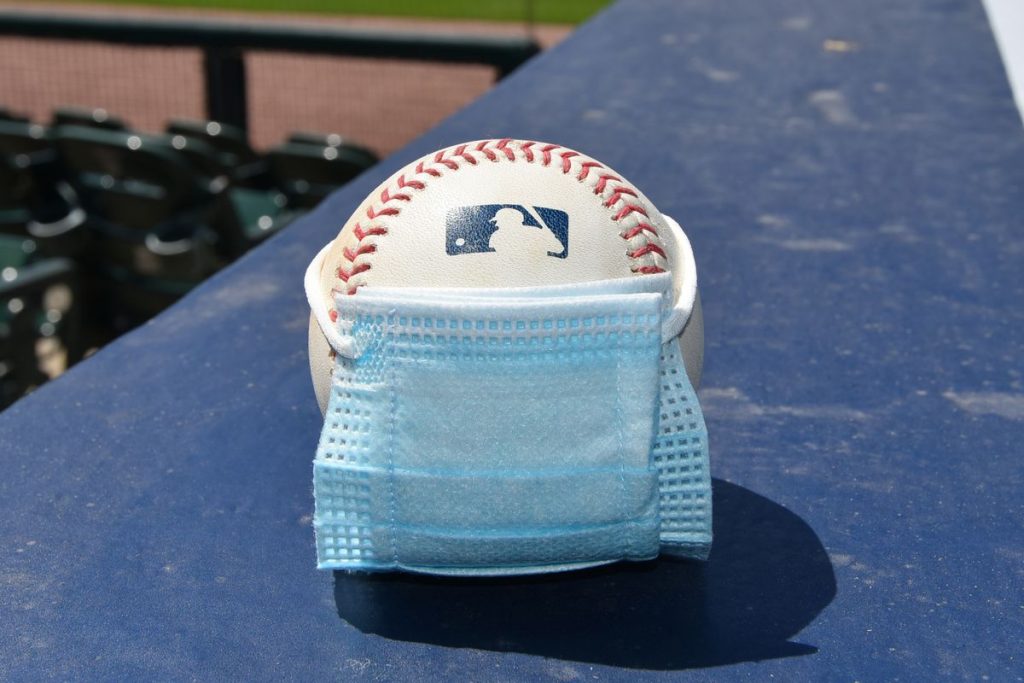 What about testing? Testing, a huge issue in America, has already been an issue with MLB teams and will likely continue to be in the coming days, weeks, and months. What happens if multiple teams have testing issues and therefore can't play games for days on end? If sketchy testing costs teams even 5-10 games, we're talking about a 12-17 percent reduction in games. What happens if half of the teams experience this (or worse) while the other half of teams have better luck? Testing will almost certainly be an issue at some point and it likely won't proportionately impact every team.
What about the possibility of teams safely navigating their way through regular season only to find that a spike occurs across the league right before the playoffs? What happens if several superstars or playoff rosters are depleted due to COVID cases late in the season? What if testing issues arise during the playoffs and force the season to extend? These are all hypotheticals if the league even makes it to early October fully intact.
These are some of the many questions the league is going to need to answer. The situations and questions I referenced may not be perfectly accurate but there are going to be similar encounters that put baseball in a tough spot. In all honesty, I still have no idea how any of this is going to work out. Baseball has managed to make it this far into "Summer Camp" with relatively good luck but problems will likely spike once teams start traveling more and coming into close contact with players, coaches, etc. from other states.
From the Angels perspective, this COVID concern looms especially large given Mike Trout's situation. Trout's wife, Jessica, is due to give birth to their first child sometime in August. Mike Trout is already on the record as having concerns about playing this season, concerns that are completely justifiable as he prioritizes the health of his family over baseball. Trout will almost certainly miss time during and around the time that Jessica gives birth, which undoubtedly alters the Angels playoff odds this season. It's completely possible that Trout sits out the entire season depending on how things shake up over the coming weeks. This not only impacts the Angels on an on-field perspective but it could also lead to a chain reaction for other players who follow the lead of MLB's face of baseball.
Final thoughts
In a perfect world, we'd all be living our relatively normal lives and be about halfway through the MLB season. That is not the case, however. The devastating pandemic, economic recession, racial injustice, and political turmoil in America has created an incredibly difficult time for all of us. Right now, baseball is probably not at the top of our priority list so evaluating and predicting what may happen this year is probably not all that important. I feel like I am not alone when I say that I have way more on my mind beyond baseball and the possibility of the Angels making the playoffs this year.
With that said, we are a week away from real MLB games being played, a development that may bring joy to some of us in the baseball community. Even amidst all of our differences and viewpoints on everything in the world, we can at least come together in hoping for a healthy, safe, and complete baseball season. As I've alluded to in this article, I really don't have the slightest clue how this season will go down. Beyond the usual unpredictability of baseball, there is so much uncertainty around the world and the game that makes predictions nearly impossible this season.
To the Crashing the Pearly Gates community, I hope you're all staying safe, healthy, and as optimistic as possible during these troubling times. Angels Baseball is almost back, which brings some relatively good news in these uncertain times. Go Halos!