With players set to report to summer camp this week, the Angels released their initial 55-man roster Sunday night.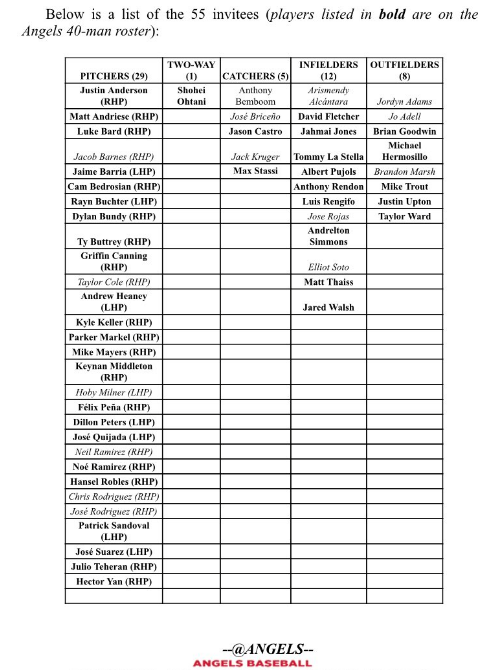 Obviously, the club has the expected names: Mike Trout, Shohei Ohtani, Anthony Rendon, Andrelton Simmons, etc. More interesting perhaps is the inclusion of the major prospects in the Angels system. Jo Adell, Brandon Marsh, Jordyn Adams, and Chris Rodriguez all have shots to see some time in the majors this season. Just seeing all of those names included on the same roster should give fans some hope both about this upcoming 2020 season and the future rosters in Anaheim.
Clubs will break summer camp with 30-man rosters, which will gradually trim down to 26 players partway into the season. During the season, however, clubs will have added flexibility with these 55-man rosters to combat the inevitable difficulties playing amidst a global pandemic. You can read more about these rosters in Jeff Passan's recent article. Because of that, there is quite a bit of talent and intriguing young players who may play with the Angels this year. There will also be quite a bit of movement and on-the-spot education about the player movement we see in 2020, which is partially explained here.
Seeing the sheer amount of names who could appear for the Angels at the MLB level is rather strange but these are indeed strange times we are living in. With that being said, this is a good start for establishing the blueprint for the upcoming 2020 season. Here's to this whole thing working out and having the ability to watch live baseball in the next month.