Adam Kennedy went to school in Northridge. A talented 2nd Baseman, it was evident he was skilled when he was drafted in the first round by St. Louis in 1997. You would think the Angels or Dodgers would nab him but the Angels got Troy Glaus at pick 3 and when the Dodgers picked at 25 he was already off the board. But he would soon come to Southern California.
Gained in a trade with St. Louis for Jim Edmonds, the left handed Adam Kennedy became the new 2nd baseman for the Angels in 2000. He immediately impressed with 33 doubles, 11 triples, and 22 SB as a rookie. It was enough to get him 6th place in the 2000 AL ROY voting. Those 11 triples are tied for 6th most in any Angels single season.
2001 saw an increase to his defensive as his offensive numbers dipped with 19 fewer games played. He was still the starting 2nd baseman but it seemed like he hit a sophomore slump as his extra bases fell from 53 to to 34 and his SB from 22 to 12.
2002
But then 2002 came along and just like everyone else on the squad, he brought his A game. AK had his OPS jump to .795, the highest of his young career, and his extra base hits went up to 45 with 17 stolen bases. But what was more impressive was his on base skills.
Now I want you to think, with an OBP of .345, how many walks do you expect AK to have? He played in 144 games so it should be a decent amount right? Well AK attempted an Ichiro and had only 19. Over 100 singles which explains why his batting average was a sweet .312 in 2002. Yes batting average isn't what it used to be but leading the team is an accomplishment. It was the 25th best in Angels history after all.
Now besides the bat that could not miss (only 80 strikeouts) AK improved defensively as well with a defensive BWAR of 1.6 and an total BWAR of 4.5 which was tied for 4th on the team overall. Strong defense up the middle is helpful for the pitching which had finally improved that season. Improved enough to make it to the playoffs for the first time since 1986.
2002 Post season
The ALDS was vs the MFY and Adam Kennedy did his part. Small sample size and such but 1.455 OPS and 1.000 slugging in a series batting .500 is killing it. His biggest game was game 3 when he went 3-3 with a double and a home run with a sac fly to edge the MFY.
Certain players are remembered for key events. And Adam Kennedy had the 2002 ALCS. 3 home runs in one game to clinch a pennant. You just dream of moments like that. It was this that won him the ALCS MVP.
That was only the 6th time in MLB history to hit 3 home runs in one post season game. The other 5 were Babe Ruth twice, Bob Robertson, Reggie Jackson, and George Brett.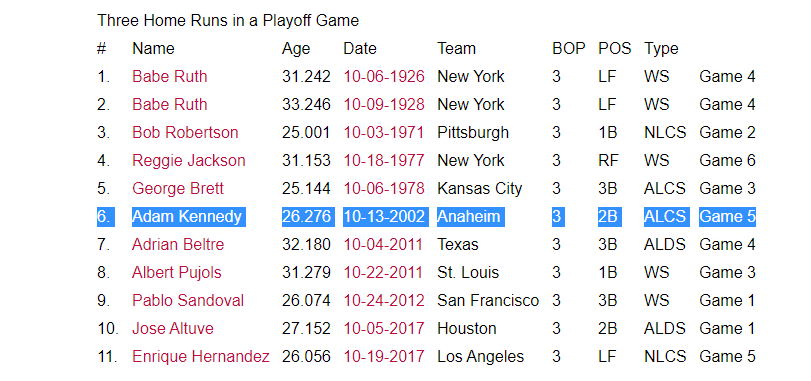 The World Series was next and it was obvious AK peaked. Sure he played decently enough but he couldn't have topped his ALCS. Game 1 he had a double, but it wasn't enough to win. Game 2 he went 0-4 in a game the team did win. Game 3 is when he joined the rest of the hit parade with a run scored and a double to go along with a HBP. Game 4 he had the night off but came in and got a pinch hit single. It wasn't enough though and the Angels lost. Game 5 was terrible as he went 0-4 with a strikeout in the blowout.
Game 6 was magical as stated before, but Adam Kennedy was not the center of that story. He did get two singles and turned a double play in the 4th. Game 7 also was for others to step up and Adam Kennedy went 0-3 with a strikeout.
But that didn't matter, Adam Kennedy did his job to get them there. He was a 2nd baseman, his job wasn't to be the offensive heart of the team. that he was in a lot of the season and the ALDS and ALCS was him going above and beyond what he was needed to do. And we apricate him for it.
Solid 2nd Baseman
Adam Kennedy stayed on the team for a good time after 2002. In fact he was one of the most consistent players from 2003-2005. None reached 2002 levels but he was consistent. That is what all teams need, good play consistency from key spots.
Although his offense dipped a bit, AK had an excellent 2003 with the same defense, an OPS of .743, an OBP of .344, and a BWAR of 3.5. It was his best power season with 13 home runs and hge had 22 SB again. Being the second best player on the team was nothing to sneeze at even though the team fell below .500.
2004 was another solid year, as his offensive improved while his defense slipped a bit. Still, a .757 OPS and OBP of .351 was his best yet. With a 3.3 BWAR he was tied for 3rd that year on the team and with an excellent team, it was post season time again. Which was against Boston. Ugh.
No matter as Adam Kennedy was consistent and 2005 was another solid year. Although he did get used less with fellow top 100 Might Maicer getting plenty of playing time, Adam Kennedy used that time off his feet to improve his glove as he had a full 2 defensive BWAR which was the 24th highest in team history. Offensively he did well as usual, increasing his OBP to .354 and batted an even .300 for a BWAR of 3.9. The playoffs were here again and Adam Kennedy was left off the ALDS roster. He did get to play in the ALCS but didn't fare too well vs the White Sox. Stupid Sox and ruining everything.
He did play in 2006 although it was clear that the 30 year old lost a step. It was by far his worst season in many categories as he clearly lost a step with 10 caught stealing in 26 attempts. It wasn't all bad though, as his OPS was still .718, but a decrease in OBP to .334 showed that something wasn't quite right. And thus he was granted Free Agency since the future batting champ was ready to start playing.
Legacy
Adam Kennedy was clearly not done and played until 2012 with ST. Louis, Oakland, DC, Seattle, and the Dodgers. While he never hit 2002 numbers again, he did have an excellent 2008 season with St. Louis when his BWAR was 2.5.
His time with the Angels was his best and he did end up on a lot of top 50 lists. With 18.2 BWAR, Adam Kennedy is 18th amongst position players. 8.5 was from defense, which is 8th all time for the franchise. 18th in Batting Average, 33rd in on base, 36th in slugging and 37th in OPS. Not bad for a second baseman.
What really stands out is his longevity. 13th in games played, 17th in PA and AB, 21st in runs scored, 17th in hits, 19th in total bases, 13th in doubles, 6th in triples, and even though he rarely hit home runs, he is 39th. With 9th in SB to go with 6th in triples, AK was one sneaky fast player.
Adam Kennedy still did Baseball stuff, he even has had own facility. Although now he is in Real Estate. He is in Riverside now and has time for fans. He made it into the Riverside Hall of Fame and as part of the 2002 team is in the Angels HOF somewhat.