The Angels are coming off a decade of extraordinarily poor offense from their catchers.
From 2010-2019, Angels catchers had the fifth-worst wRC+ (81) in baseball. They ranked third-worst in both OBP (.292) and SLG (.359). Mike Napoli's 26-home run output in 2010 was by far the most by any catcher in a season. Only two other catchers, Martin Maldonado and Chris Iannetta, reached double-digits. Enter, Jason Castro.
The Angels inked the 32-year-old backstop to a one-year $6.85 million deal this past offseason. Castro himself had six separate double-digit home run seasons this past decade and brings strong pitch framing. The Angels may be banking on more from Castro, however. Castro's batted ball profile and Statcast profile changed in a major way last year. While he's not an outspoken swing change propagandist a la Josh Donaldson or Justin Turner, his stats suggest he made major changes. Castro's changed batted ball profile and new profound quality of contact make him a fascinating case study for 2020.
Jason Castro: Statcast Darling
The following chart shows Castro's Statcast numbers and his MLB ranks among hitters with at least 250 plate appearances last year. A quick primer on some of these numbers that I used from Baseball Savant:
xwOBA and xwOBAcon are based on wOBA, or Weighted On-Base Average. wOBA is much better than batting average because it includes walks and properly values hits (not all hits are equal). xWOBA is simple: what is your expected wOBA based on your underlying stats? xWOBAcon, meanwhile, is looking solely at your xWOBA based on balls in play. Sweet-spot percentage measures any ball hit between 8-32 degrees, the optimal range for hard-hit baseballs. Barrel percentage measures how often you hit hard baseballs at an optimal launch angle.
| Stat | Number | MLB Rank |
| --- | --- | --- |
| xwOBA | .364 | t-40th |
| xwOBAcon | .498 | 10th |
| Average EV | 91.5 mph | 23rd |
| Sweet-spot% | 41.7% | 9th |
| Barrel% | 17.2% | t-7th |
| Hard-Hit% | 46.4% | 33rd |
By every measure, Castro was legitimately one of baseball's best in terms of crushing baseballs. By solely looking at the quality of contact, Castro was a top-10 hitter, whether it is xwOBAcon, barrel percentage or sweet-spot percentage. Castro's .498 xwOBAcon placed him right between Christian Yelich and Ronald Acuña Jr, who happen to be two pretty good hitters. Castro popped 13 home runs in just 275 plate appearances, averaging 415 feet on each dinger. Unsurprisingly, Castro's fly-ball percentage shot up to a career-high 39.3 percent.
He always hit for reasonable power but this quality of contact came out of nowhere.
| | xwOBA | xwOBAcon | Average EV | Sweet-Spot% | Barrel% |
| --- | --- | --- | --- | --- | --- |
| Career (Statcast era) | .316 | .408 | 87.5 MPH | 37.7% | 9.1% |
| 2019 | .364 | .498 | 91.5 MPH | 41.7% | 17.2% |
Castro made meaningful changes that you can't fake. It's one thing to BABIP your way to a flukey year or get lucky on your HR/FB rate. It's another thing to make changes this significant without real and skillful changes. Castro hasn't been super vocal about his swing changes but he is a pupil of Craig Wallenbrock. One of the most prominent hitting coaches in the baseball world, Wallenbrock has allegedly been working with Castro since at least 2014. Wallenbrock's philosophy of hitting baseballs in the air runs counter to traditional "swing down on the ball" mantra. Other recipients of Wallenbrock's teachings include Ryan Braun and J.D. Martinez, the latter who is one of the most prominent and outspoken swing changers. It's possible that 2019 represented the fruition of all these changes and we can continue to expect more of this.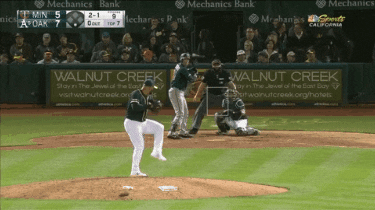 What to expect from Castro this year
Castro's breakout was untimely on a personal level as his former team, the Twins, also had another catcher break out with massive power. Mitch Garver, similarly to Castro, made huge changes that resulted in him producing as baseball's best offensive catcher. This limited Castro to just 79 games, a number he should clear with ease this season. Angels manager Joe Maddon has already said that Castro should play more than 100 games. If he can do that, he may be able to put his new changes into practice even more.
Castro is not without his risks, as he will be 33 years old in June and is two years removed from major knee surgery. Castro's swing-and-miss issues (career 27.9 strikeout percentage) will also limit his overall offensive value. Still, this is a catcher capable of posting a league-average or better batting line who is also one of the better pitch framers in baseball. The ceiling may even be higher if last year's changes were legit. If Castro maintains his positive changes from last year and manages to play 100+ games, he could theoretically approach a 3-win season.
Much of the offseason's attention was focused on the signing of superstar Anthony Rendon and the pitching additions, or lack thereof. Don't sleep on Jason Castro, though. He may be one the sneakiest free-agent additions from this past winter and gives the Angels a potentially deep─and devastating─lineup.
Photo credit: Travis Smith (UPI)