Noah "Thor" Syndergaard was the marquee signing of the Angels off season and has largely played up to expectations. He's put up almost exactly 1 WAR over 70.1 innings with a 3.84 ERA and some nice peripherals. He's not the Thor of old, but he's not exactly an old Thor, either. And with only 70 innings on his arm this year, teams can expect to get about that many more if they trade for him.
The Angels going absolutely nowhere with Thor and as an impending free agent, he's an obvious trade candidate who should have no shortage of suitors. The question becomes, what would he net the Angels? Let's look.
About $10 million of his $21 million yearly salary is due and as this is sunk cost I'm going to assume Perry has the freedom to kick in up to $5 million to sweeten the haul. This midpoint opens up a lot of possibilities but is still realistic. At a certain point, prospect capital just isn't worth it for three months; even if he's free.
Remember the days of Tyler Wade in center field, Jose Rojas in left? Yeah, we could probably solve that problem by sending Thor and some cash to Philly.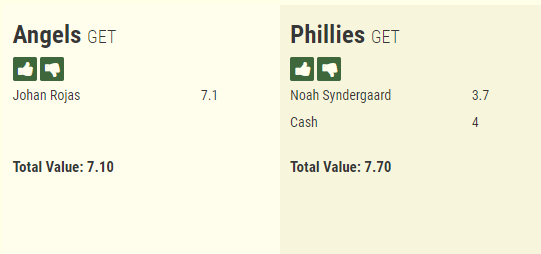 Rojas has 70 grade speed and an offensive profile that favors contact over power. If that sounds like a perfect fourth outfielder to you, then we're not alone. He will definitely stick at center and would be a lethal pinch running option off the bench. And we desperately need one of those.
I've already one a hypothetical trade of Thor to the Giants in a separate piece. Here's one that is slightly different.
As with my other piece, the Angels land a catcher here. Adrian Sugastey is a 19 year old with a sweet swing who is a ways off but should develop as an MLB regular. Manuel Mercedes is a recent signing for Venezuela who is also 19 and has electric stuff. He needs command to stick as a starter but could be fast tracked as a bullpen arm thanks to his explosive 70 grade fastball.
I'd actually prefer to trade for another SF first round pick in Patrick Bailey, who seems to have recovered from a back injury and absolutely raked in High A this year. I'm not sure if SF would give him up, though.

A couple of division leaders are in real need of rotation reinforcements and a couple are small market teams who would love to have the Angels pick up part of the tab.

Simeon Woods Richardson is a guy I've like for quite a while and was the headliner in the trade that sent Jose Berrios from the Twins to the Blue Jays. He's shown improved command in AA ball through 12 games/58 innings this year but is on the 7 day IL at the moment. Noah Miller was the 36th overall pick in the 2021 draft out of high school and profiles as a middle infielder with contact skills.
Bonus: Resident prospect guru Turk's Teeth has a trade I can't pull off on the simulator. Thor, Bachman, and $5 million for Woods Richardson, Spencer Steer, and the Twins competitive balance pick.

Ethan Small was a stud in the SEC in college who has nice life on his fastball and a really nice change piece but hasn't yet mastered a good breaking ball. He'd be cost controlled pitching depth and possibly a mid rotation arm if he can get either his curve or slider up to MLB average. Felix Valerio is another David Fletcher type who has tons of contact and really quick feet but not much power. He's in AA, likely ends the year in AAA, and at 21 years old would be our utility player of the future; but one who can actually hit.
Side note, I'd love to get local product Brice Turang from Milwaukee. Thor, Stassi and some cash could do it. Maybe Thor plus a reliever like Wantz or Quijada. Either way, Turang could step in next year anywhere on the infield and have a league average bat with good range and a good arm.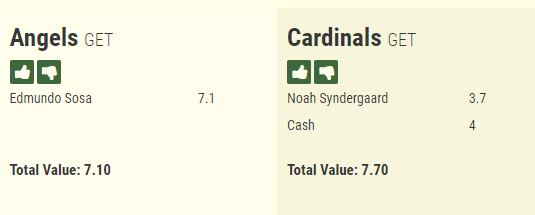 The Angels need infield help and Sosa is a year removed from a .271/.346/.389 batting line good for a 104 wRC+. That was also the only year he played consistently. As a role player, his numbers are much worse but his minor league numbers are always solid. He does have a SS quality glove and positional flexibility. He'd be an upgrade over Squid, Wade, Mayfield, and Rengifo. This raises the floor.
Really, I'd like more but the Cardinals system is very boom or bust. Some really high rated prospects then a bunch of kids 4 years away from MLB level.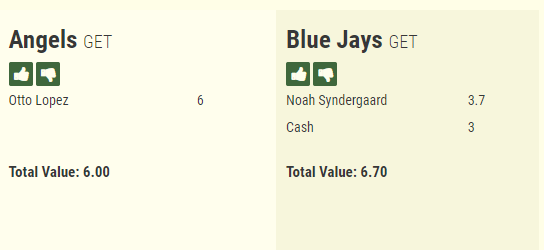 Otto Lopez is in AAA and the definition of a super utility player. He's that guy who is just faster than everyone else on the field, has good reflexes, and is probably pretty good at any sport he tries. His offensive profile is much more contact over power, but his speed means he can turn that contact into hits and extra bases. Besides, the Angels strike out way too often. His presence would create instant depth around the infield and on the grass.
As you can see, none of the Thor trades would be franchise altering. What they should allow Perry to do is replace a subpar player with an MLB caliber player. One with cost control and the types of tools that would give the manager options both with the lineup and in in game strategy. Or a prospect or two at a position of organizational need.
For years we've talked about raising the floor and adding to the farm. Here's a chance to do just that.