Angels visited the Padres at their spring home in Arizona today and got embarrassed. It was a B team away game again, this time with  Jose Suarez on the mound. As the likely 5th man on the 6 man rotation, it wasn't the most exciting matchup, but hey, Baseball is on tv!
Recap
1st
The Angels went down in order to start the game, with Rengifo, Wade, and Adell not doing anything.
 Jose Suarez started on the mound, and did the same to the Padres' lineup, getting a quick 1-2-3 inning to start the game. Scoreless after 1.
2nd
Again, the Angels offense did nothing, Ward, Mayfield, and Thaiss all went down in order.
It was not as easy for Jose Suarez as he gave up a leadoff walk, a 1 out single, and a 2 out HBP to load the bases. He got a pop fly to thankfully end it without any damage. Still scoreless after 2.
3rd
Stefanic and Gatewood continued the no Angels baserunners, but Orlando Martinez did not get the memo and doubled for the Angels' first hit. Rengifo then popped up to make that pointless.
Jose Suarez got the first out easy but was pulled by Maddon immediately afterwards. Pitch counts in Spring Training will unfortunately carry over most likely.  Emilker Guzman came in to finish the inning. Which he did rather seamlessly. Still scoreless after 3.
4th
Wade, Adell, and Ward all went down in order in the 4th. Still only one baserunner all game for the Halos.
Archie Bradley had the 4th, retiring the side in order. Nearly had a collision as Rengifo cut off Stefanic for a ground ball, but no one was hurt. Still scoreless after 4.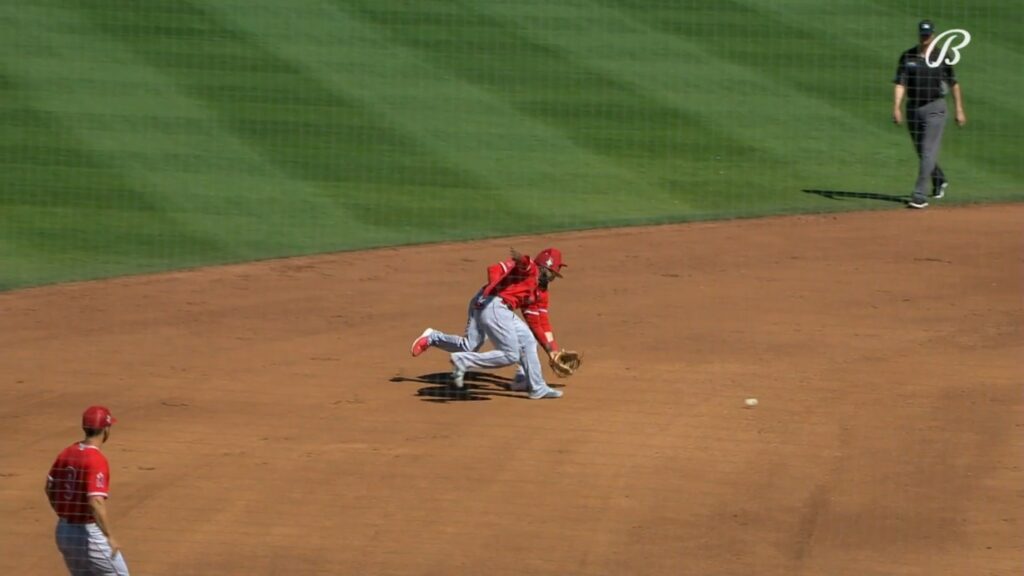 5th
Mayfield, Thaiss, and Stefanic all grounded out in the 5th. It was certainly a pitching duel.
The Angels had  AJ Ramos on the mound, and he gave up a lead off home run to give the Padres a 1-0 lead. A couple more hits scored another run before he could get out of the inning. 2-0 Padres after 5.
6th
Yet another fruitless inning, Gatewood, Orlando Martinez, and Rengifo all had no luck at all.
Jimmy Herget pitched the bottom of the 6th, he almost pitched around a leadoff double, but couldn't quite do so and another run scored. 3-0 Padres.
7th
New inning, same result, as Maitan came in to not hit, and neither did Adell or Ward,
Oliver Ortega got the 8th and had an easy 1-2-3 inning. Still 3-0 Padres.
8th
Wong and Mulrine got an at bat as well, not that they did anything but they got to pretend to help. Stefanic also almost beat out a groundball but was not fast enough. Still only 1 hit all game for the Angels.
Jose Marte had the 8th, and gave up the 7th hit of the day vs the Padres. & times more than the Angels. Still 3-0 after 8.
9th
Trey Cabbage came in and immediately got a hit, hitting a slow roller to 3rd for a single. It was only the second hit of the game. The next 3 batters did nothing and the Angels lost 3-0.