Not to be outdone by the Maine Bean Suppahs, the Jacksonville Jumbo Shrimp will be having Cathartic Scream Night on June 24th. I wonder if they will hand out complimentary foam earplugs. They'll be playing Durham that night.
What do you think? Would Cheap Arte hold up agreement on the CBA over a few million bucks? The negotiating parties seem to be going sideways a little bit. The numbers are getting closer about the league minimum salary, the competitive balance tax, and the pre-arb bonus pool. Broader issues such as the international draft and changes to the qualifying offer get proposed and rejected in broad strokes. The Opening Day will now be no earlier than April 14. Cathartic scream anyone? Speaking of which, ESPN is expected to offer a five year deal to Joe Buck.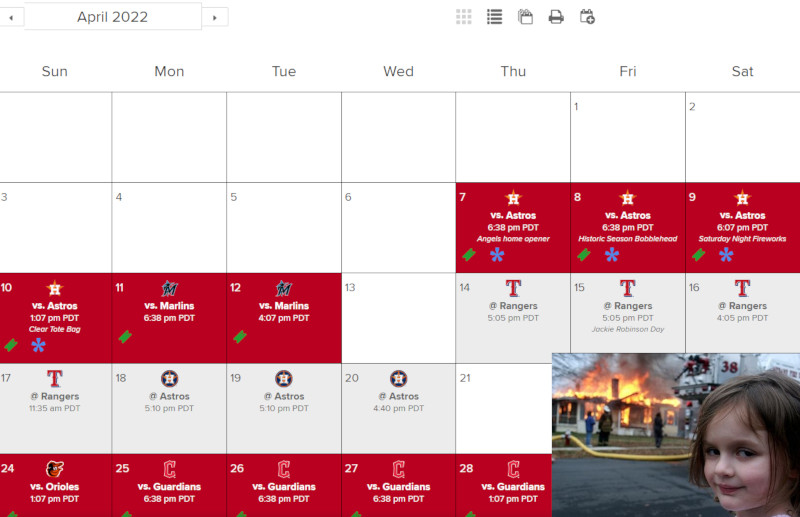 Apparently the Apple TV+ Friday night doubleheaders will have interactive bells and whistles for the young demographic, but no in game wagering at first.
The Rockies fired Director of Research and Development Scott Van Lenten six months after they hired him. This is the result of major disagreement over what his role would be going forward. Translation: They weren't going to give him the resources to work with that he initially thought they would. This is reminiscent of the Derek Jeter dispute with the Marlins.
Angels Related Links
As Jeremiah Jackson advances up the minor league ladder he continues to display power but his strikeout rate grows ever more alarming. At least he realizes that he needs to do something about that. Jordyn Adams has a similar problem and is trying to address it with a simplified swing featuring a shorter path to the ball. His leg kick is gone.
We have some minor league camp video courtesy of Jeff Fletcher.
Thirty people voted in the Angels Mount Rushmore of Stupidity Poll and Buzzie Bavasi ran away with it. The Wells and Hamilton acquisitions also scored quite well in a tie for second place. Making Donnie Moore pitch came in fourth place.
Photo credit: Rex Fregosi