Some times you cannot decide which game to choose out of the 81 regular season home games for your team. A giveaway is always a bit of a bribe by the team to get you into the seat but it is also a way to talk your wife or kids into going. Most of the time, giveaways are junk but on a rare occasion you may strike collectible gold. Let's look at what the Angels are giving away for 2022 and whether it is worth turning off that pirate streaming feed of yours and making it down to the stadium to collect some fan swag.
APRIL 7, 2002 vs. the Astros: Opening Night (home opener that is, the season starts a week early in Oakland) is a Thursday game against the division rival cheaters. The giveaway is a wall calendar. These always come in handy as they run April to April. Sometimes the player you are looking at for a whole month is no longer with the team or on an extended stay on the disabled list.
APRIL 8, 2002 vs. the Astros: Long lines expected for the Ohtani Historic Season Bobblehead. Look for this game to sell out. They only give these out to the first 25,000 fans – and there is always that one (or hundred) fans who show up with ten tickets and walk their swag back to the car. Expect a few window break-ins before the seventh inning this night, or get there early and take your one bobblehead and be happy. Prediction is this will go for over $100 on Ebay by October!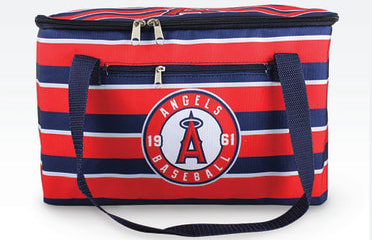 April 22, 2022 vs. the Orioles: Are you hot? Get to this game for the Angels Cooler Bag. Will it keep your drinks cool? It better because the godawful stripey design that makes the fringe navy blue team secondary color equal with the glorious red will not make you look cool at all, let alone cooler.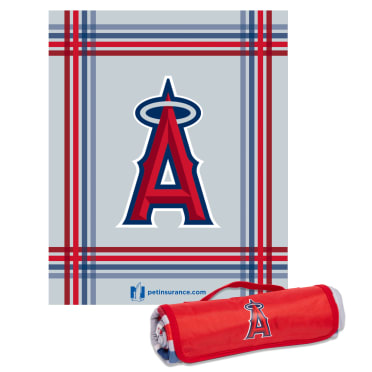 April 23, 2022 vs. the Orioles: Are you tired? Maybe bored with a game against Baltimore? Fear not, there is a free Angels Rollup Blanket. Yes, kids these days don't clean their rooms, don't do their own laundry and don't roll up their own blankets, so why not invent a way for those blankets to roll up by themselves in a manner that is also convenient for bopping Orioles fans over their heads if that team of theirs dare try to take this game from us! Also, what is with more of this blue? Stay on brand, Arte!
May 6, 2022 vs. the Washington Nationals: Well in the hopes of getting a few transient Nats fans to buy tickets the Angels are giving away an Anthony Rendon Teeshirt. I am superstitious enough to recall the days when the Angels would regularly lose on teeshirt giveaway games, it was a weird losing streak. But this is a for a visiting player! Oh wait, I forgot, the guy has played a few dozen games for us over the past two seasons. Okay, here is to hoping he has had a hot start and will be cheered for by the hometown faithful this night.
May 8, 2022 vs. the Washington Nationals: Well it's a Mothers Day Tote Bag. Look, my mom is a Dodger fan so if your mom will go to this game and/or carry this tote (whatever a tote is) bag around, you got a great mom. My mom is great too but she rubs in her team's victories a little too sharply at times. Enjoy having the same team loyalty with the one who brought you into this world, totes and all.
May 10, 2022 vs. the Rays: It is the second of three of these: SHOHEI OHTANI MVP BOBBLEHEAD. It might be a Tuesday game against the no-fan-base Rays but there will be a big crowd to grab this collectible that should be selling for 3 Ehtereum by season's end as an NFT.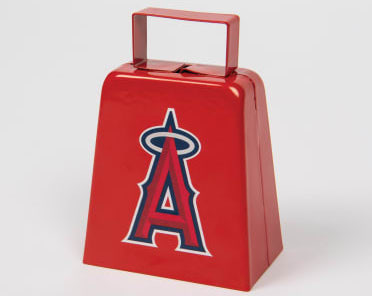 May 20, 2022 vs. the Athletics: The most insipid giveaway of the season is also the most inspired trolling of a visiting team. The giveaway is a COWBELL when we are facing the team whose home fans never stop banging drums and each other all game long up there in Stenchy Stadium of Colleseum land at Mount Davis.
NOTE: This is also "Country Weekend" so expect a higher number of 909ers in the stadium and four-wheelers in the parking lot.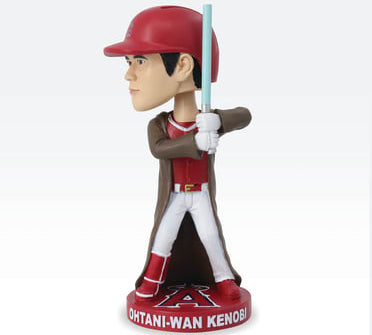 May 27 vs. the Blue Jays: Not only is it Star Wars Night at the stadium, the giveaway is an Ohtani-Wan Kenobi Bobblehead. I smell a Disney-Plus tie-in here but cannot be cynical as this is, even in my prequel-hating snobbery, as cool a giveaway idea as exists or at least until there is a Mike Scioscia Jabba The Hut bobblehead.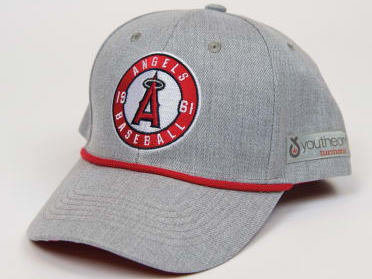 June 10 vs. the Mets: Pretty simple, they are calling it a Rope Hat. Is it a hat made out of rope? Is the rope made out of hemp? Is it sponsored by a legal weed shop? Nope, Nope and No way, bro! It is a gray Angels baseball cap, boring, gray, you know, but hopefully boring as in bored like a Brandon Marsh solo homerun when we are already up 14-0 in the sixth inning is a total yawner…
June 22, 2022: Is it too soon for a 2002 World Series Anniversary Long-Sleeve Shirt? The irony of course is that in June of 2002 the stadium was at 1/4 capacity and only a few of us diehards were starting to notice the magic beginning to brew. Do I sound old? Well fine, you will look fat in this Pechanga-sponsored apparel, so there!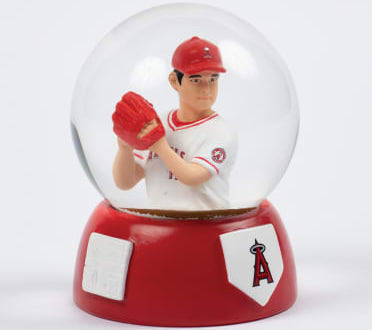 June 26, 2022 vs. the Mariners: How about an Ohtani Snow Globe for your mantle? This is one of those things that sounds dorky, lame, uncool and you will be arrested for knocking over an old lady in front of you in line about to be handed the last one as they run out of their supply. Your mugshot will read 25001 but you will have grasped the beauty of the fallen snow…
June 28, 2022 vs. the White Sox: the Angels website says only CUP SET. Not sure if this giveaway is limited to fans who show up with their jockstrap set in tow or not, stay tuned.
July 29, 2002 vs. the Rangers: As part of '80s weekend, get a free '80s Trout Tank Top Jersey. No word on if Mike is growing a Gubiczanesque mullet for the honors but if you start pumping iron today, you may look hawt in this when you grab it at the gate.
August 12, 2022 vs. the Twins: It is a sad sign of the security theater times in which we live but here is a Clear Backpack giveaway to make your life conforming to the whims of state bureaucrats all that much easier and stylish. There is not picture on the team site because the thing is clear, if you could see it, it wouldn't be clear, now would it? Is that clear?
August 13, 2002 vs. the Twins: It is an Ohtani Hat. No word on the style or color but nobody cares, they will by tickets to this game and resell these chapeaus for $150 on Ebay, just watch!
September 2, 2022 vs. the Astros: It is a hockey-themed Ducks night even though 40% of the fanbase is Kings fans. They will all grab a Hockey Helmet Beanie giveaway though. No picture of it yet so the assumption is nobody would wear this thing to anything but a sporting event.
Friday September 16 vs. the Mariners: A bobblehead but not for Ohtani. It is a Trout Bobblehead. Hope he is off the disabled list before this game.
September 30 vs. the Rangers: As the season ends, the team runs out of ideas and gives away a CLEAR TOTE BAG. Let's hope we have clinched the division by this late date and can laugh at this lesser swag like the true elitist fans we are.
October 1 vs. the Rangers: The giveaway is a Team Photo on fan appreciation day where you can wonder why they aren't calling your section number at all , let alone your row and seat in between innings.
ALSO: Every Saturday is a postgame fireworks show and every Sunday Day Game to end a homestand is a "Kids Run The Bases" postgame festivity!