Now that I've got your attention…I'm not sure anything is saving the Angels this year. The team is playing the Texas Rangers tonight, and since we've already seen them a few times, I thought it would be a little bit tiring to write them up again. Instead, I decided to play midseason Perry Minasian and see if I couldn't shake up these Angels with some reliever acquisitions.
The Premise
First of all, I'm going to explain my logic. I think it's well-known around these parts that the Angels don't exactly have the most talented bullpen. As of this morning, the Angels rank third-worst in baseball with a compiled -0.7 fWAR and fifth-worst with a 4.96 ERA. The reasoning behind the needed upgrades is clear.
Furthermore, the rotation isn't exactly in the best shape, either. But for a few reasons, I don't believe the Angels will upgrade the rotation midseason. As Brent explained very clearly, the Angels pitchers (but mainly starters) have had an unlucky season so far. Some of it may come down to regression, others (the parts attributed to a defense that does not seem to be getting better at all) may remain. The fact of the matter is, barring injury, the Angels are likely to roll with Shohei Ohtani-Dylan Bundy-Andrew Heaney-Griffin Canning-José Quintana-Alex Cobb and internal options to fill holes. It's not the greatest set in the world, and it's Maddonly inconsistent, but it's competent enough to see us through the season and see if we can't make a miracle run.
Finally, you should feel free to disagree with the entire article! The Angels are probably not in a position where they should be trading future assets for relievers with a few years of control (or possibly, just this year). Fangraphs lists the team with just a 7.9% chance of making the playoffs, and other sources are even more bearish. The goal of this article is for me to see, IF the Angels wanted to make moves to improve the bullpen, how they would go about doing so.
Without further ado, let's get into the trade targets. I used our old friend Baseball Trade Values to see if the proposed trades were a match or not.
Yimi García, Miami Marlins
Yimi García is a 30-year-old right-handed reliever who is currently serving as the closer for the Miami Marlins. He broke out in 2015 with the Dodgers but immediately required Tommy John surgery following that season. It took him a while to get back to his rookie season levels, but by 2019, he had achieved it. Since 2019, including this season, García has pitched 97.0 innings with a 2.69 ERA and a 0.89 WHIP. He allows a lot of hard contact, and he may be getting a little lucky this year, but the results have been there.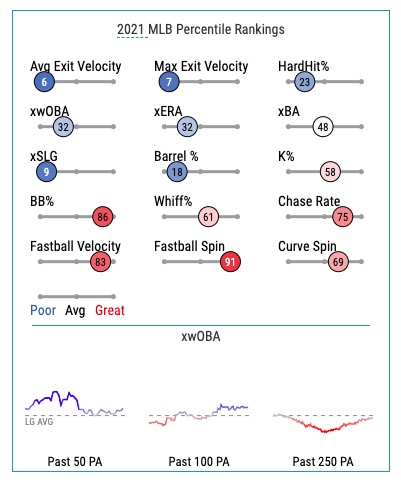 García is making $1.9 million this year and will be a free agent after the season, so he is affordable and (relatively) cheap to acquire. The downside is that if the Angels immediately crash out and get stuck in the cellar for four months, they basically just wasted assets on a quality pitcher. (They could always move him again at the Trade Deadline, I suppose.) I thought a fair deal for both sides was OF David Calabrese, who was drafted by the Angels in the third round of the 2020 draft. He is the team's 11th-ranked prospect according to MLB dot com.
Michael Fulmer, Detroit Tigers
Michael Fulmer is a 28-year-old former AL Rookie of the Year. He's been a starter for the majority of his career, but since he returned from Tommy John surgery after missing the 2019 season, manager AJ Hinch decided to try him in the bullpen, and his stuff is playing. He won't strike out many guys when compared to other fireballers, but he'll limit the walks (doesn't that sound like a relief?), and he's good at suppressing the home run ball.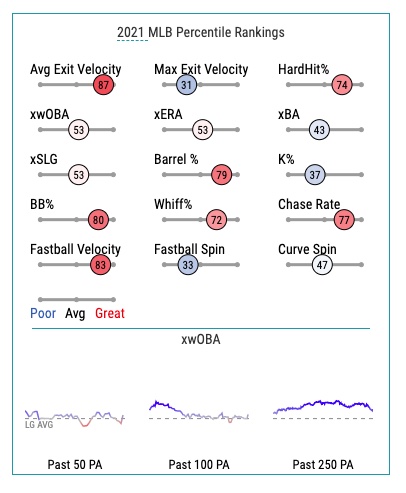 Fulmer is making $3.1 million this year and has one more year of arbitration in 2022, but I wonder how the move from the rotation to the bullpen will affect those numbers. In this fake deal, I give up SS Arol Vera and RHP/OF William Holmes, our 9th and 14th-highest ranked prospects per MLB dot com.

Richard Rodríguez, Pittsburgh Pirates
Although the Angels currently employ Chris Rodriguez, there's no reason the team can't add another one, as the quota of Rodriguii has been high in the past, leading to a great deal of Angel success. Compared to the trend of backwards pitching now prevalent through the league, Richard Rodríguez simply decided to…throw his fastball more often, and it's working magnificently. Beyond the Box Score summarizes the changes he has made and the success he has had. To put it simply, in 19.0 innings in 2021, he's allowed one earned run, and only six hits and one walk. That's a WHIP of 0.37! His peripherals, well…let's just say you won't find many like this with the Angels.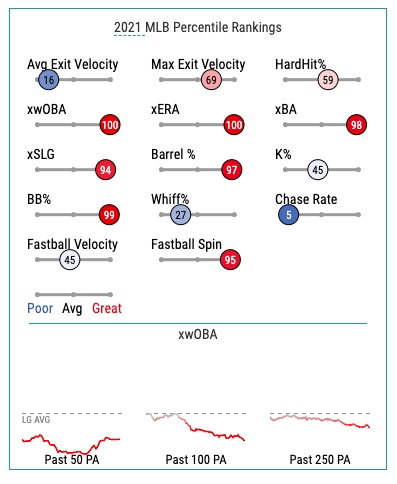 Hitters know the fastball is coming and still can't hit it! Rodríguez is under control through the end of the 2023 season, but they (perhaps like the Angels should be) are rebuilding, and I firmly believe they will move him at the Trade Deadline. Perhaps the simulator is underselling Rodríguez's value a little, but I managed to get through a trade giving up LHP José Suárez, OF D'Shawn Knowles, and RHP Oliver Ortega.
Conclusion
All in all, at this point in the season it seems unlikely that the Angels will make the playoffs. If GM Perry Minasian wants to spice things up in the bullpen (like he has shown willingness to do with Hunter Strickland), these are some avenues he can pursue. Ultimately, to make the playoffs the Angels will need more than just one or two bullpen arms, but it is fun thinking that an awesome arm can "save" the team, isn't it?
(Title Image a screenshot of Richard Rodríguez from a video on Baseball Savant)