It almost feels like we're running out of hyperboles to use for Shohei Ohtani.
The 26-year-old, two-way star is the most-talked about player of the 2021 MLB season. This is backed up by a search on Baseball Savant or Fangraphs, where Ohtani is currently the highest trending player in the league on both sites. Ohtani's greatness is permeating the entire baseball world and sports world. We've seen former MLB star CC Sabathia, current NFL star JJ Watt, and NBA icon Kevin Durant each chime in on Ohtani's greatness recently. Put simply, Ohtani's unique situation and success is grabbing everyone's attention.
It felt as if Ohtani's story went to another level on Monday night after homering on a pitch that was 4.19 feet above the ground. It wasn't just the fact that it was his MLB-leading 13th home run; it was the fact that he did so on that specific pitch. It was the 10th highest-pitch hit for a home run in the Statcast era (since 2015) and one of 26 home runs hit 4+ feet above the ground in that time. Of those 26 home runs, none traveled further than Ohtani's 431-foot home run.
This was yet another chapter to add to the book for Shohei Ohtani's story. The same guy that leads the majors with his 13 home runs will toe the rubber for the Angels tomorrow night at Angel Stadium. At the risk of not normalizing this type of unprecedented two-way talent, I wanted to break down Ohtani's skills from a hitting, pitching, and running perspective. It hasn't even been a month since I last wrote about Ohtani in this fashion but he's only further added to the allure of his story.
Ohtani is the game's premier slugger this year
The two-way phenom is making his presence most known as the game's feared power hitter this year. Ohtani's 13 home runs lead the majors as does his 13.5 percent barrel rate (the ideal combination of exit velocity and launch angle). Of the 14 players who've hit double-digit home runs, Ohtani's 413-foot average home run distance trails only Ronald Acuña Jr. and Rafael Devers. Ohtani also leads the league with 13.2 expected home runs, meaning he's earned every bit of his MLB-leading 13 home runs. You can see this in his home run chart for this season, which includes four home runs that traveled 430+ feet.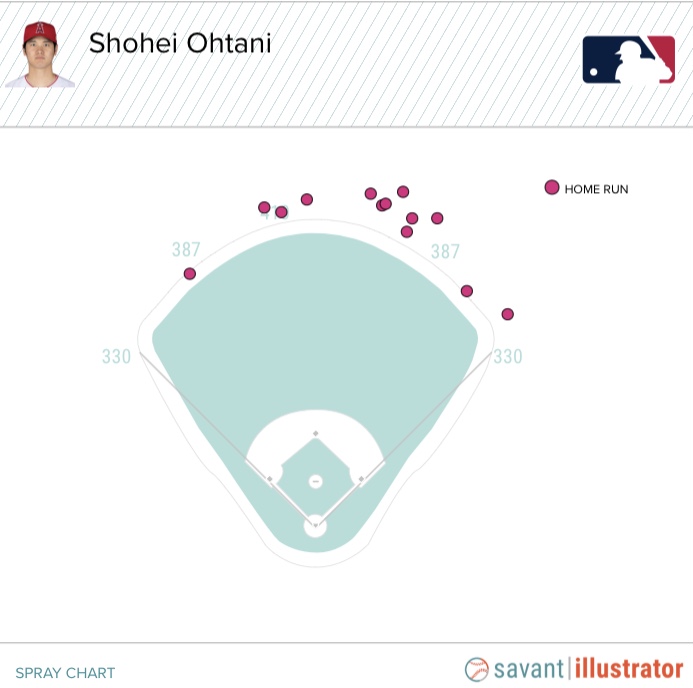 What's made Ohtani so dangerous is his ability to hit any pitch in any zone and do damage with it (see, last night's home run). Ohtani is slugging .703 against fastballs, .580 against breaking balls, and .429 against off-speed pitches. He's whiffing much more against breaking balls (40.6 percent) and off-speed pitches (36.4 percent) but is doing damage when he does make contact. He's not just handling every type of pitch, however; he's also covering a ton of the plate, north-to-south and east-to-west. That's evidenced by his pitch zone chart showing his Weighted On-Base Average (wOBA) in each zone.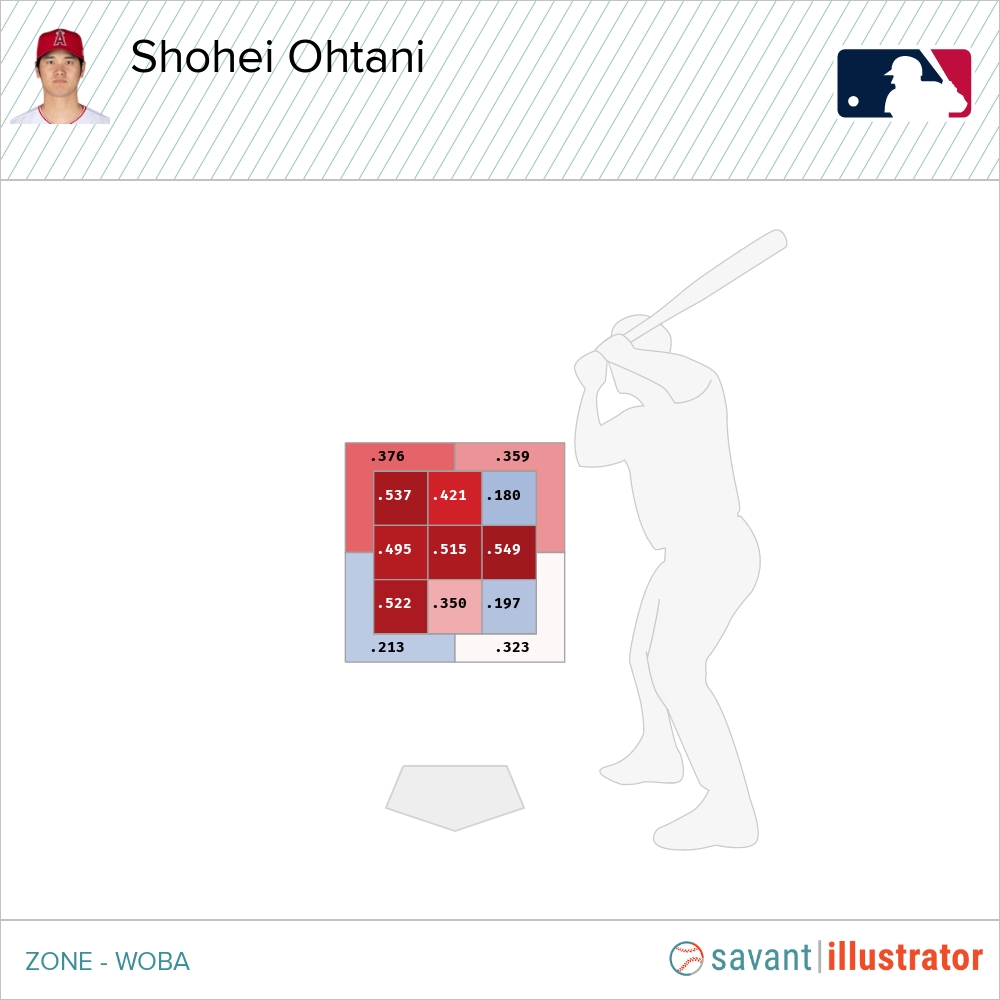 The list of victims Ohtani has homered against this year is quite impressive too. Tyler Glasnow, Liam Hendriks, Dylan Cease, Matt Barnes, and Danny Duffy, who could all very well be All Stars this year, have allowed home runs to Ohtani. It's a testament to Ohtani's freakish ability as a slugger, one who is capable of homering against any pitch, in any zone, against some of the league's best pitchers. It's just one of many of his skills, however.
Ohtani might be the most difficult pitcher to hit against
It's quite possible that Ohtani is both the game's premier slugger and hardest pitcher to face in the same season. It's a wild proposition that, quite frankly, is almost impossible to believe. Ohtani might just be pulling it off though and the numbers back it up. I already established that Ohtani is the game's biggest slugger so far this year, which is pretty much backed up by the numbers and the eye test. Now, let's look at his skills as a pitcher.
Ohtani's .126 batting average against is the lowest in the majors among pitchers with at least 100 plate appearances against. On the same list, only Corbin Burnes, Jacob deGrom, Shane Bieber, and Freddy Peralta have a higher whiff percentage than Ohtani (37.7 percent). His .495 OPS against is the ninth lowest on the same list. He's just one of nine pitchers with a 30+ percent whiff rate, a batting average against below .200, and an OPS below .500. He's boasting a top-20 ERA (2.10) among these same pitchers, tied with Max Scherzer and just below Gerrit Cole.
Ohtani has the ideal combination of bat-missing ability and ability to miss barrels. In other words, hitters struggle to make contact with Ohtani's pitches and when they do, they can't really do much with it. It's impossible to ignore Ohtani's 18.2 walk percentage, the second-worst mark among that same list of pitchers, which might be playing into the "effectively wild" aspect of his pitching. Even with the walks, however, he's been a downright nightmare for hitters to do anything with. That's very apparent by looking at the overall numbers and especially more when you look at each of his isolated pitches.
Ohtani's 96.6 mph average fastball velocity is the 10th-best among starters with 25+ innings. The spin rate on his heater is also up 200+ RPM, meaning he's getting both the velocity and back spin to generate more whiffs. His splitter might just be the best pitch in baseball. Among starting pitchers, Ohtani's splitter has the second-best whiff rate (60 percent) in the majors this year. Hitters have just one hit against the pitch, a measly 28.4 mph single. Ohtani's slider has the most sweep (horizontal movement) of any slider in baseball and has induced whiffs on nearly half of the swings against it (47.1 percent). Nine of the 22 curveballs Ohtani has thrown have been called-strikes or whiffs. Ohtani has even toyed around with a new cutter with mixed results.
Ohtani's stuff has taken a step forward and he's been utilizing it with great success. As he continues to gain more reps on the mound, we'll likely see continued command improvements like we saw in his last start, where he had the second-best Game Score (76) of any start in his career. He'll toe the rubber tomorrow night against Cleveland at Angel Stadium.
Just for good measure, Ohtani can also run
Somehow, the same guy who can hit a baseball 450+ feet and throw one 100 mph is also one of the fastest players in the majors. Ohtani has swiped six bases this year, a figure bested only by 16 other players. His 29 feet-per-second sprint speed places him in the 95th percentile and he has the third-best average home-to-first time (4.07 seconds). Ohtani's power/speed blend puts him in a class of a select few, with names like Mike Trout, Ronald Acuña Jr., and Byron Buxton. Ohtani and Acuña Jr. are the only two players in the majors with barrel rates and sprint speeds in the 95th+ percentile, a testament to the rare blend of power/speed that we're seeing.
What's been most fascinating about his speed has been his ability to use it this year. Despite leading the majors in homers and posting a mediocre .313 on-base percentage, Ohtani has eight stolen-base attempts and has been successful in six of them. He's had relatively few opportunities, reaching base 36 times on non-home runs and triples, but has made the absolute most of his chances. He's on pace to approach 20 stolen bases thanks to yet another elite tool at his disposal.
Ohtani is basically a unicorn
I've basically likened Ohtani to a unicorn, a mythical creature that is difficult to find in sports. Ohtani isn't just difficult to find, however; there's basically never been anybody like him. There's a reason that Ohtani is constantly in the same discussion as Babe Ruth, a mythical figure who is one of the most recognizable athletes in American sports history. Ohtani is excelling at the two-way thing in a way that we've basically seen once before. The fact that Ohtani is doing some against higher levels of competition (no offense to Babe) and adding in the speed element makes him a complete outlier.
Whether you want to call him a unicorn, a cheat code, or a freak of nature, the point remains the same. Ohtani is doing something that we've never really seen before and he's doing it at the highest possible level. The MVP chants came reigning down for Ohtani at Angel Stadium on Monday night, a practice usually reserved for three-time American League MVP Mike Trout. In a year where Ohtani is doing the unthinkable, those MVP conversations are only going to get louder and louder.