Rays (14-15) @ Angels (13-13)
The Angels return home after a 4-6 road trip that featured many disappointing moments. Despite the multitude of teams ahead of them in the standings, Fangraphs is still pretty bullish on the Angels to make the playoffs. Other sources are less excited.

On the other hand, the defending AL champions have a tougher battle ahead. In the division with an always-talented Yankees squad, an up-and-coming Blue Jays roster, and overall improved teams from Boston and Baltimore, Tampa Bay will have a tough time repeating as pennant winners, much less even making the playoffs.

This is a Monday-Thursday four-game series featuring four 6:30 pm starts (which I love so much more than the 7 pm ones, by the way).
Rays Lineup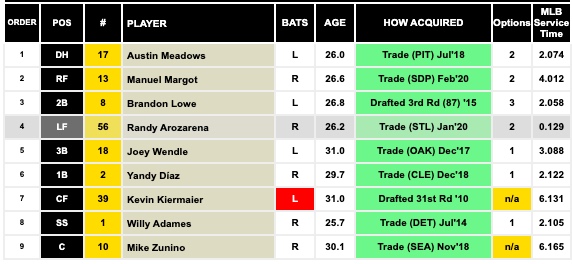 The Rays have not been hitting much this year. They are 24th in baseball in OPS, and they have struck out the third-most times. Usually, it works. This year, it hasn't clicked yet for them for some reason.
Mike Zunino is currently the best OPS hitter at .803. In his career, he's homered 10 times off Angels pitching. I suspect Tampa Bay writes Zunino's name in the lineup card more for defensive purposes, but if he provides pop as well, they won't complain. Zunino splits time with Francisco Mejía.
At the top of the lineup is Austin Meadows, who in 2021 is doing a poor man's impression of Adam Dunn. With 15 walks and 27 strikeouts, Meadows gets on base at a .336 clip, which is serviceable for a leadoff hitter. He's not great in the outfield, and he hasn't managed to hit to his 2019 levels, when he finished with a .922 OPS and got a 14th-place MVP finish.
Another low average, high on-base hitter in the Rays lineup is Yandy Díaz. Díaz, who also sometimes leads off, has surprisingly been devoid of power for two seasons now. After slugging .476 with 14 home runs in 2019, he only hit two in 2020 (due to hamstring injury) and hasn't hit any so far in 2021. Díaz is one of the best in the league at avoiding strikeouts, has taken 18 walks, giving him a .381 OBP, and sprays hits to all fields. If he finds his power, this is a very dangerous hitter, but he doesn't seem to be hitting the ball hard like he did in 2019.
The two other hitters hitting decently well are Joey Wendle and Randy Arozarena. Arozarena is the opposite of Meadows. He plays great defense, makes hard contact, but strikes out 1.38 times per game. This kind of streaky hitting will lead to some power surges, but on the whole it's not reliable. In four games, anything can happen, so let's hope that Angels pitching limits the damage against Arozarena. Wendle is the prototypical contact hitter who got some love for the Rookie of the Year award in 2018 that Shohei Ohtani won. He's only taken two walks this year, but he has the third base role locked up.
In center field, Kevin Kiermaier continues to astound with the glove. The bat is less impressive than ever. I would encourage the Angels, especially the lefties, to blast the ball over the fence this series to avoid Kiermaier and Arozarena.
Probable Pitchers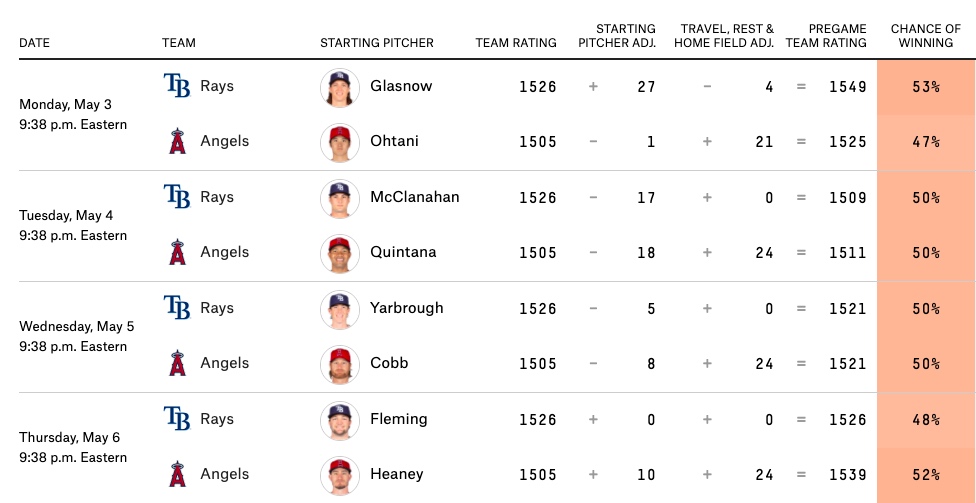 Tampa Bay's pitching is currently what is keeping them afloat at near-.500.
Tyler Glasnow is one of the most underrated pitchers in the league. Ever since coming over from Pittsburgh in 2018, Glasnow has been perhaps a borderline top-10 starter. This year, he's really showing it, spinning fairy-tale numbers through six starts. He throws a fastball at 97, a slider at 88, and a curveball at 84. Occasionally he mixes in a changeup (at 91!), but the first three pitches are already garnering superior results. In 2021, Glasnow has a 1.67 ERA with a 0.80 WHIP and a 13.4 K/9. He's doing this against AL lineups, and he clearly is a top-2 pitcher in his division at the moment. He matches up against Shohei Ohtani, which will be a treat if Ohtani can take the mound after getting hit in the elbow Sunday.
Update: Ohtani has been scratched, and Quintana will start Monday. This is what I get for working early.
Tuesday features a matchup of lefties. One is José Quintana, who is getting calls to be DFA'd by fans. The other is Shane McClanahan, who did this in his Major League debut last week:
Shane McClanahan, 101mph Fastball and 92mph Slider, Overlay (two different ABs).
😳😳😳 pic.twitter.com/pIiGfwZSvB

— Rob Friedman (@PitchingNinja) April 29, 2021
I think I know which one I'd rather have. Hoping for some extreme luck on Tuesday to bounce our way.
After McClanahan, I have a feeling Angels hitters will struggle with Ryan Yarbrough on Wednesday. The soft-tossing lefty favors his cutter that he throws for an average of 82 mph, and even his sinker struggles to reach 90 mph. He limits walks but allows a ton of hits and hard contact. He'll provide a different look for the Angels, and I have no doubt that he will turn into Cy Lefty then. Alex Cobb faces the team he spent seven years as a member of.
Finally, because we might as well get a look at the fourth-different type of pitcher, the Rays throw Josh Fleming out there on Thursday. Fleming is also a soft-tossing lefty, but whereas Yarbrough allows hits but not walks, Fleming gets a lot of soft contact and walks a ton of hitters, seemingly avoiding the strikeout. Hitters simply don't square up his 90 mph fastball. I do somewhat question the wisdom of having Yarbrough and Fleming start on back-to-back nights, but it's the Rays, and they probably know something I don't. He faces Andrew Heaney.
Rays Bullpen
The Rays have all sorts of nasty weapons out of the pen. They appear to be using Diego Castillo in the traditional closer role, but other guys such as Ryan Thompson, Andrew Kittredge, and Jeffrey Springs are delivering quality innings. I most knew Hunter Strickland from the Bryce Harper incident, but he has been a really good bullpen arm this season!
Series Prediction
I have absolutely zero expectations for this series.
(Title Photo from Rays Twitter)