Maybe we should stop being surprised every time that Mike Trout finds a way to get better.
To be perfectly clear, Trout has always played at the highest possible level since he became a full-time regular in 2012. Since then, the gap between him and the next-closest competitors in Wins Above Replacement is laughably large. What makes Trout even greater, however, is his propensity to find new ways to improve. There always seems to be something that he's able drastically improve on an annual basis. This year is no different.
After a so-called "down year" from Trout in 2020, a year where his park and league-adjusted Weighted Runs Created Plus (wRC+) of 162 placed him near the top of the league, Trout has turned it up a notch this year. He didn't just revert back to career norms, however; he has blown past his already enormous levels of offensive prowess. Through the first 97 plate appearances of the season, Trout is hitting .413/.515/.775 with a 257 wRC+. Among qualified hitters, Trout either ranks first or second in wRC+, batting average, on-base percentage, slugging percentage, and Wins Above Replacement (WAR).
What's even more staggering is the fact that Trout is basically earning all of his production so far. Thanks to a newfound level of batted ball authority and a slightly altered approach, Trout is crushing baseballs like never before. To get a better idea of what has changed, let's take a dive into the Statcast numbers.
Trout is absolutely mashing baseballs
The biggest change for Trout has simply been hitting the absolute snot out of baseballs. To be clear, Trout was already hitting baseballs plenty hard, as evidenced by his 302 home runs through his age-28 season. He was already one of the premier Statcast darlings who consistently sat in percentiles in the mid-to-upper 90's. Now, he's found an even higher level thanks consistently hitting the ball harder at a higher frequency.
Just so we're clear, that .429 Expected Weighted On-Base Average (xwOBA) was the best in baseball during that 2015-2020 stretch. Those exit velocity, barrel, and hard-hit numbers were consistently in the 90th percentiles. Trout's cranked it up even more now. More than half of his baseballs are hit with an exit velocity of 95+ mph. Nearly 20 percent of his batted balls are barreled, meaning one in every five batted balls are hit at the opportune exit velocity and launch angle. It's not as if Trout was in need of improving his quality of contact but here we are.
The result is a .775 slugging percentage that is basically backed up by his .707 expected slugging percentage. There's another change Trout has made so far that is interesting in conjunction with the batted ball authority.
Interestingly enough, Trout is slugging more despite a decrease in launch angle (down to 9.8 degrees) and an increase in ground-balls (up to 46.4 percent). But when you're hitting the ball harder more frequently, you're able to put yourself in better positions. In addition to his
Trout is pulling more baseballs and hitting more grounders
Interestingly enough, Trout is slugging more despite a decrease in launch angle (down to 9.8 degrees) and an increase in ground-balls (up to 46.4 percent). Trout's never had a launch angle that low nor a ground-ball rate that high. He's offsetting it, however, by pulling the ball more, which is great in conjunction with his increase in barrels. He's pulling half of his batted balls, a massive increase of about 15 percent compared to his career norms. You can see this in his hits spray chart from Baseball Savant.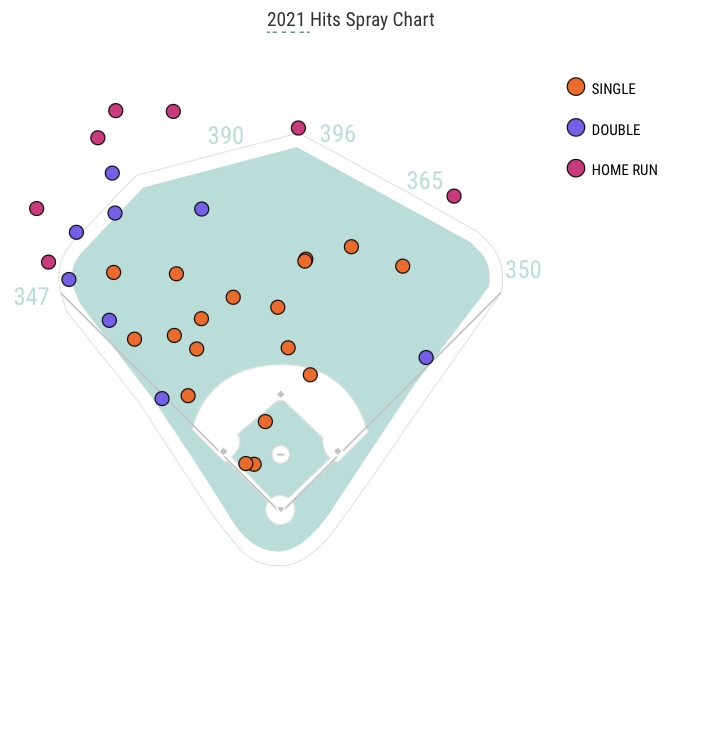 Having an all-fields approach, especially when you possess the power Trout has, can make for a difficult at-bat for opposing pitchers. That said, pulled baseballs are objectively a better outcome for hitters. In 2019, the last full MLB season, hitters posted a 158 wRC+ on pulled baseballs, compared to a 124 wRC+ on balls up the middle and a 115 wRC+ on balls hit the opposite way. The same is true for Trout, who has a career 279 wRC+ on pulled baseballs, 256 wRC+ on balls up the middle, and 119 wRC+ on balls hit the other way. In 2021 alone, Trout has an absurd 506 wRC+ on pulled baseballs. More hard-hit baseballs to the pull-side are doing wonders for Trout's overall numbers.
It's fair to wonder if more pulled groundballs could allow teams to shift more against Trout, something they've already done more this season (57.1 percent). Maybe that becomes an issue but Trout's hitting harder baseballs at optimal angles more often than before, making the groundball issue a moot point for now. If Trout maintains this quality of contact and pull-side power while also shaving some grounders, there could even be more in the tank (gasp!).
Trout is being more aggressive than ever
Fabian Ardaya of The Athletic documented Trout's new aggressiveness in a recent article that you should check out. His first-pitch swing percentage is up to 26.8 percent. He's never been above 20 percent in any of his big league seasons. He's swung at a 3-0 pitch two times already this season, which is a third of the way to his career-high of six times in the 2016 season. Trout has sacrificed some whiffs (24.7 strikeout percentage) but he's maintained his elite walk rate (16.5 percent) and, more importantly, swung at more hittable pitches.
Trout's swing percentage against "meatballs" has skyrocketed above 80 percent for the first time in his career (81.8 percent). A meatball is exactly what it sounds like; a pitch thrown near the middle of the zone. Trout's not just swinging more freely at any pitch thrown. His chase rate (pitches out of the zone) is basically in line with his career norms. He's just swinging more often at pitches in the middle of the zone, which has to be a terrifying proposition for pitchers. The ultra-patient Trout, who swung at 59 percent of meatball pitches in 2015, is now starting to zone in more in the middle of the zone.
You can see how this looks on this chart from Baseball Savant. This is the location for every pitch on a hard-hit baseball (95+ mph) from Trout this season, which is heavily featured in the middle of the zone.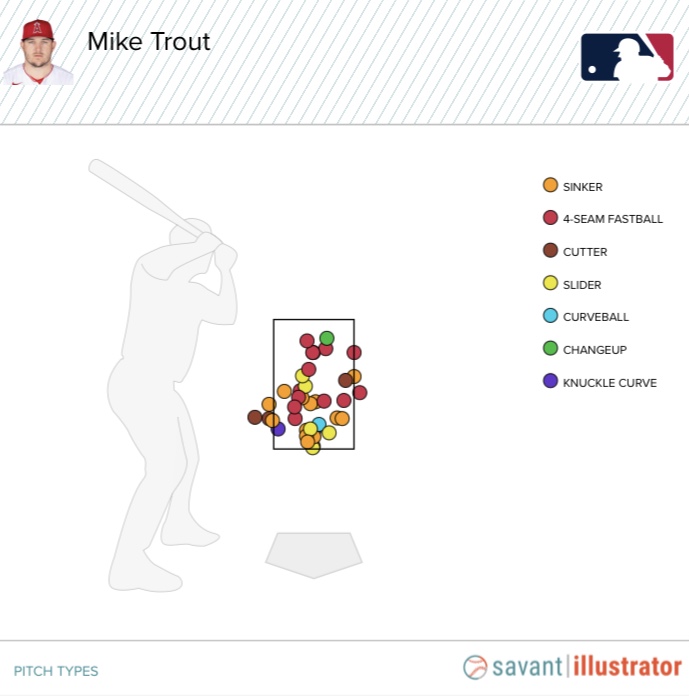 The total package
Trout was already the game's premier hitter and player, something that is more true than ever right now. As he's matured, Trout has morphed into the absolute best version of himself and a hitter who is impossible to pitch to. Trout is capable of covering any pitch in any zone, has maintained his elite plate discipline, and is now starting to add even more to his arsenal. Trout is hitting more hard-hit baseballs than ever before at optimal angles. He's pulling baseballs more, which is a great pairing for more barreled baseballs. And he's maintaining his elite discipline while also being more aggressive and swinging at more hittable pitches in the middle of the zone.
Trout's already established incredible highs that very few have ever reached in the game. Heck, he just passed Ken Griffey Jr. on the all-time WAR list and is within striking distance of names like Brooks Robinson, Pete Rose, and Jeff Bagwell. Now, Trout is looking to create an even greater peak in what is shaping up to be a career-year at the plate.