Angels (9-7) @ Astros (7-10)
The Angels may be coming into this series in sorry shape, having dropped a series to the Texas Rangers on the heels of a COVID-shortened Twins duel, but the Astros are definitely at their low point right now. They've dropped nine of their last ten games, including a mini-sweep at the hands of the Colorado Rockies. Based on the strength of their roster, however, Fangraphs still has them with (barely) the top odds in the AL West to make the playoffs.

This series features Thursday and Friday games at 5 pm, including tonight's on Youtube, then a Saturday game at 1 pm and a Sunday game at 11 am (all Pacific).
Astros Lineup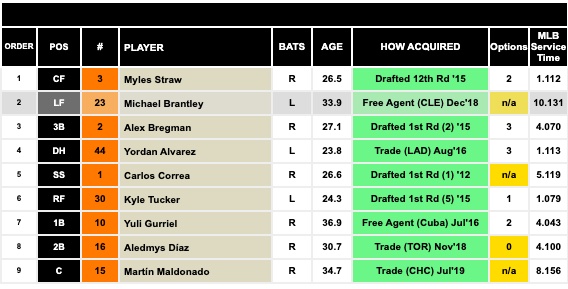 The Astros lost time from Alex Bregman, Yordan Álvarez, and Martín Maldonado due to the COVID list, but those three are back and in the lineup. After a few days to get back into the groove of hitting, one assumes they that will once again reach full potential during this series. Meanwhile, Myles Straw missed last game due to side effects from getting vaccinated, but it is expected that he will be back sometime this series.
Michael Brantley is having his usual Brantley-esque season, as he's only struck out eight times while compiling an OPS+ of 147. He's only popped two home runs thus far, but he is always a threat to do so with his quick hands and the short right field at Minute Maid.
Carlos Correa, in a contract year, has reportedly turned down multiple extensions from the team. With Corey Seager also hitting the market and the shortstop position addressed at many teams across the league, it remains to be seen what kind of contract he will get this offseason. He's had two seasons where he hit for an OPS above .900 (2017 and 2019) and also two seasons with it below .750 (2018 and 2020). He's currently checking in somewhere between there, slashing .273/.333/.470/.803.
Yuli Gurriel has been the best Houston hitter this season. Despite having hit only two home runs, he has walked thirteen times and has fourteen singles. These on-base events give him an OBP of .452. The always-dangerous threat must be watched, as the power stroke can come back at any moment.
Probable Pitchers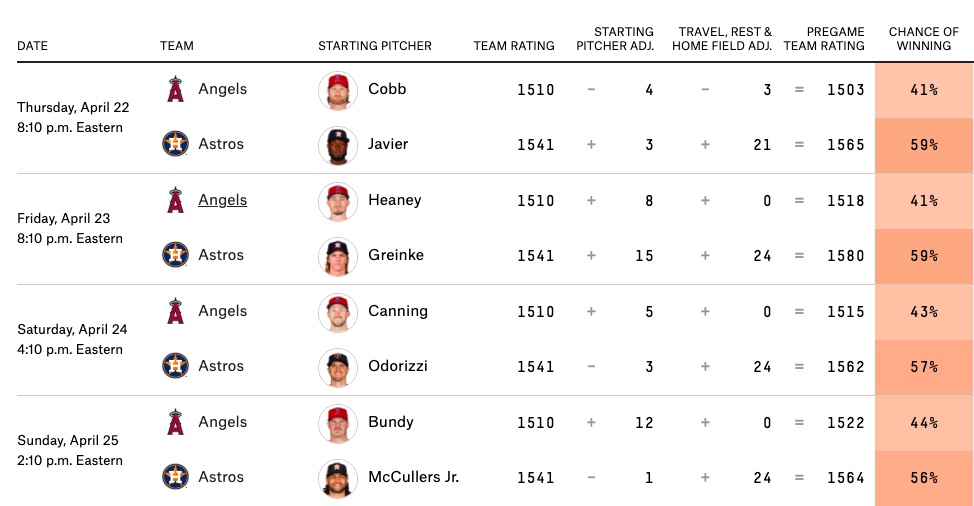 Cristian Javier is really good at pitching. After making his Major League debut in 2020 and starting ten games for the Astros, he returns as a huge part of their rotation in 2021. With a fastball (over 50%), slider, curve, and changeup (rarely thrown), he severely limits hard contact, leading to low exit velocities against and xwOBAs. He can be prone to the base on balls, so Angels hitters will need to be patient until they get their pitches. It's his first start in fourteen days, so who knows if he'll be on a pitch count limit or not. Javier matches up against Alex Cobb, who hasn't started in ten days. Hopefully he's kept in top-condition.
Zack Greinke needs no introduction. The erstwhile Angel, he's still having great seasons at age 37, going deep into games (into the seventh, which is deep for the era), putting up solid ERA and WHIP numbers, all while striking out just 5.6 batters per nine. He's a marvel. He faces Andrew Heaney, who has the potential to be a marvel if it's one of his good days.
Jake Odorizzi, Saturday's starter, has not pitched well in two 2021 starts. Although he's still striking out a decent number of guys, he's giving up a ton of hard contact, including three home runs and nine earned runs in 7.2 innings. He's never been the greatest at limiting hits, but usually his control prevents him from giving up the long ball. That wasn't the case in 2020, and it hasn't been the case in 2021 so far. Perhaps the Angels dodged a bullet? I'm a little surprised Griffin Canning pitches Saturday, instead of Sunday, considering Canning relieved Shohei Ohtani on Tuesday and Dylan Bundy pitched Monday.
Lance McCullers Jr. has the opposite problem of Odorizzi. He gets a lot of whiffs with his curveball-slider combination, but he walks a ton of hitters (3.6 BB/9 for his career, and a number over five to start 2021). Once again, patience is the name of the game, as Bundy looks for his first win in 2021.
Prediction
Even though the Astros have been scuffling, they still are talented. I would like to take three of four, but dropping three is just as likely. It might be a split, and we just all might have to be satisfied with that. Thoughts?
(Title Photo from Astros Twitter)