Recap
The Angels tie the Royals in a Royally messy game with errors and misplays galore.
Scoring started in the 4th with 2 outs. First, Rojas walked, then Stassi doubled to make it 2nd and 3rd. That is when Schebler hit a 3 run home run to RF, giving the Angels a 3-0 lead.
The Royals woke up in the bottom of the 4th, with a double that split the outfield, and caused Jo Adell to fall over. An errant throw on a sac bunt made it two on no outs. Bundy was able to get a strikeout, but then he allowed another double to CF, where Jo Adell couldn't handle it. 3-2 Angels.
The 6th saw more scoring as the Royals tied the game with a solo shot off of C-Rod. Angels responded though thanks to Jo Adell doubling in Schebler in the top of the 7th to take the lead back. 4-3 Angels.
Royals tied it up in the bottom of the 8th, with a double and a single off of the closer Iglesias. The Angels couldn't score again, which led to a tied game going into the bottom of the 9th.
The Angels are now 10-6-3 on the season. They face Oakland tomorrow at 1:10 PM on the first day of spring.
Performances
Pitchers
Dylan Bundy
Our opening day starter started today and is already in midseason form. Bundy is just that dominant and is easily the best pitcher on the team at the moment. He needed to get extended, and is unfortunately, very, extremely likely to be a free agent.
As for today, it was the same as usual for Bundy, for the first 3 innings. He allowed multiple hard hits in the 4th, giving up two doubles and 2 runs thanks in part to Jo Adell and Gosselin.
He returned to form in the 5th, keeping the lead in tact. Picking up your players is something he will hopefully have to not do much this season. Bundy ends his day with 5 innings pitched, 2 runs, 1 ER, 3 hits, and 6 strikeouts.
Chris Rodriguez
Our 2nd best pitching prospect has officially impressed Maddon. Rather have him as a starter, but hey, I'll take it. He gave up a solo shot after being praised by Jose Mota. Jose really needs to stop doing that.
Mike Mayers
Mayers had a quiet easy inning going 1-2-3. This is encouraging seeing how his spring has been rather bad. 11.25 ERA is terrible no matter the situation. 0.9 BWAR last season was one of the best in the bullpen, so he needs to get back to that for this bullpen to be any good.
Raisel Iglesias
Our closer for the season has been an Iglesias that we do not see as often, but hopefully he shuts the door on teams this season with authority rather than nibbling. He has been doing well so far, but today he gave up a leadoff double and a single to surrender the lead.
Jesse Chavez
Chavez ends the game, getting a groundout for the first out, and the second out. and he had a flyout for the third out. An easy 1-2-3 inning for Chavez, who needed this badly.
It was a much, much better outing as he did not get an out last time. His ERA was over 23 when he came in. That is crazy. The bullpen is rather competitive, so he needed this to have a ghost of a chance.
Batters
Starters
David Fletcher
As one of only two starters even in the lineup, David Fletcher was in an unusual spot, knowing very well what it was like just fighting for attention not too long ago. He has certainly cooled off this spring, perhaps by trying too hard to impress, but some of it is bad luck. He hasn't looked bad, but went 0-3 again today and failed a hit and run.
Jared Walsh
Walsh needs to get going lest Pujols gets more time at 1B. I am a bit nervous that he won't be able to repeat his 2020 season and that we will be in need of a first baseman. It is only spring though, and unlike many here, he has a track record at the major league level so he will get his shot. Going 0-2 doesn't help though.
Max Stassi
Well, he will start at last a third of the games, so he belongs here really. Anyway, he went 1-3 with a double and a run scored but 2 strikeouts. Stassi looks healthy, which is a good sign.
Outfield
Juan Lagares
The one I am constantly pimping to make the team as the starter, Lagares is doing all he can to make Maddon and Perry pick him. Unfortunately, he got picked off instead, which is not ideal. He went 1-3 with a single.
Scott Schebler
Another guy I prefer over Fowler, he needs every opportunity so these games are his showcases to shine in. He got a HBP in his first PA and then hit a 3 run home run in the 4th. It was a massive one as well. Had a single and a run scored in the 7th. 2-2 with a HBP and a home run is a good day.
Jo Adell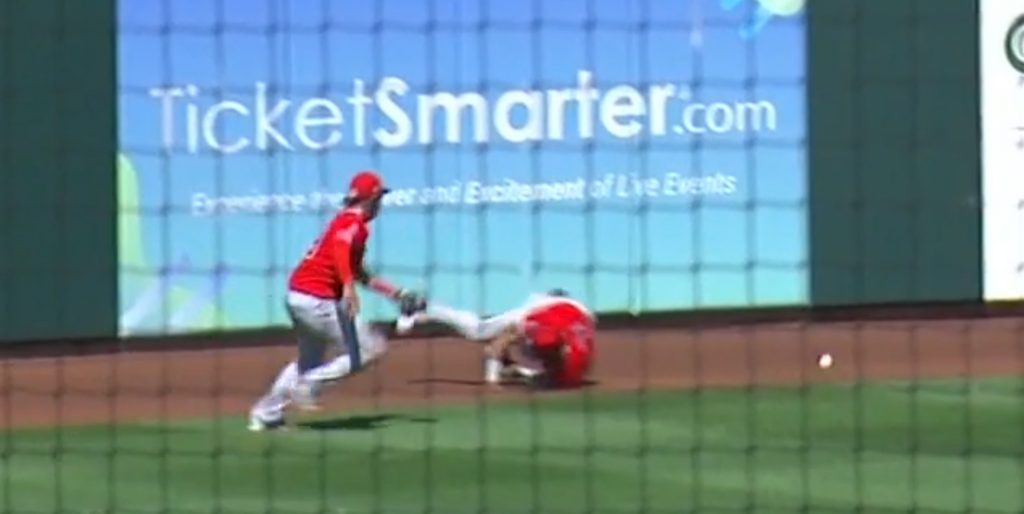 He will need a lot of time in spring and AAA to get that glove ready. Jo has had his bat seem to come alive, but the reality is, that whole time service manipulation thing is not applicable here. Going 1-3 with an RBI double, but two badly misplayed balls in the outfield.
Jordyn Adams
Adams is the third of the big OF prospect trio and like the other two, is not having the best spring. Defensively he is fine, but hitting under .100 is never a good sign. He went 0-1 with a strikeout.
Brennon Lund
An 11th round pick from 2016, Lund has been performing just as well as the Angels best prospects this spring, which is to say, rather badly. He is still only 26 but is very unlikely to be with this organization for long. 0-1 today.
Infield
Jose Rojas
Rojas continues to impress, going 2-2 with a walk and a run scored. He is really threatening to make the team, as the stiff competition is deep for the infield. He is batting .400/.581/.750 this spring!
Phil Gosselin
Gosselin is having a rather bad day. He had a throwing error that eventually allowed a run to score, and he went 0-3 with 2 strikeouts. With how deep the infield is, he is not in the running anymore unless he seriously turns it around.
Jack Kruger
The DH today, but one of the many catchers here at camp. He went 1-3 with a single. .273/.273/.273 as a triple slash is rather, well consistent. Jack has little playing time due to how many catchers are in front of him.
Anthony Bemboom
Bemboom went 0-0 with a walk. As the third string catcher, he is likely to get some time in the majors. How much depends on injuries and if a trade is made or not. Love his name.
Matt Thaiss
Thaiss is basically a bust at this point. Not only has he failed to impress at the big league level, but Walsh has. Even Ward is more likely to have a future with the Angels over him due to is versatility. It is sad really, and his best shot is with a new club. He went 0-1 with a strikeout.
Jerimiah Jackson
Jackson took over for Fletcher at short. He had a fielding error that amounted to nothing thanks to Bundy. Still a prospect a ways away, it will be a while before we see him, especially if Arte spends money on SS this next offseason. He went 0-1 with a strikeout.