The Angels only had the number one pick one time in their entire history. With how often that pick isn't good, there is a bit of pressure to not make a mistake on choosing it. Looking over the long history of first overall picks, the Angels did good in their one and only shot.
Darin Erstad was a Cornhusker back when the Big 8 existed and Nebraska was good. An OF who hit .356 and clutch, the Angels thought he would be their star of the future. He proved them correct.
OF at 1B
He started his MLB career in 1996, and out of all the debuts of 1996, he ranks 8th in career BWAR. That season he got 6th place in ROY voting and played in all 3 OF positions. With Salmon, Anderson, Edmonds, and Erstad it was clear that the OF would be not big enough for the 4 of them.
So to solve the issue, Erstad ended up spending a lot of the time at first base in 1997. He didn't disappoint. The man was born to hit and he hit .299 with a slash of .360/.466/.826 with an OPS+ of 112. Oh and 23 sb and 16 bombs. That's the 7th best speed and power number in the AL in 1997. Pretty good for a 1B that played some OF.
1998 Erstad was a lot like 1997 Erstad, hitting 19 home runs and 20 SB. He got some recognition this time, gaining a spot on the All Star Roster and even got some MVP votes finishing 14th. He hit well again batting .296 with a slash of 353/.486/.839 for an OPS+ of 114. This was at first base mostly as the OF was still crowded. For now.
1999 was not good for the Angels at all. Injuries kept Edmonds from playing enough that Anderson played CF. Erstad stayed at 1B though since Orlando Palmerio was in LF. It was a strange year that was also not good for Erstad at all. He had a bad season and despite playing on 142 games, could not figure out what was wrong. His numbers fell to batting only .256 with a slash of 308/.374/.683 and an OPS+ of 78. Ow. There was some good in all that though. Erstad figured out how to be really good with the glove.
Despite the awful time at the pate, Erstad had a 2.2 defensive BWAR for a total of 2.4 BWAR in 1999. It was this glove that we know Erstad today but before that he was not doing so well. He was negitive at 1B the previous two seasons so to improve this much was a big relief. But if he could be good at the plate and in the field then maybe something good could happen.
Peak Erstad
2000 Erstad was the greatest non Trout position player season by an Angel. He hit .355 which is still an Angels record. His 8.3 BWAR is only behind Trout's best seasons. He had 240 hits. Yes. That's tired for 13th most all time in MLB HISTORY.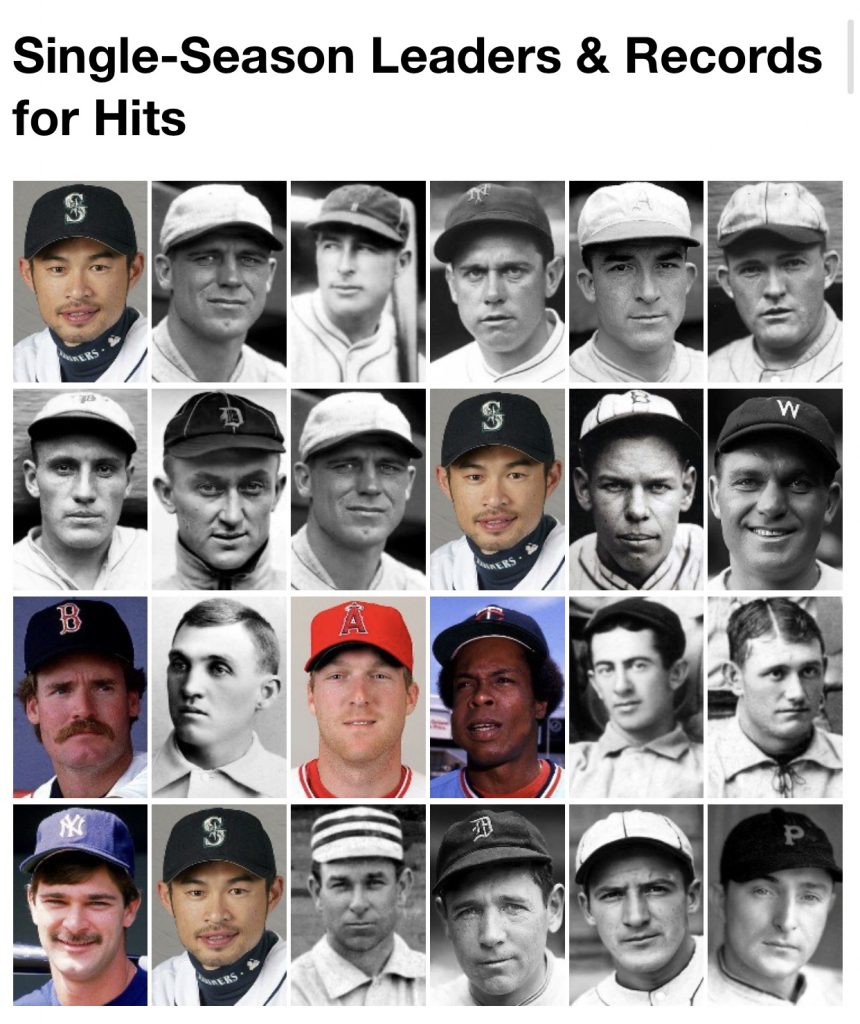 Now he only got that many due to the team around him being great offensively. After all he can't have a flying 747 plate appearances without his teammates getting him up as much as possible. It is still the record for an Angel. And 39th in MLB HISTORY.
121 runs was also the Angels record at the time which can only happen with the immense production from your teammates. It is still 4th only behind Vlad and Trout.
Not that he didn't drive himself in every so often. He hit 25 home runs and stole 28 bags that season for an AL leading 26.4 power speed number. That's 9th best in Angels history.
Despite 170 of the 240 hits getting singles Erstad still is tied for the most total bases in an Angels season at 366 with 2004 Vlad. This is to go along with those 25 home runs, 39 doubles, and 6 triples. That's 70 extra base hits, 18th all time in Angels history.
Hitting a lot means not many outs which shows in his slash. 409/.541/.951 that's the 16th best OBP and 14th best OPS in Angels history. That's worthy of a silver slugger which he won. It also makes his OPS+ 137 which seeing it was in the middle of the steroid Era that's pretty good especially for someone who didn't chase after the long ball.
Oh yeah. Speaking of chase, because Edmonds was traded before the season, Erstad now played CF. By playing I mean he killed it out there, as he had a 2.3 defensive BWAR which nabbed him a Gold Glove.
This combo of offense and defense got him MVP votes as he finished 8th and a spot in the All Star Game. It was a season that goes down in Angels history as one of the best ever.
CF expert
Of course he couldn't keep up his 2000 numbers. But 2001 wasn't like 1999. He stole more bases in 2001. But seriously besides that it was like 1999 all over again. The hitting went south again but the glove sad excellent only this time in CF. So that kept his BWAR at 2.9. Good, but that is a far drop from his peak.
Not that either version of Erstad seemed to change the outcome of the Angels. They didn't win much at all his entire career up to this point. Not that he could help the pitching. The offense could score a ton it didn't matter if the pitching allowed more.
But 2002 would change all that. Like everyone else, Erstad put on his A game in 2002. For Erstad that meant peaking in defense. His 4.2 defensive BWAR in 2002 is second only to Simba 2017 in Angels history. That with a reduction of strikeouts nabbed him 6.3 BWAR for 2002, 17th best in Angels history.
That's another gold glove for Erstad and a team that made it to the playoffs for the first time in his career. So how did he do? Oh he batted .421 with a slash of .421/.526/.947 in the ALDS vs the MFY. That's two doubles and 4 runs scored in that four game series. One of the doubles drove in the go ahead run.
How about the ALCS? He hit .364 with a slash of .364/.500/.864 as you can tell, Erstad didn't like walking. It wasn't hitting after all. And Erstad loved to hit. Those 5 games saw him hit a home run and score 4 more runs on the way to a pennant win.
2002 World Series
If Erstad is remembered for anything it is the World Series. It went as well as you expect from him. In Game 2, Erstad started his hitting in the bottom of the first, hitting a double and scoring in Eckstein. He would score in that inning as well. But then he hit another double in the 6th and scored thanks to Anderson.
Game 3 was another excellent game for Erstad with three hits, including a double in the 3rd and eventually scored thanks to Glaus. He also stole third. Erstad would score again that inning. Two big games and two big wins.
Game 4 was rough for Erstad as he went 0-4. And the Angels were blown out in game 5. It all looked bleak for the Angels in Game 6 as well, but then Spiez Head brought new life into the game and Erstad jumped on the opportunity to contribute.
"Smoked into right, it's a one run game."
That is what Erstad is remembered for. That and
"Erstad says he has it, the Angels, World Champions!"
Two quotes, a hit, and a catch. While neither showed his strengths at the position, being a player who is just pure grit, it is as memorable as any.
I remember him that way, as I burned through that DVD constantly. I studied it a bit, as if young me would end up on Jeopardy and have to remember who caught the last out of the World Series. This was back when I thought people would remember 2002, but besides Angels and some Giants fans, many do not. Being smacked in the face with MFY "moments" on tv and so on made me think that every WS winner was remembered. Oh young me.
Injuries and Transition
2003 Erstad was not a particularly happy Erstad. After all he was injured most of the season and that grit backfired on him. He had 0.9 BWAR in 67 games. Hitting slumped again like in 1999 and 2001 Batting .252 with a slash of .309/.333/.642. It was rough.
Just like a tide, he came roaring back in 2004 hitting .295 with a slash of .346/.400/.746 and an OPS+ of 97. It was a different Erstad, but a familiar one as he moved back to 1B and picked up right where he left off as he won the Gold Glove. The first player ever to win a gold glove in the OF and IF. He's tied for 3rd in Gold Gloves in Angels history with 3.
And in the 2004 ALDS he did roar pretty loudly, hitting an even .500 in the series and a home run. Not that it was enough, but that 1.543 OPS in a series DAMN!
2005 saw Erstad contribute once again as the 1B gaining 2.1 BWAR on the way to another playoff appearance and like usual, Erstad once again did well in the playoffs hitting .300 and slashing .300/.400/.700. He even got that final out on the way to the ALCS. That is when things fell apart for the last time for Erstad. In the 5 games of the 2005 ALCS he didn't do so well for the first time in the playoffs and the Angels lost to the White Sox.
Erstad was nagged by injures in 2006, playing only 40 games but he did get to be in CF a bit. His defense and offense cancelled each other out the brief time he was on the field and ended up being replacement level. He would leave as a free agent after the end of the year.
Legacy
Erstad was with the White Sox a year and the Astros for 2 but did not fare very well. The injuries piled up on him. He was gritty incarnate, and played with a desire to catch every ball, fight every AB, and never surrender.
Number 17 was held a few years before being jerked around a bit, Ianneta had it and so did Shane Robinson, Erstad didn't say anything as he was busy coaching Nebraska in the Big can't count. He did speak up when Ohtani got it in 2018 and is a fan.
Erstad is 10th all time in Angels BWAR at 32.6. He has the second best Power speed number at 136.5. He has the 5th best Defensive BWAR at 11.1. He is 5th in games played despite his constant all out play. 5th in Plate Appearances, 5th in runs scored, 4th in hits, 5th in total bases, 4th in doubles, 8th in triples, 6th in RBI, 5th in SB, 5th in extra base hits, and 4th in SB percentage.
The best defensive CF and second best CF overall in Angels history, 17 won't be retired for Erstad but 17 will still mean Erstad for many fans for years to come.