I'll fully admit that this wasn't a topic I thought I'd be exploring this season.
A dreadful 7-15 start has sunk the Angels playoff odds down to 20.5 percent, leading to a search for something optimistic about the season. Enter Max Stassi. The 29-year-old Stassi has been one of the biggest surprises of this young season, especially when you consider his 2019 performance with the Angels. Entering his third year in a legitimate MLB role, it didn't appear that there was a ton of offensive upside, especially given his production from last season.
Stassi was legitimately one of the worst hitters in baseball last year in his stints with the Astros and Angels. Among hitters to receive at least 140 plate appearances, Stassi had the second-worst wRC+ (5), beating out former Angel Jeff Mathis (2). His time with the Angels was even worse; he hit .071/.163/.071 in 49 plate appearances in Anaheim. Stassi would remain with the Angels, however, because of his defensive prowess and his recent productive year with the Astros (2.7 WAR and 100 wRC+ in 2018).
Coming into 2020, the general hope was that Stassi would provide his usually excellent pitch framing and not be a complete black hole offensively. The usual pitch-framing skills are there but Stassi has transformed himself into a completely different hitter. The sample size is still small (49 plate appearances) but the changes are big enough to explore how Stassi is hitting .250/.326/.550 with a 134 wRC+. Let's break down what has led to this outburst from Stassi.
More contact

We're only concerned with the 2018-onward since he only received cups of coffee in the previous seasons. Stassi struck out 33.3 percent of the time in 2019 and has struck out 28.4 percent of the time in his career. This year, that number has dropped to 13 percent. It's a staggering drop to a level that Stassi has shown neither in the majors nor the minors (24.7 percent). There are plenty of reasons for this massive improvement.
Stassi's overall swing rate hasn't changed much but he's swinging at way more pitches in the zone (up 10.1 percent) and less out of the zone (down 4 percent). As a result, Stassi is making contact 73.3 percent of the time, which is well above his career 69.2 percent contact rate. This newfound approach has more than doubled his walk-to-strikeout rate up to 0.67 BB/K (career 0.30 BB/K). Cutting your strikeout in half is a big enough change in itself but Stassi is doing other things that are encouraging.
Louder contact, more air time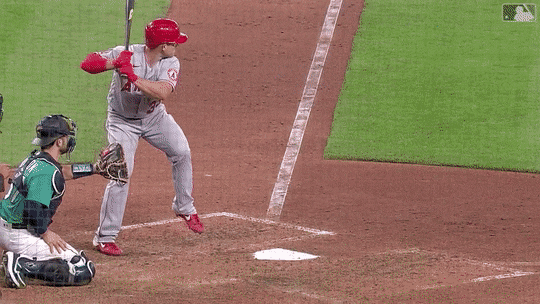 Stassi isn't just simply putting more baseballs in play; he's making harder contact and lifting more baseballs. Where have I seen this story before? Like many other major leaguers, Stassi is reaping the benefits of hitting harder baseballs in the air. His average exit velocity is up to 90.9 mph, up from his career 89.9 mph average. His launch angle has nearly doubled from 9.9 degrees to 18.8 degrees. After barreling just four baseballs in all of 2019 (balls hit 95+ mph with a launch angle between 26-30 degrees), Stassi has barreled three baseballs this season.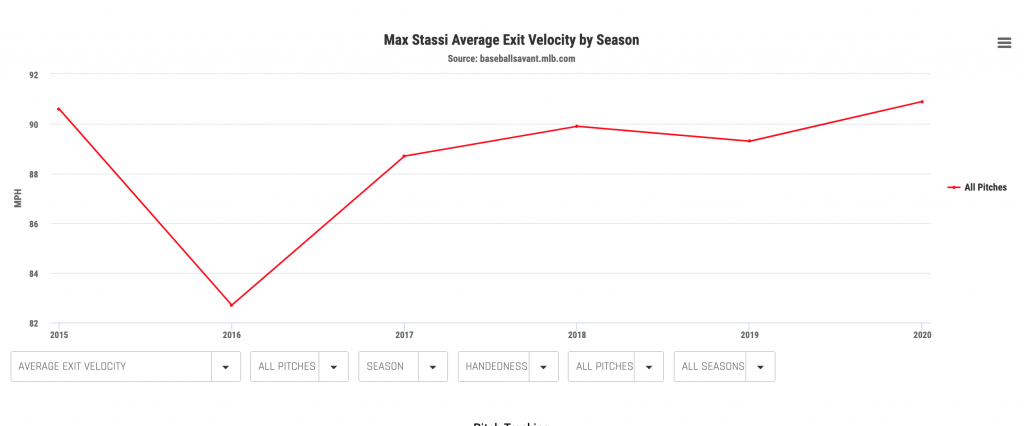 More contact, harder contact, and more baseballs in the air is a recipe for success in today's environment. These are all encouraging signs for Stassi.
Is this real?
Like I mentioned earlier and in my piece on Anthony Rendon's new approach, we're still dealing with a small sample. Things could change rather quickly. But as I mentioned in the Rendon piece, strikeout rates tend to stabilize fairly quickly so this is a good sign for Stassi. It may take more time to gauge how real the quality of contact is. Since Stassi has already homered more times and posted a higher maximum exit velocity (108 mph) this year, we can at least buy that there is something to monitor here.
Thanks to Stassi and counterpart Jason Castro (who is currently injured), the Angels have a top-5 unit by WAR (0.6) and wRC+ (133). Even if the Angels can't turn things around this year, Stassi's development is significant for the Angels. With two years of club control left after 2020, Stassi could be a legitimate option at what has been a position of need for the Angels.