Other than Mike Trout, there is probably no Angel who has impacted the Angels franchise more than Nolan Ryan.
In an eight-year span with the Angels in the 1970s, Ryan was one of baseball's best and most unhittable pitchers. By fWAR, Ryan is the third-most valuable player in franchise history (45 fWAR) and the second-most valuable pitcher behind Chuck Finley (46.2 WAR). Ryan didn't just put up the gaudy totals to eventually get him elected to the Hall of Fame but he did it in such a way that was unprecedented.
What brings me here to talk about Nolan Ryan isn't just the fact that he was very good (that's obvious) but just how extreme everything was about his career with the Angels. It'd be remiss to not start that conversation by talking about the four no-hitters he had in his eight seasons with the Angels. In that eight-year span, Ryan accounted for 4 of the 24 no-hitters across baseball. Those 4 no-hitters also account for more than a third of the 11 no-hitters in Angels franchise history.
Beyond just the no-hitters, Ryan was the strikeout king of his time, especially in his Angels tenure. Ryan's 383 strikeouts in the 1973 season remain the highest single-season total post-1900, a record that probably won't ever be broken. From 1972-1979, Ryan's 2,416 strikeouts were by far the most in baseball. The next closest during that span was Tom Seaver's 1,732 strikeouts.
From a historical perspective, Ryan's strikeout propensity in that span was unheard of. Fangraphs rolled out a new stat in 2019 called "plus stats" (side note: go support Fangraphs). Essentially, these "plus stats" contextualize numbers by adjusting for the league-wide trends and compare them to the average numbers of that time. By looking at Ryan's K%+, you gain a better understanding of just how dominant Ryan was in his Angels tenure. Below is a table showing Ryan's K%+ in each season during his Angels career, along with his all-time seasonal ranks among qualified starters in MLB history.
| Year | K%+ | Rank |
| --- | --- | --- |
| 1976 | 220 | 15th |
| 1978 | 218 | 18th |
| 1973 | 214 | 22nd |
| 1977 | 207 | 35th |
| 1974 | 205 | 38th |
| 1979 | 203 | 42nd |
| 1972 | 194 | 65th |
| 1975 | 167 | 143rd |
What Ryan did wasn't just historical for that time; it was historical as a whole. Six of Ryan's seasons rank in the top-65 for strongest strikeout seasons when you contextualize it. Unsurprisingly, Ryan owned baseball's best K+% (205) during his Angels tenure, literally striking out batters at twice the rate as the average pitcher. Ryan's strikeout prowess came way before the onset of strikeouts in the 21st century.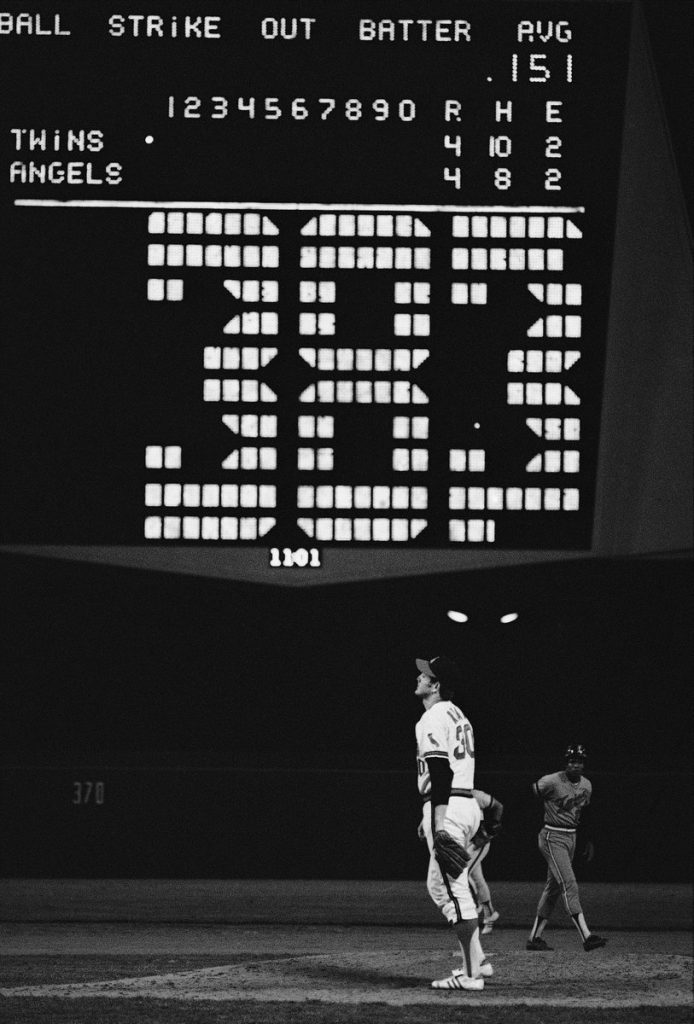 Perhaps not coincidentally, Ryan is also one of the most unhittable pitchers in baseball history. Among starters with at least 1000 innings pitched in their career, Ryan's .200 batting average against is the lowest of all-time. That number was even lower in his time with the Angels, when he had a .195 batting average against across 8 seasons. No other qualified starter was under .200. Just like his strikeout propensity, Ryan's ability to limit hits was unprecedented from a historical level. Below is a table showing his AVG+, which compares his AVG against the league average. Anything below 100 is above-average. Just like with strikeouts, there is a historical seasonal rank included among any qualified starter.
| | | |
| --- | --- | --- |
| Year | Avg+ | Rank |
| 1977 | 72 | 8th |
| 1972 | 72 | 9th |
| 1974 | 73 | 18th |
| 1976 | 77 | 46th |
| 1979 | 78 | 81st |
| 1973 | 79 | 88th |
| 1975 | 83 | 258th |
| 1978 | 84 | 307th |
As you can see, Ryan owns two of the top-10 best seasons in terms of batting average against and three of the top-20. Unlike strikeouts, there is a bit more luck and randomness involved in limiting hits but it's clear that this was a real skill of Ryan's. In the 8-year span with the Angels, Ryan owned the top-3 AVG+ seasons while all 8 of his seasons ranked in the top-26. Similarly to his strikeout totals, Ryan was an absolute force in simply not letting batters reach base via hits. It's no surprise that Ryan threw four no-hitters and six one-hitters with the Angels.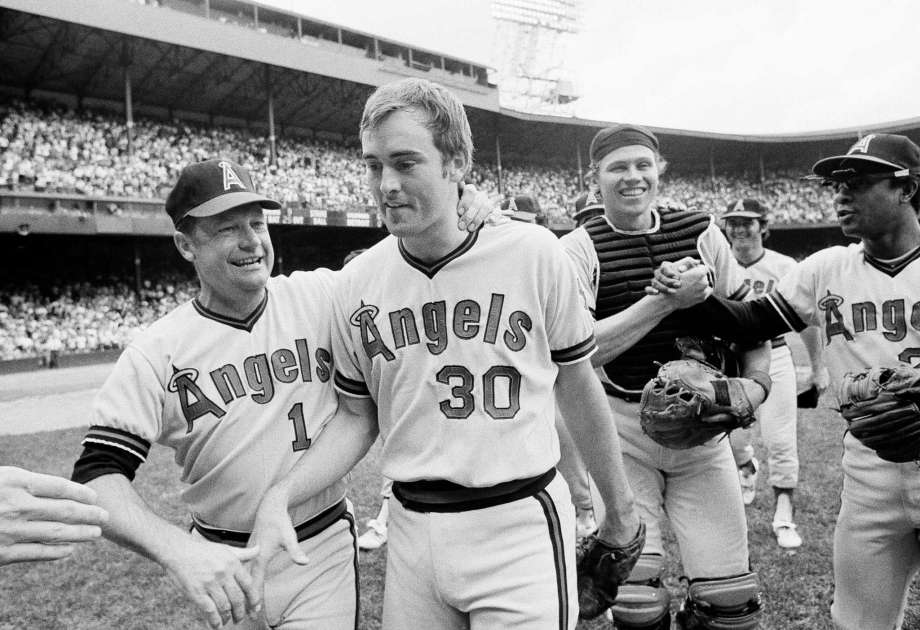 Ryan's stuff was literally unhittable throughout his career but with those gaudy whiff totals came a boatload of walks. Ryan is the owner of two rather impressive statistics: most walks in baseball history (2795) and most wild pitches (278). The next closest in walks is Steve Carlton at 1833 walks. Just for reference, that 962-walk gap between Ryan and the second-place Carlton is as large as the difference between Carlton and the 181st-ranked pitcher (Jesse Haines/Jeff Suppan at 871). 37.7 percent of Nolan Ryan's plate appearances in his career ended in either a strikeout or a walk which, you guessed it, is the highest total of any qualified starting pitcher.
When you narrow that focus to his Angels tenure, it's even more extreme. Ryan was never a control artist but he did trim his walk totals down as his career progressed, even dipping into single-digit percentages in a few years with the Rangers and Astros. With the Angels, he walked 14.2 percent of the hitters he faced, by far the most in that span. Once again, I'll use a table with similar criteria showing Ryan's individual seasons with his BB%+ and ranking them historically.
| | | |
| --- | --- | --- |
| Year | BB%+ | Rank |
| 1977 | 191 | 3rd |
| 1976 | 184 | 5th |
| 1974 | 176 | 10th |
| 1978 | 173 | 15th |
| 1975 | 169 | 19th |
| 1972 | 164 | 25th |
| 1979 | 142 | 97th |
| 1973 | 134 | 168th |
If you thought Ryan's strikeouts and hit totals were extreme, his walk totals are on a whole different level. From a purely historical perspective, Ryan's span with the Angels brought out some of the gaudiest walk totals in MLB history. Three of his seasons land in the top-10 and just one of those seasons landed outside of the top-100. At his peak, he was walking nearly twice the amount of hitters as the league-average pitcher. And he still dominated!
For those familiar with Nolan Ryan's background, these numbers probably aren't a huge surprise but rather a reinforcement of who he was. Ryan's M.O. was simple: throw his fastball as hard as possible, spin the curve as hard as possible and be impossible to hit against. For Ryan, his gameplan was an effective one, most notably in his time with the Angels. The "Ryan Express" is not just one of the all-time great pitchers but one of the most extreme pitchers in the game's history. When you limit that scope to the Angels, Ryan's strikeouts, hits, and walks are historical.
Of Ryan's 107.2 career Wins Above Replacement, 45.2 of those came in his time with the Angels, the most he produced with any team. From a pure numbers perspective, Ryan probably should have been enshrined in the Hall of Fame as an Angel but that's an argument for another time. Regardless, Nolan Ryan was the most important pitcher in Angels franchise history, achieving his success in the most extreme manner.