With no baseball slated to be played for a while, it's time to revisit the history of the Angels franchise.
I decided to try to put together the best 26-man roster from the Angels franchise. I'm not simply looking at an Angels players' career but rather individual seasons. Essentially, I picked out the best individual seasons in Angels history and tried to put together the best roster.
Here were my criteria.
Lineup: I simply looked for the best all-around seasons from each position. I utilized Fangraphs War (fWAR), Weighted Runs Created Plus (wRC+) and the best available defensive metrics for each player's era.
Bench: For my bench, I wanted the best secondary options for each position but I also wanted some specialists. I wanted an elite defender in both the infield and outfield, a speedster off the bench and a two-way star to create flexibility.
Rotation: I wanted innings and high-quality production. Raw run prevention and the strikeouts to go with it were preferable. For each pitcher, I used ERA- and FIP- to give you an understanding of how they performed in their given environment (100 is average, anything below is above-average).
Bullpen: The bullpen requirements were pretty straightforward. I wanted guys with elite stuff, ERAs and bat-missing skills. While this bullpen has no lefties, there are multiple guys capable of getting lefties out.
Lineup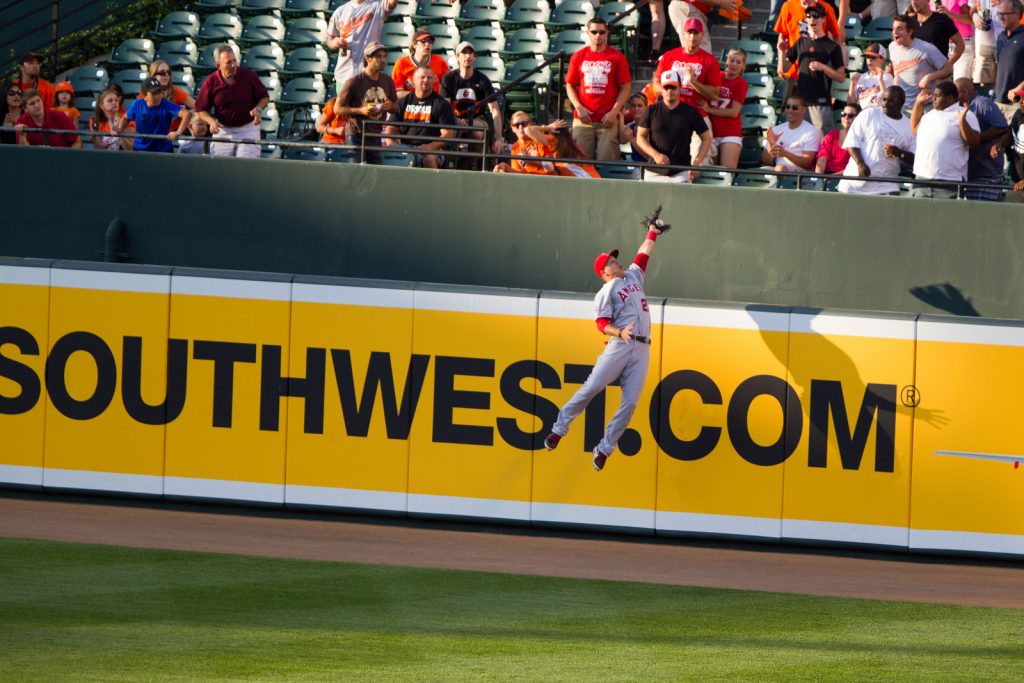 1. DH Tim Salmon (1995)
5.8 fWAR | .330/.429/.594 | 163 wRC+ | 34 HR | Silver Slugger
Salmon's .429 OBP is optimal at the top of the lineup and he adds power for good measure. Salmon doesn't have "prototypical" leadoff hitter speed but that's an outdated idea. The most important trait is not making outs, which Salmon excels at.
2. CF Mike Trout (2012)
10.1 fWAR | .326/.399/.564 | 167 wRC+ | 30 HR | 49 SB | Rookie of Year
There were so many Trout years to choose from but this one takes the cake. Elite offense, elite defense, and elite baserunning led to his best all-around season. The #2 spot is the most important spot in the lineup so placing Trout here is simple.
3. RF Vladimir Guerrero (2004)
5.9 fWAR | .337/.391/.598 | 154 wRC+ | 39 HR | AL MVP
Vlad's first season with the Angels was a rousing success. Vlad's rare combination of power and bat-to-ball skills is perfect right behind two OBP machines. The tendency to ground into double plays (19 times in 2004) is the only weakness from a guy hitting in the middle of the order.
4. 1B Don Mincher (1967)
4.4 fWAR | .273/.367/.487 | 154 wRC+ | 25 HR | All-Star
Don't let the raw batting line fool you. The 1967 season was the third-lowest scoring run environment since WWII and Mincher still posted gaudy totals. Just for good measure, Mincher's left-handed bat slots in perfectly in this right-handed heavy lineup to create better matchups.
5. 3B Troy Glaus (2000)
8.2 fWAR | .284/.404/.604 | 150 wRC+ | 47 HR | Silver Slugger
The 2002 World Series MVP was an absolute monster in the century's first year. Glaus was a power/walk machine, slugging 47 home runs and walking 112 times. Glaus had a career year both offensively (150 wRC+) and defensively (17 Total Zone Runs).
6. C Brian Downing (1979)
5 fWAR | .326/.418/.462 | 144 wRC+ | 12 HR | All-Star
Downing's final year at catcher was also his best offensive year. His 144 wRC+ and .418 OBP were both career-highs. Downing's .418 OBP was the third-best in baseball in 1979 and fits awfully nicely in the middle of this lineup.
7. 2B Bobby Grich (1979)
5.6 fWAR | .294/.365/.537 | 141 wRC+ | 30 HR | All-Star
Grich's 1979 season was his best in an Angels uniform and a key reason for the Angels winning their first division. Grich slugged a career-high 30 home runs and played his usual strong defense. Grich still remains one of the biggest Hall of Fame snubs to this day.
8. LF Darin Erstad (2000)
8.7 fWAR | .355/.409/.541 | 140 wRC+ | 25 HR | 28 SB | Silver Slugger
In the middle of the steroid era, Erstad had a sneaky 8.7-win season that was the second-best among position players in 2000. Erstad blended superb offense with strong defense and base running in what was a career season. Erstad's raw batting line may make you question him hitting 8th but the 2000 season was the highest-run scoring environment since WWII.
9. SS Jim Fregosi (1964)
7.0 fWAR | .277/.369/.463 | 136 wRC+ | 18 HR | All-Star
The original face of the franchise, Fregosi was one of baseball's best shortstops in the 60's. In the team's fourth year of existence, Fregosi churned up a monster year with 7 wins. Those 7 wins are the fourth-most by a non-Trout position player.
Bench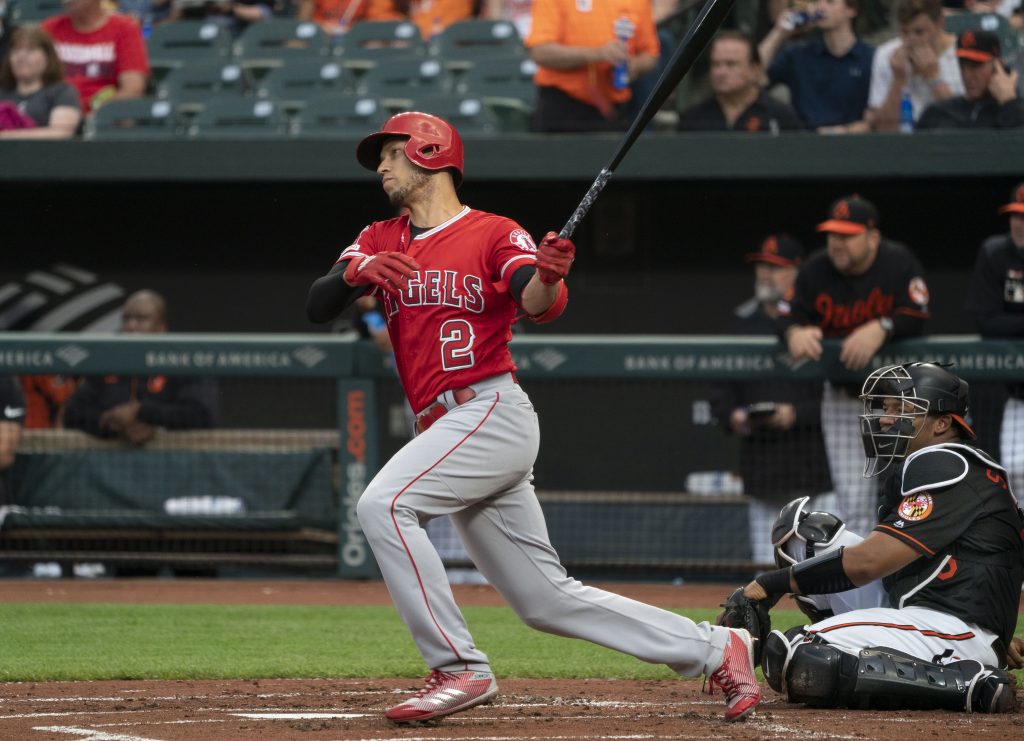 3B Doug DeCinces (1982)
7.3 fWAR | .301/.369/.548 | 147 wRC+ | 30 HR| All-Star
DeCinces basically fits the Troy Glaus profile as a power bat with plus defense. He's a great option off the bench who can also steal some at-bats at DH and first base when needed.
SS Andrelton Simmons (2018)
5 fWAR | .292/.337/.417 | 108 wRC+ | 12 Outs Above Average| Gold Glove
Arguably the best defensive player of his generation, Simmons brings elite defense off the bench. In addition, he brings his best offensive year to the bench in what was a career season.
OF Jim Edmonds (1995)
5.3 fWAR | .290/.352/.536 | 124 wRC+ | 33 HR| All-Star
Plus defense, pop off the bench and the ability to handle all three outfield spots. This was Edmonds' best season in an Angels uniform.
IF Chone Figgins (2009)
6.6 fWAR | .298/.395/.393 | 116 wRC+ | 42 SB| All-Star
Figgins is the super-utility option off the bench who also provides plus baserunning and plate discipline. He was at his best in 2009 with elite skills from a leadoff hitter.
C Lance Parrish (1990)
4.6 fWAR | .268/.338/.451 | 122 wRC+ | 47 CS%| All-Star
Lots of pop and a near-50 percent caught-stealing rate? Parrish is the perfect option off the bench who can start 30-40 games.
DH/SP Shohei Ohtani (2018)
3.8 fWAR (combined) | 151 wRC+ | 22 HR| 10 SB | 3.31 ERA | 29.9 K%
You knew this was coming. Ohtani's versatility as a power bat, strong runner, and elite inning-per-inning pitcher makes him the perfect fit for the 26th roster spot.
Rotation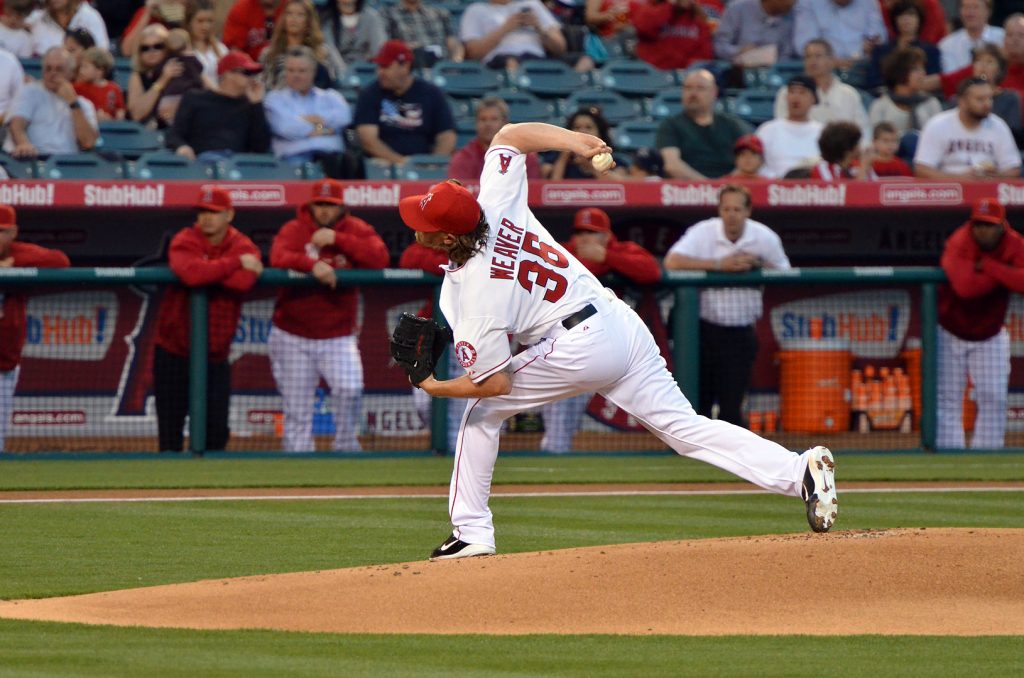 1. RHP Nolan Ryan (1973)
8.7 fWAR | 79 ERA- | 69 FIP- | 326 IP| 383 K | 2 No-Hitters
Ryan's 1973 season was the stuff of legends. His 383 strikeouts still stand as the most in a single season post-dead ball era. In an absurd amount of innings, he was elite in both run prevention and missing bats.
2. RHP Dean Chance (1964)
7.6 fWAR | 48 ERA- | 65 FIP- | 278.1 IP | 7 HR | Cy Young Award
Chance was the first Angel to win a major award and it was for good reason. His 48 ERA- is by far the best mark of any qualified starting pitcher in franchise history.
3. LHP Frank Tanana (1975)
7.2 fWAR | 73 ERA- | 67 FIP- | 257.1 IP| 269 K | 4th Cy Young Voting
Tanana and Ryan and two days of cryin' was the Angels motto in the mid-'70s. Tanana was an electric sidekick to Ryan and was at his best in 1975. His 26.1 K% was the best of his career.
4. RHP Jered Weaver (2011)
5.4 fWAR | 61 ERA- | 81 FIP- | 235.2 IP| All-Star | 2nd Cy Young Voting
Weaver was a certifiable badass during this stretch in his Angels career. 2011 was his peak year as he logged a ton of innings and had his best season by ERA. His 61 ERA- was the second-best mark in a single season behind Chance's 48 ERA-.
5. RHP Mike Witt (1986)
6.7 fWAR | 69 ERA- | 75 FIP- | 269 IP| All-Star | 3rd Cy Young Voting
Rounding out the rotation is the Angels' best starter from the '80s. Witt was at his best in '86 when the Angels won their second division title in five seasons.
Bullpen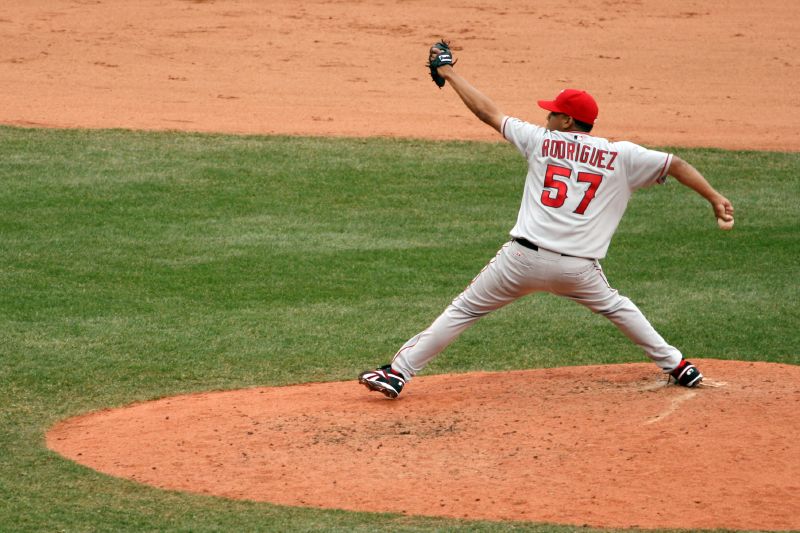 RHP Francisco Rodriguez (2004)
3.7 fWAR | 41 ERA- | 39 FIP- | 84 IP| 36.7 K% | 4th Cy Young Voting
K-Rod a major bullpen cog for the Angels right from the start. In his second full season, Rodriguez was certifiably insane in a large chunk of innings. His 36.7 K% is a top-30 figure by any reliever in MLB history when you adjust for context.
RHP Bryan Harvey (1991)
3 fWAR | 39 ERA- | 48 FIP- | 78.2 IP| All-Star | Rolaids Reliever of Year
Not to be outdone, Harvey's 32.7 K% was also a top-30 figure by a reliever when you account for the league environment. He was also an elite run preventer in '91, posting the sixth-best ERA by a reliever in franchise history.
RHP Brendan Donnelly (2003)
2.6 fWAR | 35 ERA- | 55 FIP- | 74 IP| 2 HR | All-Star
Donnelly had quite the run from 2002-2003. After providing quality relief innings in the '02 title run, Donnelly turned it up a notch in 2003. He was an All-Star and posted the second-best ERA- (35) by a reliever in franchise history.
RHP Donnie Moore (1985)
2.4 fWAR | 47 ERA- | 73 FIP- | 103 IP| All-Star | 7th Cy Young Voting
Moore's infamous home run he allowed in the '86 ALCS still haunts Angels fans but this dude was superb. '85 was his best season with the Angels, posting the 15th-best ERA- by a reliever. Doing this is 103 innings makes it all that much more valuable.
RHP Troy Percival (1995)
2.4 fWAR | 41 ERA- | 57 FIP- | 74 IP| 33.1 K% | 4th ROY Voting
Percival's rookie season was his best season in the majors. His ERA- (41) was a top-10 mark by a reliever in franchise history. His 33.1 K% was a top-50 mark by a reliever in MLB history when the context is included.
RHP Scot Shields (2005)
2.2 fWAR | 64 ERA- | 68 FIP- | 91.2 IP| .196 BA against
The last spot in the bullpen goes to a guy who can throw multiple innings and handle lefties well. Because of the new three-batter minimum, I didn't want a strict lefty specialist. In 2005, Shields had a strong .249 wOBA against righties and .264 wOBA against lefties.