Mike Trout has many skills. Hitting baseballs very hard is one of those skills.
Since 2015, we have been able to accurately evaluate the quality of contact thanks to Statcast. In this time, we've been fortunate enough to monitor Trout's quality of contact. The numbers match the eye test. Trout hits baseballs harder and further than just about everybody. Trout consistently sits at the top of the leaderboard in exit velocity, barrel percentage, and sweet-spot percentage. With this comes some of the farthest-hit home runs in baseball.
To truly gauge how special Trout's power is, I went and researched some of Trout's most majestic home runs. Below, you'll find Trout's Top 10 Home Runs from the Statcast Era. This activity is fairly subjective as you could prioritize distance, exit velocity, uniqueness or difficulty of a hit home run. My criteria were to simply look for baseballs that were hit the farthest and hardest, regardless of where a given pitch was thrown.
My biggest difficulties came when I had a bunch of similar home runs hit 440+ feet with 110+ mph exit velocities. I also struggled to compared home runs from the juiced ball era (2018-2019) to other years. Trout obviously benefitted from the baseballs but he also grew into his body and started hitting more hard-hit baseballs in the air. As a result, many of these home runs are from the last two years. For the sake of creating a cleaner article, I utilized GIFs instead of filling the page with videos. However, the video link is attached with each gif in the text below each video.
Unfortunately for us and the sport of baseball, we won't get to see potential Trout bombs for a while due to the coronavirus suspension. In the meantime, let's take look back down memory row at Mike Trout's Top 10 Home Runs from Statcast Era.
10. July 12th, 2019 vs Mike Leake
Distance: 454 feet
Exit Velocity: 111 mph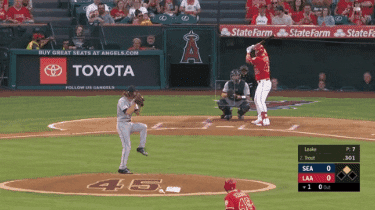 Most Angels fans will recognize the date, the jerseys and the location of where this home run landed. Following the tragic death of Tyler Skaggs, the whole Angels team honored their lost comrade by wearing his jersey in their first home game. They took it a step further by pitching a combined no-hitter in one of baseball's best moments of the season. Trout also played his part to honor his lost friend by hitting a baseball 454 feet, his fifth-farthest home run of the 2019 season.
9. August 27th, 2019 vs Rafael Montero
Distance: 442 feet
Exit Velocity: 114 mph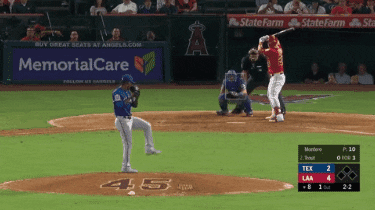 This is one of several baseballs on this list that cleared the bullpen at Angels Stadium. This baseball was hit with the optimal velocity (114 mph) and launch angle (25 degrees) to produce mammoth home runs. Seven home runs have been hit with this exact velocity/angle combination (including Trout's) and have averaged 465 feet. Trout's 442-foot shot is the shortest of that bunch but it doesn't take away from this beauty.
8. September 13th, 2015 vs Mike Fiers
Distance: 455
Exit Velocity: 110.1 mph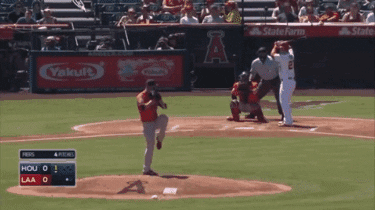 Angels fans may recognize this infamous day in the franchise's history. The Angels were on the verge of sweeping Houston to move within 2.5 games of the Astros in the playoff picture. Then closer Huston Street blew a 3-0 lead, which put the Angels 4.5 games back. You may also remember that the Angels ended up finishing one game behind Houston for the second Wild Card spot. Anyways… there was one positive moment when Mike Trout absolutely blasted a baseball over the bullpen. This is one of Trout's longest home runs in his early years and the second-farthest from the 2015 season.
7. April 6th, 2019 vs Drew Smyly
Distance: 458 feet
Exit Velocity: 108.6 mph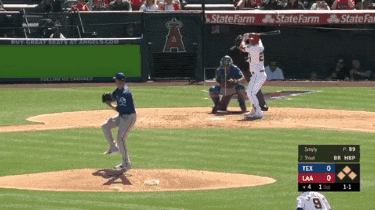 High heaters still generate the most whiffs against Trout (that's the case for a lot of hitters) but he's started hitting for more power against them. Trout had no issues getting to this 91 mph fastball, drilling it 458 feet over the Angels bullpen. This is the only home run on the list that left the bat below 110 mph but it had the launch angle to travel far. The 33.1-degree angle gave this ball more elevation than any ball on the list.
6. May 27th, 2017 vs Vance Worley
Distance: 443 feet
Exit Velocity: 113.8 mph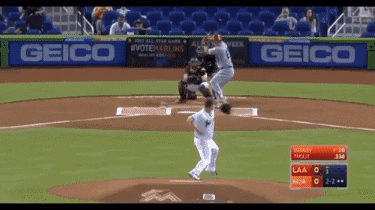 Trout's ball left the bat at 114 degrees with a 24-degree launch angle, an optimal combination for mammoth home runs. Five home runs (including Trout's) have been hit with this combination and averaged 454 feet. Trout's home run fell a bit short of that mark but it was an absolute rocket nonetheless. This home run has similar qualities to home run #9 but I gave this home run the advantage given it didn't come in the juiced ball era.
5. May 31st, 2019 vs Mike Leake
Distance: 440 feet
Exit Velocity: 114.4 mph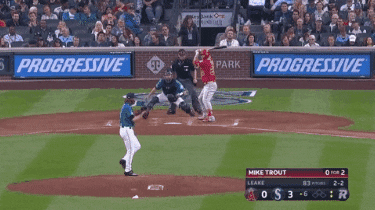 Poor Mike Leake was the victim of not one but two monstrous big flies from Trout in 2019. In a span of 42 days, Trout crushed two separate home runs that traveled at 440+ feet with 110+ mph exit velocities against Leake. However, Leake didn't do himself any good throwing a change-up in this spot to Trout. Last season, Trout's highest average exit velocity came against pitches mid-low (101.2 mph) in the strike zone. Against change-ups, he hit nine home runs and slugged .887. This was a poor pitch that Trout had no problem blasting 440 feet away.
4. June 11th, 2018 vs Ryan Cook
Distance: 459 feet
Exit Velocity: 115 mph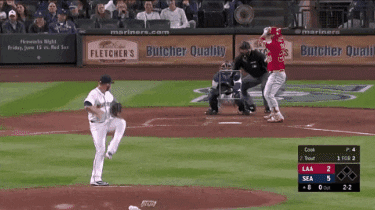 This home run is incredibly unique, even for Trout's standards. At 115 mph, this is Trout's second-hardest hit home run of the Statcast Era. At 459 feet, it's the third-farthest (calculated) home run that he's hit. But what's the most unique about it is the 19-degree launch angle it was hit at. Only eight home runs had a lower launch angle and none of them were hit as hard or traveled as far as this one. Perhaps most noticeable is the location of this pitch and Trout's results against it. He may whiff a bit more on high heaters but he's hitting for way more power against those pitches than he used to.
3. July 8th, 2015 vs Chris Rusin
Distance: 477 feet
Exit Velocity: 113.7 mph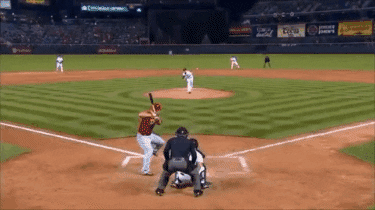 Make no mistake about it: Trout absolutely torched this baseball. It easily travels 440+ feet in pretty much every ballpark. But the Coors Field effect absolutely played a role in this ball as the furthest home run hit by Trout in the Statcast Era. It's still a top-3 home run because of how freaking hard he hit this ball and it gave us a pretty cool glimpse of Trout playing at Coors. Seriously, this guy would probably hit 60 home runs in Denver in this juiced ball environment.
2. May 18th, 2019 vs Jakob Junis
Distance: 473 feet
Exit Velocity: 112.8 mph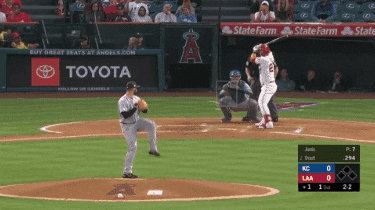 In reality, this is Trout's farthest home run of the Statcast Era because it didn't have the luxury of being hit at Coors Field. Among all home runs that were hit 113 mph and at a 27-degree launch angle, Trout's 473-foot big fly traveled the furthest. This ball was crushed with a near-perfect velocity/angle and would've ranked first on this list if not for the next monster homer.
1. May 2nd, 2018 vs Dylan Bundy
Distance: Unknown
Exit Velocity: 116.8 mph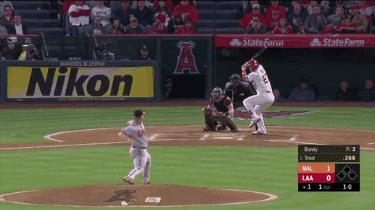 The only bad thing about this home run is we literally don't know how far it went. We do, however, know how hard it was hit (116.8 mph) and the launch angle the ball left the bat at (31 degrees). If that combination of exit velocity and launch angle sounds rare, it's because it is. According to Baseball Savant's Exit Velocity and Launch Angle Breakdown tool, no other player has hit a baseball 116 mph with a launch angle of 30+ degrees. Trout's the only one to do it because of course, he is. This is also the hardest-hit home run from Trout in the Statcast Era.
I was fortunate enough to be at this game live and I can confirm that Trout hit this baseball a very long way. I've seen a lot of baseball games at Angel Stadium and I've never been surer that a ball off the bat was going to leave the yard. Side note: let's hope now-Angel Dylan Bundy doesn't have any more results like this in Anaheim this year.