The team announced Sunday that Andrew Heaney would be the starter on March 26 in Houston. Other potential candidates included Dylan Bundy and Julio Teheran.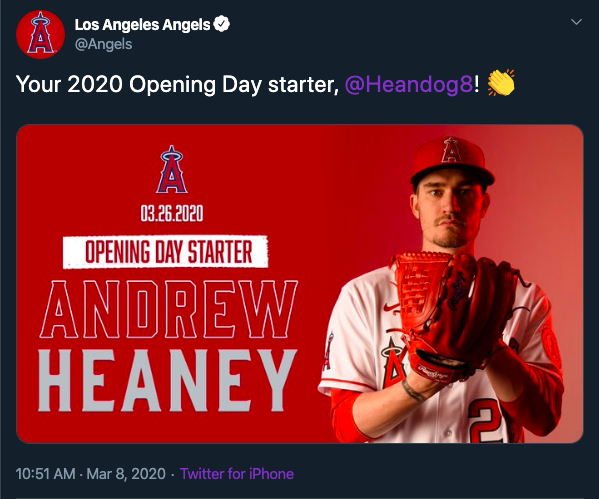 When you think about it, with no clear ace and Heaney being the only established starter who has actually pitched a game for the Halos, this is a no-brainer. Heaney, 28, pitched 95.1 innings in an injury-shortened 2019 with a 4.91 ERA and a 1.20 WHIP. He will look to replicate his 2018 success.
Since Heaney will be the first pitcher to pitch to the Houston Astros in the 2020 regular season, all eyes will be on him to see if he will bean a hitter or two. Although commissioner Rob Manfred has preached "zero tolerance", there are some fans who would definitely support such actions.
Under much different circumstances, in July, Heaney pumped in a first pitch curveball to George Springer in honor of Tyler Skaggs, and the batter did not swing.
One thing is for sure: Opening Day can't come any sooner.
Photo by Rex Clevinger