NOTE: This series was started and most articles typed up prior to news the Angels are for sale. I realize that sale will impact the off season. That said, the series is rolling and articles were created so please enjoy.
The Angels don't have a stacked squad at AAA. They don't have unlimited funds to spend at the big league level. But they do have a decent amount of coin and some obvious holes. Let's continue our series in using some of said coin to fill some of those holes.
Today we look at acquiring post season hero and weekend rodeo warrior Madison Bumgarner from the Arizona Diamondbacks.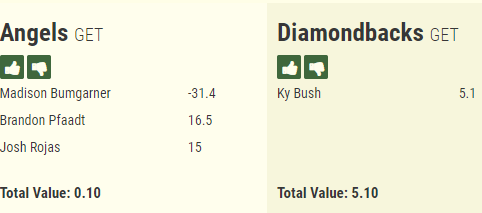 Of the three pieces I've done in this series, MadBum is by far the most likely to contribute meaningfully at the MLB level in 2023. He's way overpaid, but he's averaged 5.1 innings per start this year while pitching about 10% worse than MLB average. That's a back of the rotation guy. But for $36 million over two years? Not a good deal for a Diamondbacks team that is well behind in the NL West.
Josh Rojas plays a good third base, a decent second base, and has even spent time on the grass. This year his bat has been about 19% better than MLB average and he's in his prime at 28. Rojas is guaranteed to play a major role with the Halos in 2023 and gives Perry positional flexibility to do his off season shopping. He's also about to hit arbitration so he's a little pricey for a rebuilding team and likely won't be around for their next window.
The real get here is Brandon Pfaadt, a tall right hander with two above average pitches in his fastball and change up to go along with solid command. When the biggest knock in the scouting report is "throwing too many strikes on occasion" I'll take it. Some reports say there's bullpen risk, but he's putting up really nice numbers in AAA as a starter. I expect him as a starter next year and maturing into a mid rotation arm.
I had to send something back Arizona's way and Bush looks like a reasonable ask. With development he could turn into Pfaadt or a bullpen stud. A quick look at the Snakes top prospects shows half of their top 10 and 9 of their top 15 at AA or above so he'd fit with their next likely contention window.
As far as payroll, this one is a little trickier. Bumgarner is set to make a cool $23 million next year. Rojas likely gets a bump in arbitration and Pfaadt is a minimum wage guy. This is likely close to $30 million on the books in 2023 but MadBum's deal drops to $14 million in 2024.
Basically, these three, all of whom should contribute at the MLB level next year, essentially replace Thor, Lorenzen, and Bradley's combined $31 million and change with a million or two left to spare while almost certainly providing far more value. Rojas alone will produce more WAR this year than those three.
If this trade went through, Ohtani, Detmers, Sandoval, Pfaadt, Suarez, Madbum is not a bad six man rotation. Nor is an infield mix of Rendon, Rojas, Fletcher with Rengifo as the rotational piece shabby. In short, we're much deeper this way even with the underwater contract of MadBum. And if the Angels trade Ohtani they can look for a maximum talent return and stash Pfaadt in AAA if they net a quality starter.
Love it? Hate it? Let me know below.