Angels 12 Rays 0
On a cool Anaheim evening on the heels of a 11-run shellacking the night prior, the Angels didn't waste a single minute. Brandon Marsh? Leadoff single. Mike Trout? A single to follow. Within six pitches, former two-time Cy Young winner Corey Kluber had runners on first and second and no outs, and his night didn't get much better from there. Many many barrels galore later, the Angels put up 8 runs on the scoreboard within the first three innings. The bottom of the order even joined in for some fun!
By the end of it, six of the Angels nine batters had multiple hits in what I can only describe as a freaking video game and one h-e-double hockey sticks of a vivid hallucination. Mike Trout obliterated two home runs beyond the Milky Way galaxy, and Anthony Rendon pitched in with a left-handed (yes you read that right) golf club homer off position-player Brett Phillips in the ninth inning. I'm not exactly sure what I watched, but I sure enjoyed it. I mean…WTF!?!!
Despite all the insanity and hilarity, command lefty Reid Detmers quickly became the story of this game. Detmers worked quickly and used the Rays' aggressiveness against them, seemingly taking less than 10 pitches per inning through the 5th. Detmers was PERFECT through those 5, not afraid to throw his very solid changeup to keep hitters at bay.
There were some hiccups – in the top of the 6th, Detmers gave up a 7-pitch walk to Taylor Walls. A few batters later, Kevin Kiermaier almost got hit, but the ball hit the knob of his bat for a foul ball. In the top of the 7th, Jared Walsh committed an error (and nothing else 😉 ) on a hard-hit Brett Phillips grounder that easily could have been ruled a single – the scoring gods blessed the Angels with that one, as the crowd erupted when E went from 0 to 1.
But all of a sudden, when the possible begins to feel impossible, the impossible becomes possible. Detmers simply kept calm and kept recording outs. Ground ball, fly ball, it didn't matter.
And all of a sudden, it's the bottom of the ninth after some hitting theatrics in the top-half.
Out #25. To Chad Wallach. Popout behind the plate.
Out #26. Kevin Kiermaier, a soft tapper to second base. Luis Rengifo makes a beautiful play to get him by a half-step.
Out #27. A routine groundout to shortstop. Andrew Velazquez makes the throw.
HE'S DONE IT!!!!! REID DETMERS HAS THROWN A NO HITTER!!!!!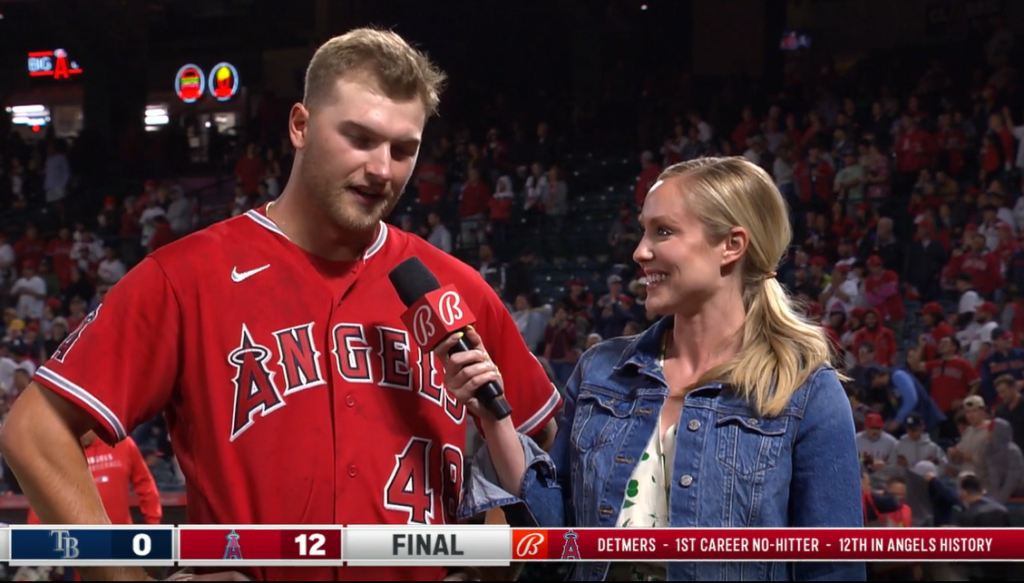 Man, is this team fun to watch or what?